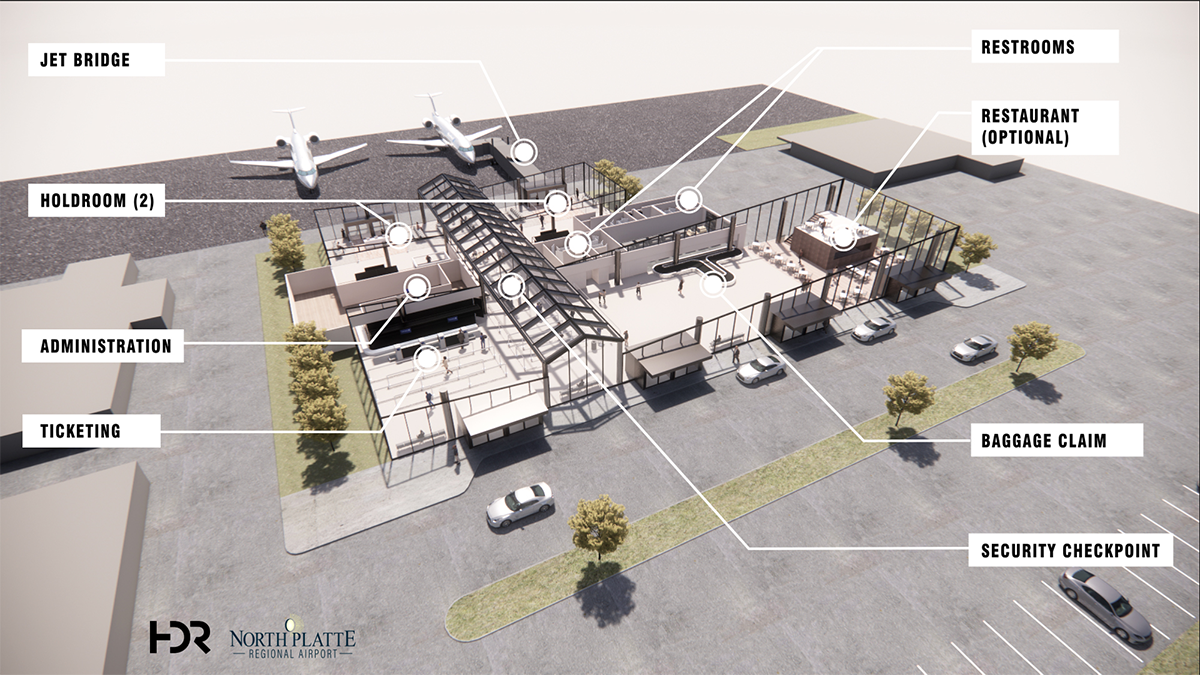 Long-term plans to build a new Lee Bird Field passenger terminal received nearly 3-to-1 support in online "virtual public meeting" comments on how the North Platte Regional Airport's next 20-year master plan should look.
Majorities also backed consolidating general-aviation facilities, building a "solar farm" to fully power the airport and collecting a "passenger facility charge" to help fund improvements through 2040.
North Platte Airport Authority board members Monday reviewed HDR Inc.'s summary of the online comments, which the Omaha firm will use in fleshing out the master plan.
A draft of the plan should be finished for further public review in June, with final Airport Authority approval expected in August, said Airport Manager Sam Seafeldt.
He and airport board Chairman Mike Jacobson were impressed with the quality and quality of the online comments, received Feb. 1-15 in lieu of a public open house due to COVID-19.
More than 171 "unique users" visited the virtual meeting via northplatteairport.com, yielding 91 individual responses, HDR said.
"I think if we were sitting in the terminal with over 100 people to provide comments, it would have been difficult to get all of those at the same time," Seafeldt said.
Though 73% of respondents favored a new terminal next to the 1952 terminal — which would remain no matter what — Jacobson stressed the plan's long-term nature.
"I think everyone needs to keep in mind that this is a long-range plan that provides us with the road map to build out the airport," he said. "Timing will depend on availability of funding."
Federal funds, which are paying the entire $313,500 cost of the new master plan, also typically provide the lion's share of funds for routine airport equipment and improvements.
The federal Airport Improvement Program, for example, usually covers 90% of such projects as long as Lee Bird Field's passenger traffic remains above 10,000 per year. Local property taxes cover the rest.
Updating the airport's master plan for the first time since 1995 means the Airport Authority can better take advantage of additional federal funds if they're made available, Seafeldt said.
Virtual visitors were asked whether the airport should leave the 1952 terminal alone; remodel and add about 6,000 square feet on its north and south sides; or build an all-new terminal east of the current one no earlier than the late 2020s.
Even if a new terminal should be built, the current one would remain for offices for the Airport Authority and some other operations. Federal AIP funds can only be used for projects directly related to passenger service.
Most respondents believed a new terminal would better serve passengers, especially if annual traffic returns to its pre-pandemic level of 16,000 and grows to 25,000 by 2040.
"In my opinion, if you renovate you will always be working with an old facility trying to play catch-up and doing the best you can with the traffic flow you have been dealt," one respondent wrote.
Remodeling was backed by 18% of respondents, while 9% favored doing nothing. "There are not enough flights out of North Platte to justify the upgrades," another respondent said.
One improvement to the 1952 terminal already is moving forward, Seafeldt said. The Airport Authority in February awarded a $225,000 bid to Snell Services to install a modern heating and air conditioning system, with federal pandemic relief funds paying the entire bill.
Consolidating Trego-Dugan Aviation's "fixed-base operator" facilities south and west of the current terminal was favored by 69% of online respondents, with one-fourth opposed.
A new general-aviation office building and additional hangars would be built west of the terminal by mid-decade. Income from airport users and vendors would repay airport revenue bonds that would be issued for the work.
Trego-Dugan's offices would move west from the aged hangar east of the terminal believed to be the 102-year-old airport's oldest permanent structure.
"The FBO facilities are way past their prime," one respondent said, while another said the airport shouldn't bear excessive costs to consolidate general aviation to the west.
The proposed passenger facility charge, which the federal government already collects from local passengers, would be steered toward Lee Bird Field projects under the master plan. That won 81% support from survey respondents.
Visitors to the virtual public meeting also were given two options for building a solar farm on open airport property to supply power needs.
Fifty-nine percent favored building it large enough to supply all needed power, with excess power in non-peak months sold to Nebraska Public Power District.
A smaller solar farm that would still require tapping NPPD for excess power needs was backed by 41% of respondents.
---
More by Todd von Kampen
5 enticing looks at North Platte's history
2020 was a year that will make history, but it was also a year for us to reflect on our own local history. Special projects reporter Todd von Kampen shares some of his favorite stories from this year that highlight our past.