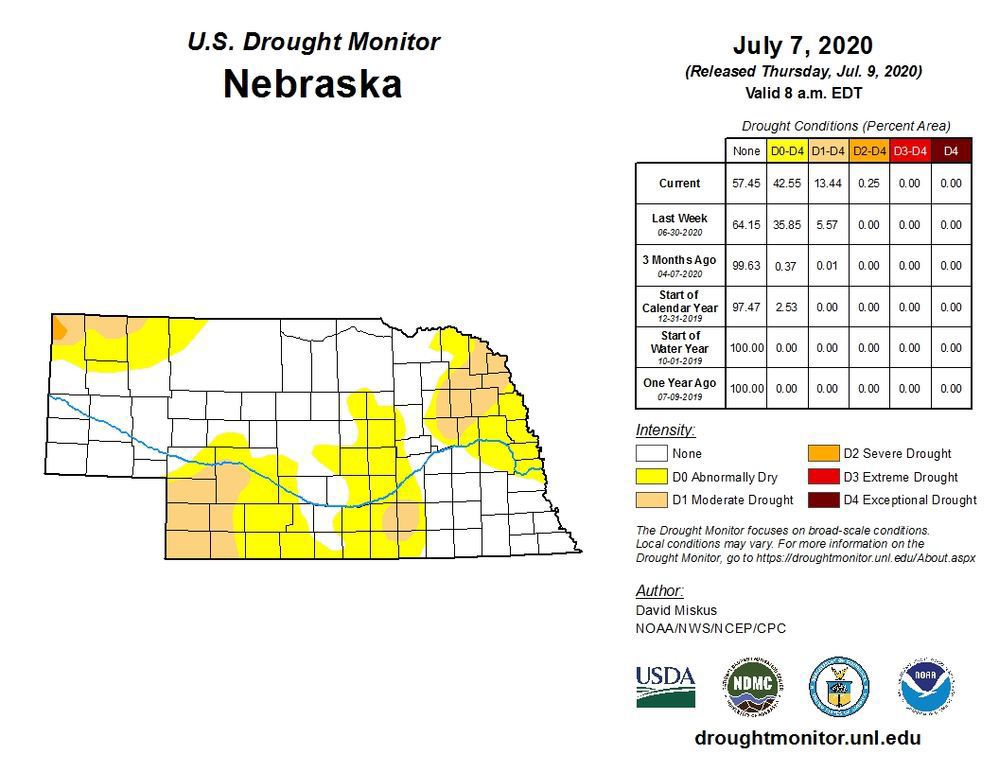 Western Nebraska's annual precipitation has fallen well below normal levels since the beginning of the water year (Oct. 1) and experts say, if forecasts materialize "conditions will deteriorate quickly," According to the Applied Climate Information System (ACIS).
Areas in western Nebraska are indicated to have received as little as 25-50% of the average annual precipitation. The National Weather Service Climate Prediction Center (CPC) predicts drought conditions to begin in areas of the Panhandle and persist throughout the season.
"So it would seem that the indicators are pointing to drought in the northern area of the Panhandle. As for the rest of the Panhandle, some of the indicators just aren't there yet," Crystal Stiles, UNL applied climatologist said. "However, if the hot and dry conditions that are forecast for the next week pan out and persist, conditions will deteriorate quickly, and I would not be surprised if drought spreads across the Panhandle very soon."
Nebraska State Climate Office, Associate State Climatologist Al Dutcher said he expects the Panhandle to fall into drier conditions as the growing season continues.
"Even though we are not seeing changes there right now, my full expectation is that at least a bare minimum, the southern one third of the Panhandle is going to go to abnormally dry conditions," Dutcher said.
The U.S. Drought Monitor map uses a process of taking several drought indicators into account. For example, Stiles said, indicators include stream flow, soil moisture, and impacts, as well as several other drought indicators, like the Standardized Precipitation Index and the percent of normal precipitation when creating weekly drought monitor maps. A "convergence of evidence" approach is used in determining which of the Drought Monitor categories is most appropriate for a location, Stiles said.
"Most likely what will happen is that the indicators will so overwhelm the current (drought) indicators, they will be forced to move into a drought classification," Dutcher said,"In fact, my suspicion is depending on these temperatures coming up, and where the precipitation breaks out, if it follows what the models say, we will probably see a significant expansion across a large portion of western Nebraska, probably portions of the western Sandhills and see some of that creep into south central Nebraska and certainly intensify in southwestern Nebraska."
Dutcher said if this trend continues and the forecast verifies for the month of July, as issued by the CPC, which he firmly believes it will, dry conditions will occur with a very wide and expansive drought area which covers the southern Rockies and the southern Plains, with southern parts of Nebraska at the most northern part of the drought area.
With strong drought possibilities and forecasts, Dryland Cropping Systems Specialist Cody Creech said lower yield numbers may occur, specifically if corn is under drought stress when it reaches the tasseling stage of the growth cycle.
"In terms of precipitation, we are below average in many areas of the Panhandle," Creech said. "I would foresee this year's crop yields to be lower than the last two years."
With a strong presence of dryland crop production in western Nebraska, Creech said, during drought conditions, growers may not be able to control moisture values, but input costs such as herbicide and fertilizer use, are a variable which growers should consider in their dryland crop systems.
"It would be recommended to reduce input costs knowing that this year's corn yields could be lower," Creech said.
A significant change in production may be observed during crop rotation planning for next year's growing season, Creech said. Some producers may choose to plant a more drought tolerant crop for next year, based on this years conditions.
Be the first to know
Get local news delivered to your inbox!