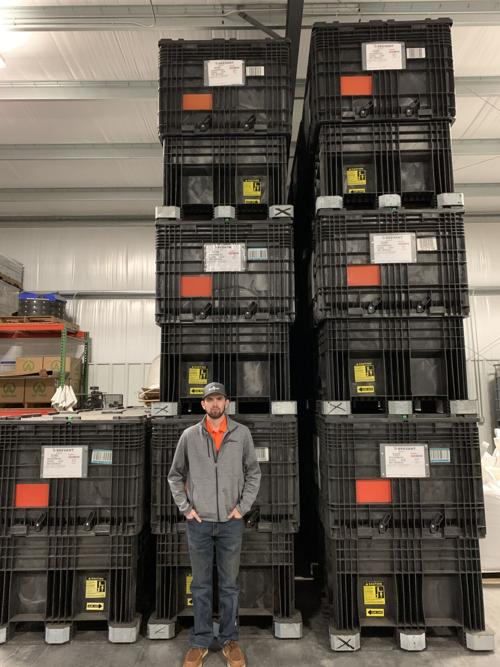 Every year has its challenges for farmers. However, the uncertainty regarding input availability this year is unusual.
"I've been doing this for 45 years and haven't seen anything like it — not even close," said Tim Carpenter, the WyoBraska market manager for the J.R. Simplot Co. who is based in Scottsbluff. Simplot is one of several agricultural fertilizer, seed, pesticide and application service providers doing business in western Nebraska.
Carpenter pointed to trucking shortages, labor shortages and other supply-side challenges that are affecting agriculture along with all kinds of other industries.
"I can't price what I don't have on hand," Carpenter said. "On a daily basis something new pops up that's hard to find. I don't know when it's going to get here or what it's going to cost."
Assuming supplies do come through as needed, there should be good revenue opportunities for farmers this year, said Jessica Groskopf, a University of Nebraska-Lincoln Extension educator and ag economist based at the Panhandle Research, Extension and Education Center in Scottsbluff. She pointed to favorable grain price projections, but cautioned that profitability will depend on making careful, informed decisions related to purchases, crop management and marketing.
Carpenter said his company is working hard to make sure farmers have what they need to grow this year's crop.
"We're doing everything we can do and in some cases more than we should," he said.
A lot of the supply problem relates to the fact that "we've put ourselves in a position where we rely (heavily) on China" for packaging materials, computer chips, equipment parts and many other inputs, Carpenter said.
"But we rely on China for sales, too," he said, adding, "They're equally important on that end."
Of inputs that the company sells, "the seed supply may be the safest," he said. "The supply looks very good and availability shouldn't be an issue."
He expressed optimism about the fertilizer supply, too. "We have on hand 80%" of projected customer demand, he said.
However, "Crop protection chemistry is going to be a challenge. ... Any active ingredient could be in short supply, and farmers may have to use pesticides they are not accustomed to using," he said. "Flexibility is going to be key."
He also stressed the importance of rotating chemicals that utilize different modes of action, to avoid pest resistance over time. That is a principle he and Extension educators voice every year.
There are weed control alternatives, Carpenter said, such as using cover crops to suppress weeds between cash crops. However, he cautions customers to make sure they are prepared to make all the management changes that apply to any decision. For example, growing a rye cover crop means planning to destroy it soon enough to prevent the allelopathic chemicals released by the plant from damaging the following crop.
All decisions fit into the profitability plan, and fundamental to that, Carpenter said, is to "know your break-even costs."
Groskopf agreed and said the details of each farm operation are unique. "There's a million decisions and — it's important to look at (what is best for) your own operation — not what the neighbor does."
"Work with crop advisers, bankers, insurance agents, etc., and consider them your management team," she said. "Think about the long-term implications," including tax ramifications, "of your decisions."
Sometimes, after making a tentative decision, it's a good idea to go back to that crop adviser, banker or insurance agent to "make sure you didn't twist the message," she said. In the end, though, "you have to be the CEO. The final decision rests with you."
Partnerships between farmers could have added importance this year, too, Groskopf said. That could take the form of equipment sharing. For example, herbicide supply issues may result in the need to do some tillage, but one farmer may not have the equipment he needs or may have trouble getting repair parts. At the same time, a neighbor may have a need that creates an opportunity to share back and forth.
Groskopf said spending dollars wisely takes on added significance when input prices are high. She suggested two important guidelines. One is to aim for the optimal/most profitable yields, which are usually not the same as maximum yields. Another is to start with good data, particularly when determining fertilizer application rates. UNL recommendations assume that the farmer has reliable, up-to-date soil test results.
She also recommended taking advantage of information available at cropwatch.unl.edu and the UNL Center for Agricultural Profitability, at cap.unl.edu.
Oftentimes, decisions have to be made far ahead of planting, Groskopf said, and many farmers have already prepaid fertilizer and other inputs. Sometimes there is some urgency, and that can be stressful, she said, but "be cautious about making (decisions) on a knee-jerk reaction." On the other hand, "Not making a decision is making a decision."
Carpenter said he feels local farmers are up to the challenges, as long as the weather is reasonably cooperative this year.
"The American farmer is resilient. There's no question in my mind about that," he said.