MINDEN — Jim and Andrew Jensen hit the trifecta this calving season. Literally.
On Feb. 27, the Jensens' cows had just begun calving. Andrew was making his rounds at Homestead Farms in Minden, which he owns with his dad, Jim, when he came across a set of twin calves that hadn't survived.
The loss struck Andrew hard, and it continued to be on his mind as he began tagging other calves and checking on the heifers. Andrew returned home at about 10 a.m. when he saw a heifer, tag number 33, with a fresh baby.
"Heifers, you usually watch them closer because they have more of a tendency to get more wound up like, 'What is this that just came out of me?' Or they may just look at it and not lick it off.
"When they lick it off, that stimulates the calf to get it up. She was cleaning him off. She was doing everything she was supposed to do. It was like, 'Thank you. Thanks, Lord,'" Andrew said about the birth.
Since the cow and calf seemed to be in good shape, Andrew went inside to have a cup of coffee. Only five minutes had gone by when Andrew returned to the heifer, which now had two babies.
"They were in the same spot. There was no other mothers that were calving. I was like, 'Wow, she had a set of twins'  … that is rare," he said.
A haze began to roll in, so Andrew brought the heifer and her twins into the barn to keep them warm and out of the wind. Andrew gave each calf colostrum paste to give them a jump start and encourage them to nurse.
The heifer took to both calves, licking one and then the other. Andrew went to the tack room to take a break and pondered about God taking away the earlier set of twins but gifting a new set, when one of the babies got his attention.
"One of the babies was just making all kinds of racket, just talking. It wasn't a painful talk, but just talking. I was like, 'What is going on?' … I went out around the corner and there's three!" Andrew said.
No. 33 had given birth to three healthy bulls. The largest weighed in at about 45 pounds, and the smallest was a mere 30 pounds. This was the first time a set of triplets at Homestead Farms was born healthy and all three survived, Andrew said.
Buffalo County Extension Educator Brent Plugge said: "Triplets are pretty rare in beef cattle. I would guess we are looking at one per every 100,000 births that you see a set of triplets."
Plugge added that the size of newborn calves depends on genetic potential of the animal, but they typically weigh 85-105 pounds. Twins will be smaller, weighing about 60-75 pounds.
The smallest of the three calves, Scooter, was the first to stand up. Despite No. 33 wanting to take care of all three calves, the excitement of the situation was overwhelming for the first-time mom. She ended up head-butting Scooter and hurting him.
Andrew immediately retrieved Scooter from the pen and decided to care for Scooter himself while No. 33 took care of the other two calves.
"I was worried. I don't want to lose another baby. She hurt him pretty good," Andrew said.
Andrew was able to get No. 33 in the head gate so Scooter could nurse before becoming a bottle-fed baby. Andrew cared for Scooter for about two weeks when another cow lost her calf. Andrew decided to see if this cow would adopt Scooter.
Many cows, especially those with multiple babies, become very thin and lose their condition while nursing. That hasn't been the case for No. 33, who continues to care for Scooter's brothers, Finn and Muchacho.
"You provide (the cow) more nourishment to give to their bodies because their bodies will naturally support the calf, not themselves," Andrew explained. "She still looks terrific and holds her condition."
All three calves have their own personalities. Muchacho is the bossy one, and Finn is more laid back and docile. The pair are always together. As for Scooter, he was Andrew's baby for two weeks, and he still lets Andrew approach and pet him.
"He was used to me because for those two weeks I was his mom. So I was always talking to him and being goofy and making silly songs. You get kind of delirious," Andrew said with a laugh.
Scooter healed from the injury he endured after birth, and all three calves are healthy and growing.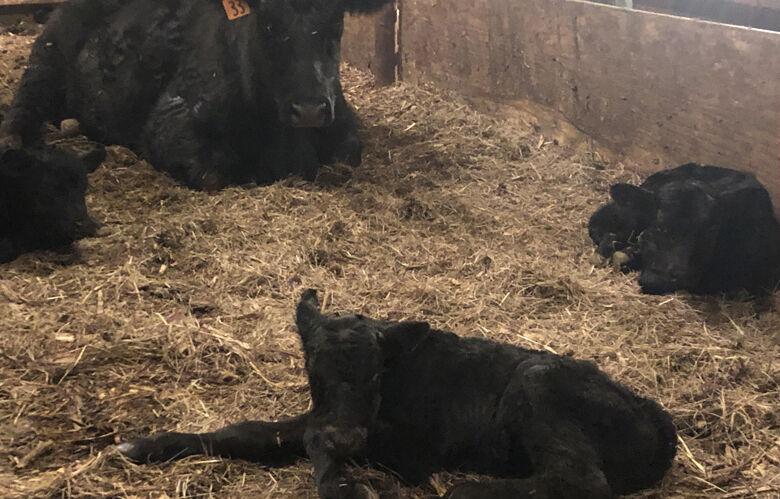 "You can't even tell they are triplets. They look like regular calves," Andrew said.
Homestead Farms has had 11 sets of twin calves this year, and Andrew is thankful for what God has given them.
"It was all the Lord. It was nothing to do with what I've done. It's what was given," he said.