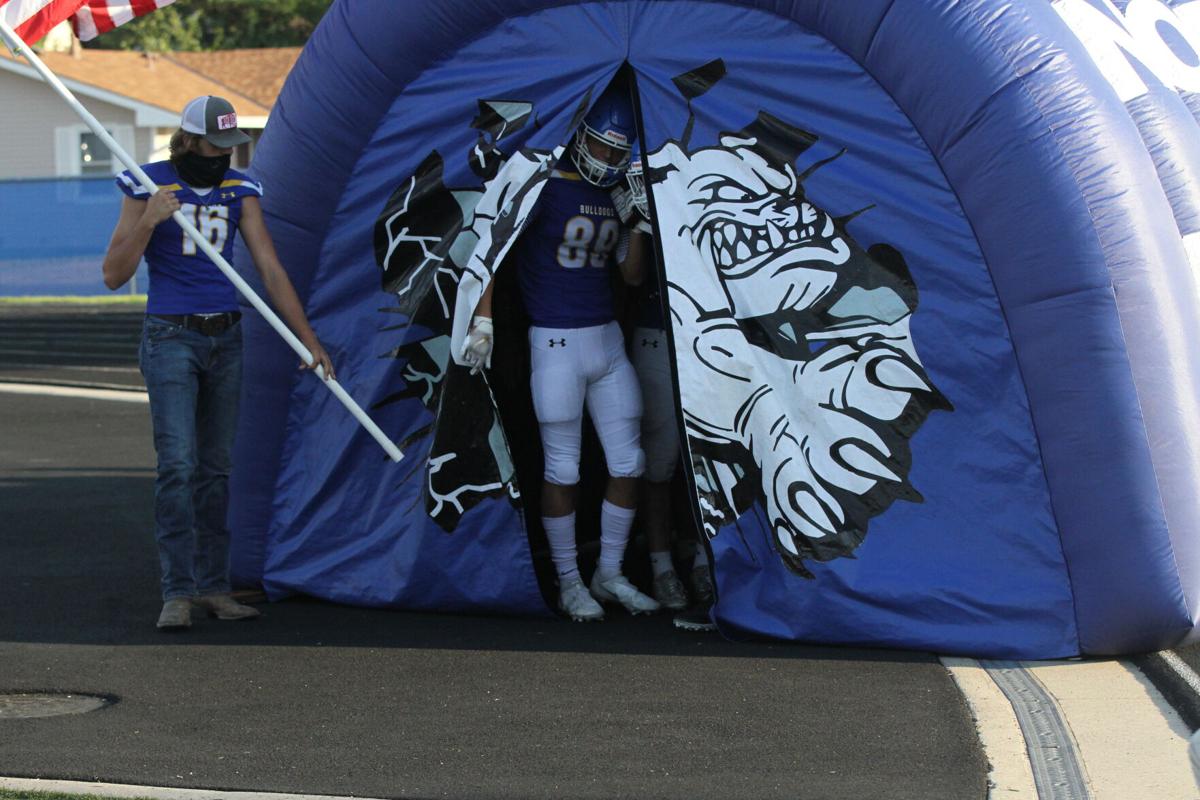 The North Platte football team's homecoming game was canceled Friday for the second time this week due to COVID-19 concerns.
The Bulldogs (2-0) were scheduled to play Bellevue West, the defending Class A state champions, at Bauer Field. The Thunderbirds were a replacement game after the Bulldogs' matchup with Kearney High School was canceled Wednesday after a Bearcat player tested positive for COVID-19 and the team and coaching staff were quarantined.
In a statement, the North Platte Public School District said, "Due to an additional number of Bulldog football players being held out of tonight's game due to COVID-19 investigation, we are unable ... to fill those voids with players who are ready to play at the varsity level.
"We are genuinely sorry that this game could not be played for our players and coaches, our community, and also for the Bellevue West Thunderbird football team. They were exceptional to work with through this process, and we wish them nothing but the best for the rest of the season."
The release stated that the district will look at rescheduling the homecoming game.
Mike Sautter, an Omaha World-Herald reporter, tweeted that Bellevue West "had buses loaded ready to head to North Platte for their football game tonight. NP was informed this morning that they needed to do additional contact tracing and that resulted in more players being quarantined."
Tina Smith, the North Platte district's director of communication, said the contact tracing concern grew out of Monday's junior varsity game between Kearney and North Platte.
Smith said some Bulldog players from that game — who also are part of the varsity squad — were quarantined earlier in the week.
"After further investigation (of game film), we have identified several other players who will go into quarantine as well," Smith said. "They are varsity players and that kind of took us out of the ballpark for (Friday)."
Saying the investigation is ongoing, Smith did not disclose the number of players who are quarantined. It is uncertain whether the situation will affect Bulldog games in the coming weeks.
"Right now we don't have an answer for that," Smith said. "We hope not. We would like to get the players back on the field just as quickly as possible, but we will do it in a safe manner.
"We're working closely with our health officials and following our (directed health measures) as they are written," Smith said. "With that being said, we stated from the get-go that we will err on the side of caution when it comes to the health and safety of our staff and students. That is what led us to this decision."
North Platte is scheduled to play on the road at Lincoln North Star on Friday and at Lincoln Northeast on Sept. 25.
The Bulldogs' cancellation added to a growing list Friday of schools not able to play. According to World-Herald reporter Stu Pospisil, COVID-19 forced Creighton Prep, Hastings St. Cecilia, Hartington-Newcastle and Santee to cancel. That left Ralston, Twin River, West Holt and Cody-Kilgore without games.
Friday afternoon, Chadron announced that it's game against Valentine was also canceled for "circumstances out of our control," according to a social media message.
Be the first to know
Get local news delivered to your inbox!