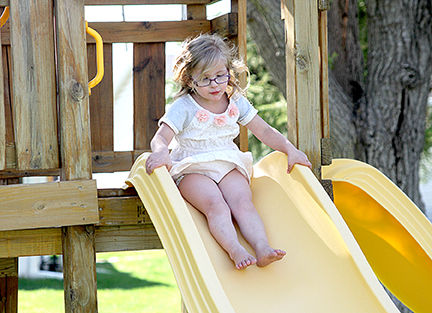 She won't run around in her princess dresses, slide down the playset in her backyard, cuddle with her parents and sister or sing "Let it Go," but Olivia Swedberg will continue to live through the memories of her family and friends, and as an organ donor to multiple children across the United States.
It was a no-brainer for Lauressa and Brock Swedberg to make the decision to start speaking with organ recovery organizations after Olivia, 3, was diagnosed on May 7 with diffuse intrinsic pontine glioma, an incurable brain tumor, which only affects children.
"Olivia's brain tumor was so centralized, it didn't affect any part of her body," Lauressa said Thursday.
Surgeons worked all day Monday and Tuesday to stabilize Olivia's body for organ recovery, and four teams came in to transport organs to waiting patients across the United States.
Two little boys in Pittsburgh were some of the recipients. Lauressa was contacted by a woman about one of the children, Lucas Goeller, a two-year-old who was born with end stage liver disease.
"He is a true hero in my book," she said in a post on the Princesses Don't Wear Pants Facebook page, where she has been posting updates on Olivia since May.
Lauressa said the woman who emailed her had been following both children on Facebook and said God had called on her to contact the Swedbergs.
"She was very sad to know Olivia was going to pass but also knew how she could save another," she wrote in the Thursday post. "So I checked it out and immediately fell in love with Lucas."
She requested to do a direct organ donation, which started Olivia on the road to Pittsburgh and into the Goeller's lives. Bridget Policicchio, Lucas' aunt, said the two families had no connections, nor knew of one another's existence, until a few days ago.
She said Lucas was given a year to live last June, and created a Facebook page and GoFundMe account to spread the word that the family was in desperate need of a liver.
"As of this morning [Thursday], Olivia lives on in our Lucas," Policicchio said. "Lauressa is a hero and Olivia is a miracle. Olivia is truly Luke's guardian angel."
Part of Olivia's bowels were recovered for another boy suffering in the same Pittsburgh hospital. Policicchio said when Lucas is healthy enough for visitors, the Goeller's would love to have the two families meet. She said she is confident Lucas' parents, Jessica and Rick, will remain in touch with the Swedbergs.
Lauressa said she jumped up when she heard Olivia's liver had gone to Lucas. The news broke her out of a depression she had been feeling through the day.
"It's giving us hope to carry on," she said.
So is the Swedberg's one-year-old daughter, Sophia, who went crazy when she saw her parents coming to pick her up Wednesday from Linda Whitmore's home. Whitmore has babysat Olivia and Sophia since they were born, and said it was the first time in two weeks the three had seen each other. Brock, Lauressa and Olivia had left June 20 for a Disney cruise from Nebraska Make-a-Wish, but had to leave the ship early after Olivia became semi-responsive. Whitmore said Brock and Lauressa were at the hospital 24/7 when they returned to North Platte on June 28.
"She's [Sophia] going to keep us going," Lauressa said. "And that's what I love about her."
Olivia was pronounced brain-dead Monday, and the work began to keep her body stable as her organs were recovered. It's an amazing process, Lauressa said. She hopes Olivia's life will increase education about organ donation. You just check a box on your driver's license, she said, but it's so much more. Olivia's was the first successful heart donation for North Platte too.
"I'm very anxious to hear where her heart went," Lauressa said.
She said she's smiling even now, to know that her princess is going to help others. There are 123,000 people on the national organ donor list, 2,062 of whom are younger than 18. In Nebraska, there are 394 people waiting for organs, 14 younger than 18, said Tom Neal, public relations coordinator for Nebraska Organ Recovery.