Govt-and-politics
alert top story
Co-sponsor of Nebraska 'heartbeat bill' has second thoughts, proposes 12-week abortion ban (copy)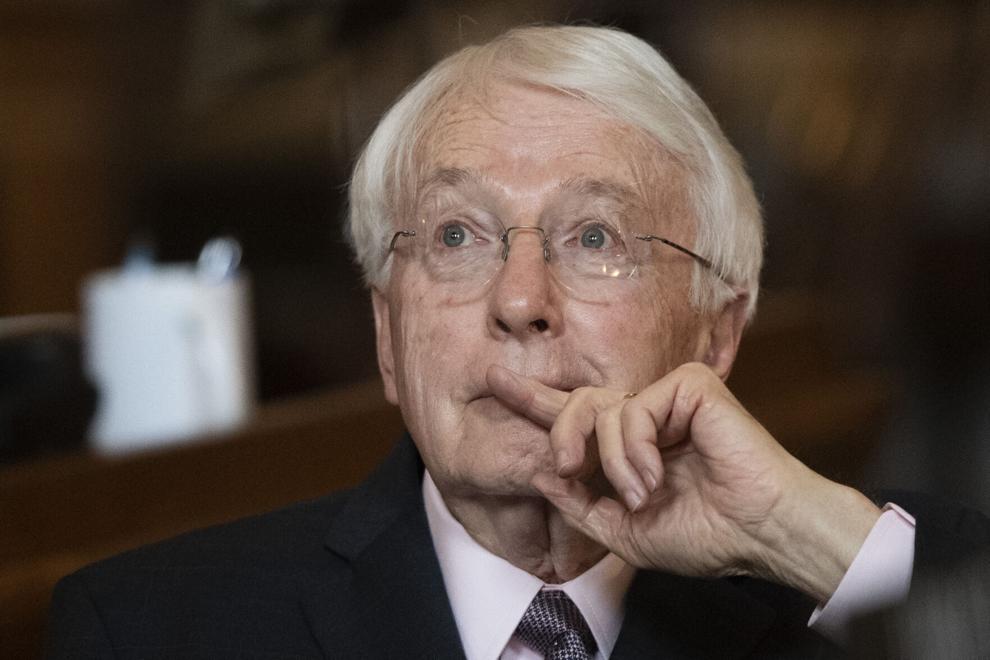 A co-sponsor of a bill that would ban most abortions once cardiac activity was detected in an embryo said he had "signer's remorse" in voting the bill out of committee earlier this year.
On Wednesday, Sen. Merv Riepe of Ralston introduced an amendment to the so-called "heartbeat bill" (LB 626) that would instead lower Nebraska's existing ban on abortion from 20 weeks to 12 weeks.
"I've spoken with some other senators, who will remain nameless, who said they think a 12-week (ban) is more reasonable, more acceptable," Riepe said.
A 12-week ban was put forward by then-Speaker Mike Hilgers last summer as the subject of a proposed special legislative session after the U.S. Supreme Court reversed the 50-year-old Roe v. Wade decision in June.
Thirty senators — nearly all Republicans, as well as Omaha Sen. Mike McDonnell, a Democrat — signed a letter supporting Hilgers' proposal last August. Backers needed 33 senators to call a special session.
Riepe, a Republican who replaced Sen. Steve Lathrop, a Democrat who chose not to seek re-election last year, said 23 senators who supported that measure returned to the Legislature this year along with 13 new senators who support increased restrictions on abortion, but the 12-week proposal did not resurface.
Instead, senators were asked to sign onto LB 626 before it was introduced in January, Riepe said, and while he supported it, he said he and others have come to view the legislation as "tantamount to a total ban."
If adopted by the Legislature, Riepe's amendment would more than double the amount of time women could seek a legal abortion from the parameters now included in LB 626. Medical professionals say cardiac activity can be detected in an embryo at about six weeks.
He said women who have irregular menstrual cycles might learn they are pregnant after the six-week restriction now being proposed. Those who do might not have the resources to seek abortion care in other states where abortion remains legal, he added.
"And I don't want women to, out of desperation, seek to self-abort, or quite frankly, do-self harm because of being so distraught," he said.
Riepe's amendment does not include any exceptions for rape or incest, and would subject doctors who perform abortions after 12 weeks to possible criminal penalties, however.
Sen. Joni Albrecht of Thurston, who introduced LB 626 and made it her priority bill this year, said she did not support Riepe's amendment and will continue to push the "heartbeat" legislation as passed out of the committee.
The bill advanced from the Health and Human Services Committee on a 4-2 vote but has not been scheduled for debate. It already had a narrow path to passage in the Legislature before Riepe's amendment was introduced Wednesday.
A vote count in February put the bill two votes short of the 33 needed to break a filibuster opponents of the bill have promised since the bill was introduced early in the session.
Last year, a trigger bill that would have banned most abortions if the Supreme Court overturned Roe fell to a filibuster late in the 60-day session.
Omaha Sen. Megan Hunt, who with others has filed dozens of amendments and motions in an attempt to stop LB 626 from advancing, believes Riepe's amendment signals regret.
"I think he knows it's an extreme ban," Hunt said.
Riepe said while his thinking on the bill has changed — "frankly, it's not a federal offense to withdraw (support)" — he doesn't plan to remove his name from LB 626 and said if the bill advances to the second round of consideration, his amendment proposing a 12-week ban could come up for debate.
"I want to discuss a 12-week versus what I call a six-week," he said. "That's my bottom line."