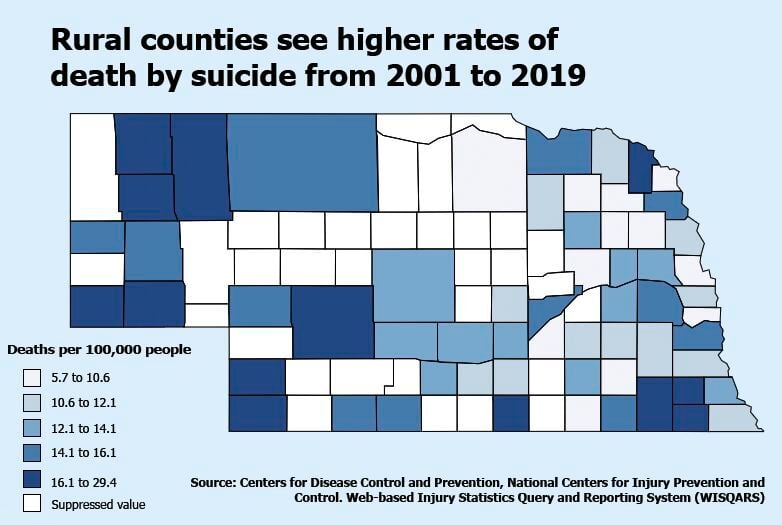 Something that Jennifer Krajewski has noticed about the North Platte area is that people aren't that willing to discuss suicide.
But, especially during September, which is Suicide Prevention Awareness Month, it's a topic worth talking about.
"The more we talk about it, the less stigmatized it's going to get," Krawjewski said. "The less stigmatized it is, the more people we are going to be able to help, so we need to be having those conversations a lot more than we're having them."
Krajewski is the team coordinator for the Southwest Nebraska Local Outreach to Suicide Survivors team, the coordinator for North Platte Suicide Prevention Coalition and a field trainer/advocate for the American Foundation for Suicide Prevention.
She is also someone who has lost a loved one to suicide — her brother in 1998 — and hopes that encouraging the conversation can help people.
"Ending suicide is not a scientific breakthrough we need to have," Krajewski said. "It's simply about making connections. It is truly that simple."
One thing that Krajewski still sees is the concern that talking to someone about suicide will put the idea in their head, and make someone consider it if they hadn't before.
She says that's simply not the case.
"What we've found from people who have attempted and survived is that they are saying that had somebody acknowledged my pain I was in, then I probably would not have attempted," Krajewski said. "By reaching out and even simply acknowledging them — 'I see you; you're going through a lot. I'm sorry that you're going through a lot. I see you' — gives someone hope, and by having hope, you're not going to feel hopeless."
She also encouraged people to consider the way they react when someone shares thoughts of suicide.
"The worst thing you can do is ... say, 'Don't do that, that's stupid.' Well, all you've done now is reinforced that they shouldn't tell anybody," Krajewski said.
If you noticed a co-worker walking to work when they normally drove, what would you do?
You might ask them what's going on, but if they told you their car was broken, you probably wouldn't feel obligated to fix it.
Krajewski uses this example to explain one thing that she observes often when it comes to suicide.
"There's such a misconception or myth that if you ask someone if they are suicidal, then you are obligated to fix them. And that is so not correct," Krajewski said. "Just because someone explains to you that they're down or struggling, you bear no responsibility to fix that any more than you do to fix their car if their car was broken."
And while you might not offer to fix their car, you might recommend a mechanic.
Getting help for someone thinking of suicide is like that. If you're not sure where to look for resources, anyone can call the National Suicide Lifeline at 1-800-273-TALK (8255).
"The nice thing about the (National) Suicide Lifeline is that you don't have to be the one in crisis to call that number, which a lot of people don't know," Krajewski said. "You can be with somebody who is in crisis, or even if you aren't with them, you can call and say, 'I'm worried about my co-worker, but I don't know how to approach it.'"
Krajewski often sees that "fix-it" mindset stunting the conversation around suicide. That is, if you can even find someone willing to talk.
She's found it especially difficult to broach the subject in rural areas like North Platte.
"The big thing that I've noticed in this area versus, say, east of Lincoln and Omaha, is that people out here are so afraid to even start the conversation about suicide and suicide prevention. There's such a stigma around it that people are even afraid to approach the subject," Krajewski said.
According to her bio, part of what drew her to the area is that North Platte is similar to where her brother lived before he died, a rural area with few resources.
Krajewski said even actions as small as asking how someone is or checking in on them can have a huge impact, especially in a place with few mental health professionals.
"In rural Nebraska, we don't have as many resources as even Omaha or Lincoln has, and that's why it's so important that we're taking care of each other, because we may not have the professional help to do that. But making those connections doesn't require a professional."
Digital editor for The North Platte Telegraph.