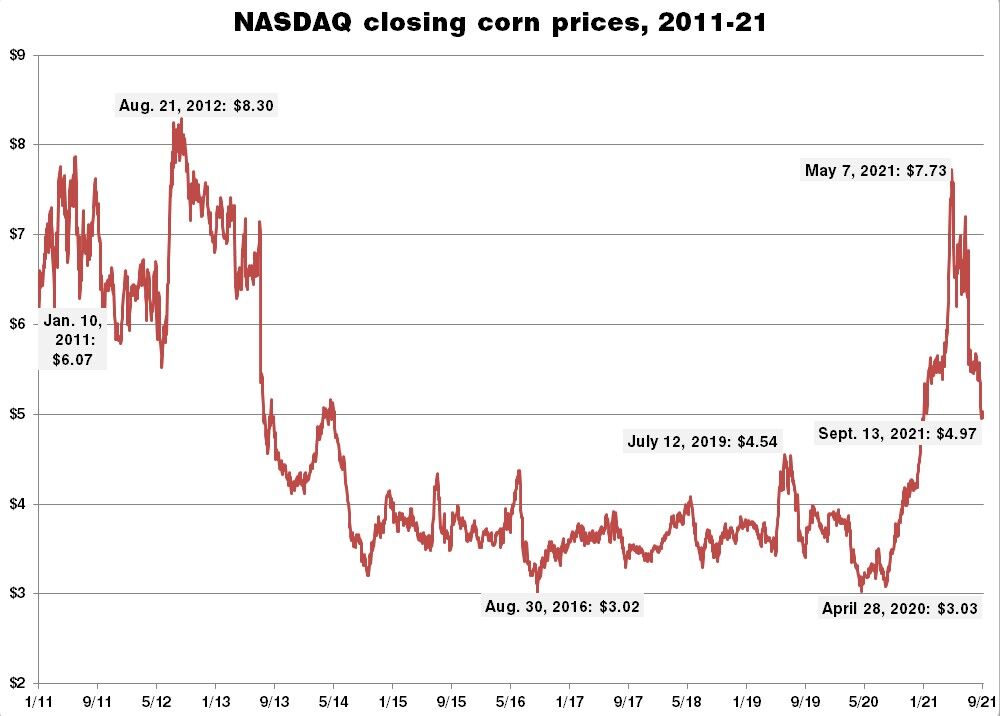 After seeing corn prices reach a nine-year high last spring, west central Nebraska growers are heading into fall harvest with prices back where they were as 2021 started.
Soybean prices have followed a somewhat similar track, with NASDAQ futures now below January levels after reaching highs in May not seen since the last major drought year in 2012.
Both of Nebraska's major cash crops are now expected nationally to exceed their 2020 yields by 6%, according to the U.S. Department of Agriculture's most recent forecasts released on Sept. 10.
Planting for Nebraska's 2022 winter wheat crop, meanwhile, was ahead of schedule in the most recent statewide report Sept. 13 from USDA's National Agricultural Statistics Service.
Producers should have relatively favorable harvesting weather, with normal temperatures and precipitation expected through December in the National Weather Service's latest three-month outlook.
Here's a glance at some key statistics for leading west central Nebraska crops:
» Corn: Farmers are facing more favorable prices this fall than last, even as they face the ebb tide of the strongest corn market in nine years.
NASDAQ's futures price on Sept. 13 stood at $4.97 per bushel, a penny higher than its Jan. 8 level but well ahead of the $3.57-per-bushel price of a year ago.
But current corn prices are considerably below the peak of a strong price surge in 2021's first half, following the worst supply disruptions of the COVID-19 pandemic.
Futures peaked at $7.73 per bushel on May 7, the highest for corn on the NASDAQ since Sept. 14, 2012. They stood at $7.20 per bushel July 1 before going into a steady decline.
NASS' September report predicts 85.1 million acres of corn will be harvested nationwide, 3.2% more than in 2020. Nebraska's harvest, however, is expected to fall by 2.9% to 9.6 million acres.
A combined 66% of Nebraska's corn was in good or excellent condition heading into harvest, NASS said in its latest report.
About 35% of the crop has matured, better than the five-year average of 29% but behind last year's 45% mid-September maturity rate.
Harvesting had just begun as of the Sept. 13 report, with 1% of Nebraska's cornfields already finished, NASS said.
» Soybeans: In contrast to its corn forecast, NASS projects a 7.6% boost in Nebraska's soybean harvest to go along with prices higher than last fall.
Statewide soybean production was estimated at 5.55 million acres in the agency's September report, compared with 5.16 million acres in 2020.
NASDAQ's futures price on Sept. 13 stood at $12.85 per bushel, 28.5% better than the $10-per-bushel available 12 months earlier.
Soybean prices followed those of corn upward last winter and spring, topping out at $16.43 per bushel on May 12.
That figure, however, remained well under the past decade's peak of $17.66 per bushel on Sept. 4, 2012. Current NASDAQ futures are lagging the $14-per-bushel prices recorded in mid-January.
NASS' statewide report Sept. 13 rated 69% of Nebraska's soybean crop as good or excellent. The crop's maturity rate was 27%, better than September 2020's 24%. Farmers had harvested 2% of the state's soybean fields.
» Winter wheat: Western Nebraska farmers had planted 17% of their expected fields for 2022 by mid-September. That's twice last year's planting completion rate and higher than the usual average of 13%.
Winter wheat crops sprout in the fall and lie dormant during the winter, with most growth in the spring and harvest during July.