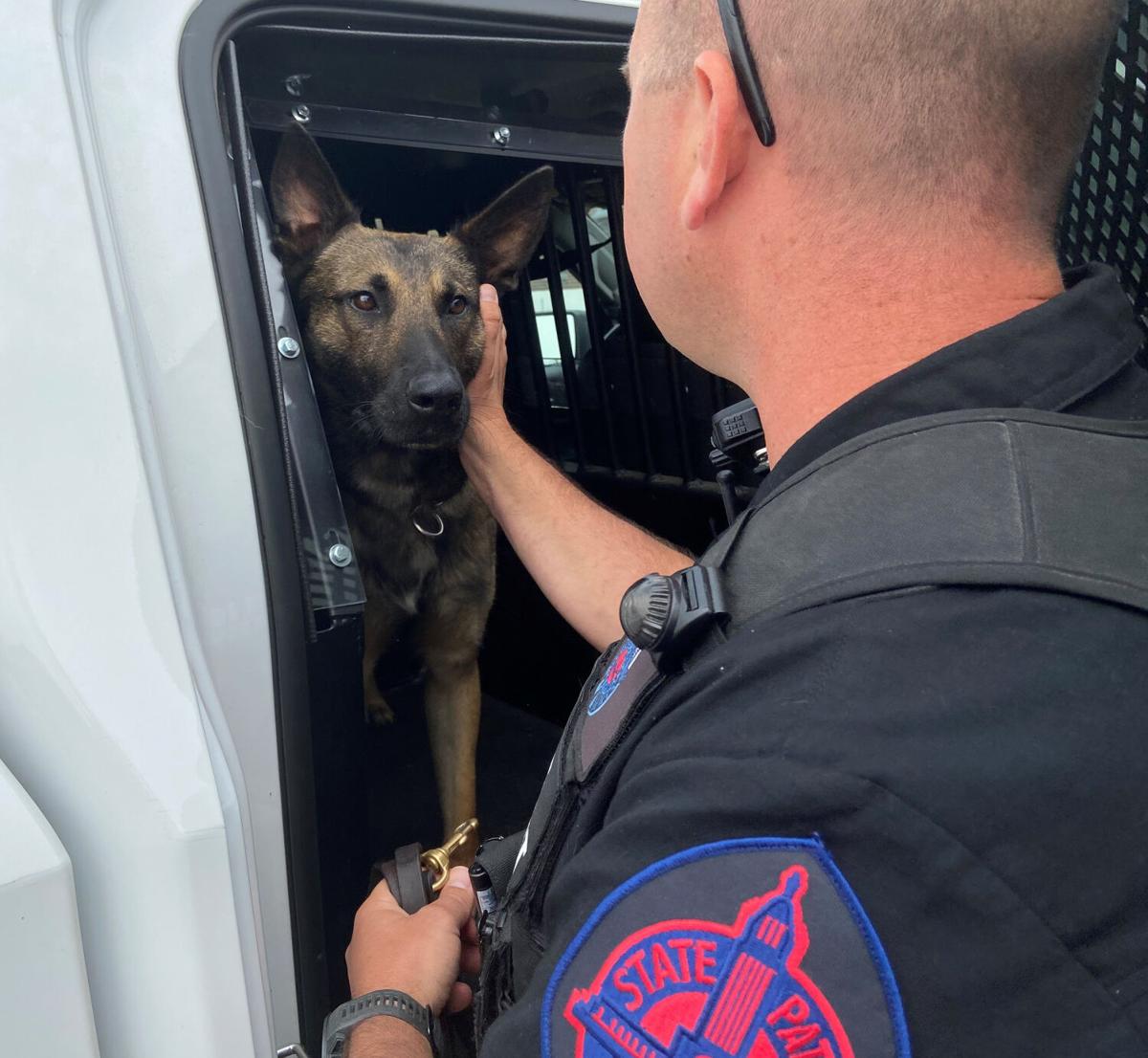 State Trooper Michael Rice grew up as a son of a dog handler with the Nebraska State Patrol. Now he is in his first year as a member of the department's K-9 division himself.
"I kind of grew up with a working dog in the home, and I just thought it was the coolest thing in the world," said Rice, who has been with the patrol since October 2014. "After (the dog) retired, we kept him at home as a family pet, and again I just thought it was the coolest thing, to have a police dog at home.
"When I got hired on with the patrol, that was my No. 1 target. I wanted to be a dog handler."
Rice has been paired with Jerry, a 2-year-old male, who is a mix of German shepherd and Belgian Malinois.
The duo are one of two K-9 units with the State Patrol's Troop D based out of North Platte. Trooper James McKain is paired with Lee, a 4-year-old Belgian Malinois mix.
Both canines are dual-purpose police dogs, trained in narcotics detection and patrol work. The patrol has eight other dual-purpose K-9 units across the state and one explosive detector/patrol dog.
Troop D has had K-9 units since the late 1990s.
Jerry was born in Hungary and Rice brought him to Nebraska from Iowa. The two were put though the patrol's 13-week training course for K-9 units. The first six weeks are focused on detection skills.
The training doesn't end there. Under State Patrol guidelines, the teams are audited monthly and must pass a recertification every year to remain in service as a team.
Rice said he has dedicated training days each week with Jerry alongside fellow dog handlers in other agencies. He also works with Jerry daily, whether on obedience or other small tasks.
"The thing you have to keep in mind is that they're dogs, not a machine that you can just turn on and off," said Rice, who started with the State Patrol in the Lincoln area before he moved to Troop D and the K-9 unit.
"When we are at work, we have a job to do and we need to do it," Rice said. "When we are at home, I give him down time where he can just be a dog and run around in the backyard."
Rice said Jerry is a hard-driven dog and likes to have a purpose, which is a quality of the breed. Rice doesn't focus on the number of deployments the team has been called to, or the amount of narcotics that might have been seized as a result.
"I don't really focus on the amount," Rice said. "I mean, let's be honest, the bigger the number, the more excited people get about it."
Instead, his focus is on the larger picture.
"It is just getting a call from a trooper, a deputy or an officer who says, 'We've got this problem we are trying to solve. Can you help us?'
"To help them solve that problem, that is the biggest highlight for me. Ultimately at the end of the day, that's why we exist. We're here to support and be an asset for everybody."
---
More by Tim Johnson
5 crime stories that stood out in 2020
From our reporter who covers the crime beat, here are some memorable articles he worked on this year.