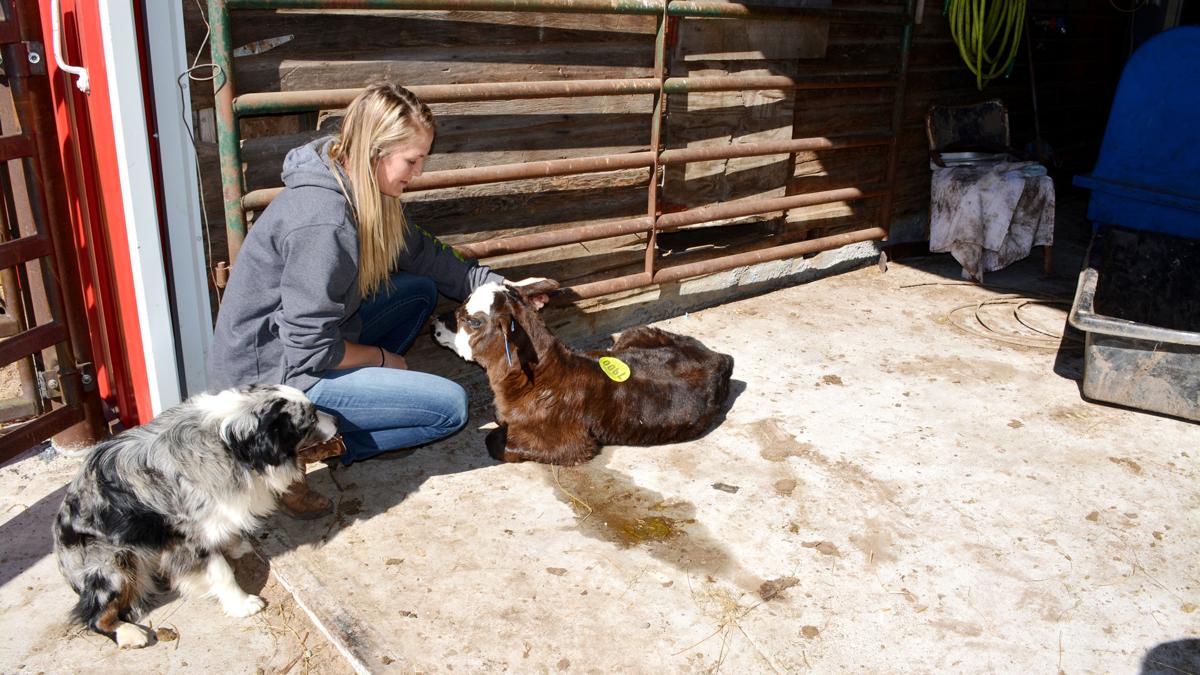 Weather plays a big part in the work load during calving season on the Maline ranches near Wallace.
Randy Maline and his family operate the business together, running about 400 head of cows and heifers. Son, Ty, daughter, LeeAnn West and her husband, Mike, all share in the duties on the ranch.
Last season, the weather was the coldest Randy has experienced in his many years on the ranch. However, this year it is the complete opposite as mild temperatures have made the process a little easier.
"(Randy) starts calving about February and we calve until probably the end of April," LeAnn said. "We've been really lucky with the weather this year. Last winter I know my brother was exhausted, it was so cold."
At that time, LeeAnn said, the family was getting up every two hours to check the cows and heifers.
"You had to bring (the calves) in or they would freeze," LeeAnn said. "This winter has been really nice to us."
LeAnn takes the midnight check, Randy does the 3 a.m. check and then they all do a check about 6 and throughout the day.
"I'm not that good at (predicting) when a cow is going to drop her calf," LeeAnn said. "I keep telling my dad he needs to teach me his ways. He says it takes 60 years."
LeeAnn said her dad will put a cow in (the barn) and say, "'She's going to calve,' and I go, 'How do you know?'"
Cows have had at least one calf previously and they generally don't have much trouble giving birth, LeeAnn said. Heifers are first-time mothers.
"Cows usually go pretty smooth, they're pretty good at it," LeeAnn said. "We have first-calf heifers here and since they've never done it, they have a little trouble sometimes. We've pulled three so far."
When a heifer is struggling, a tool called a puller is used. It is inserted in behind the calf in the uterus and then a pulley system is used to get the calf out.
The calves don't take long to get up and moving.
"It is pretty quick," LeeAnn said. "I'd say we want them up and drinking within the hour, depending on how good the mothers are at licking and cleaning and stimulating them and getting them going."
Sometimes the heifers are not quick enough to clean their calves.
"They haven't been doing that good this year so we've been taking the calves and drying them off with a towel and getting them going before we put them back in with the mom," LeeAnn said. "Some heifers just don't know what to do, but others are pretty good at it right away."
LeeAnn and Mike hope to eventually have their own operation. Mike works on the railroad currently.
"He gets home from work about 3 in the morning so sometimes he'll take over my dad's check," LeeAnn said. "He grew up on a ranch too and loves it.
"I love being out at the farm. We lived in town for a while acnd it just wasn't for us — the city life."
The Wests live in LeeAnn's grandparents home where the ranching life began for the Maline family.
Be the first to know
Get local news delivered to your inbox!