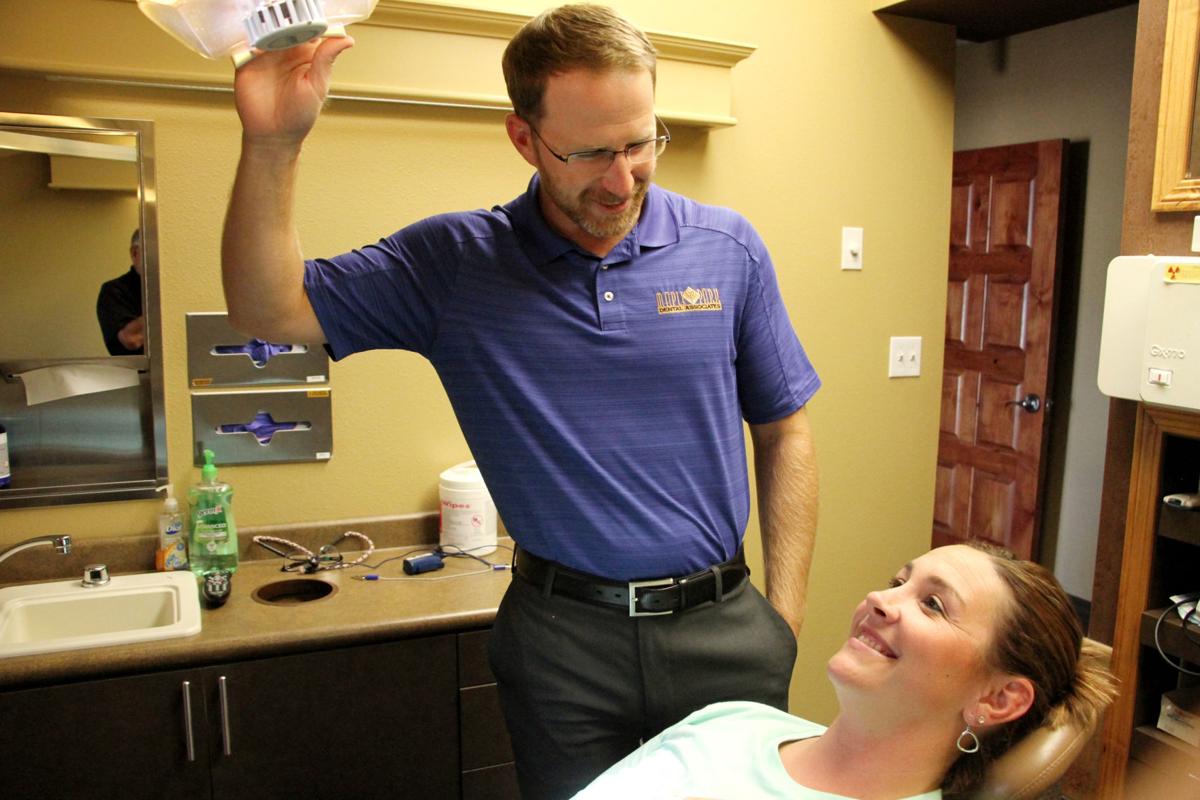 Home care impacts oral health more than anything else, according to Dr. Daniel Woodburn, of Maple Park Dental Associates in North Platte.
Brushing properly effectively diminishes the potential for problems that can occur with teeth and gums.
"Overall I think oral care is done by us at home," Woodburn said. "You need a really good toothbrush and your toothbrush needs to be replaced every month if you're doing it right."
The standard protocol, Woodburn said, is to brush your teeth twice a day for two minutes at a time.
"When you're brushing your teeth, use a fluoride-based toothpaste, which is good for basically all ages," Woodburn said. "If your bristles are getting flat or they look like they're worn out, your brushing probably isn't doing what it needs to do."
In today's world, Woodburn recommends electric toothbrushes.
"People do better with electric brushes because it just makes it easier on you," Woodburn said. "All of the stuff you can get over the counter like the mouth rinses, all that stuff is good, but nothing replaces a really good toothbrush and using it the way that you're supposed to."
Brushing more than twice a day is generally not necessary, Woodburn said.
"Everybody's different, but some people can over-brush," Woodburn said. "That's another reason I'm a fan of the electric toothbrush because an ocillating tooth brush will help prevent overbrushing."
Outside of the home care, Woodburn suggests regular visits to a dentist.
"We recommend every six months see a dentist," Woodburn said. "There is going to be stuff going on during those six months that is out of your control."
He said it is good to have a professional clean them and just make sure that everything else looks healthy.
"We always do oral cancer screenings at those six-month visits," Woodburn said. "Some people don't have to do six months because they take better care of their teeth."
Woodburn's recommendations are based on each individual's oral health.
As in all areas of health, genetics plays a huge part.
"Not only within our genes, but a lot of our oral flora, which is the bacteria in our mouth, is determined by our parents and our siblings," Woodburn said. "We share cups, we kiss each other and that's how bacteria gets transferred from one person to the next."
When a child is born, they don't have bacteria in their mouth, he said.
"They get that through their environment and their environment comes through their parents," Woodburn said. "It's not uncommon to see that if a parent has a rough time with their teeth, they oftentimes pass it on to their kids."
If you have had trouble with your teeth, being cautious of the example you're setting for your child is important.
"They're going to be inheriting the same bacteria that you get and everybody's oral flora, or bacteria in their mouth, is different," Woodburn said. "Some people develop cavities easier, some people build tartar easier."
Periodontal health also can impact our overall oral condition.
"When we talk about the gums, we're not only talking about the gums that you see, but also the bone underneath them," Woodburn said. "Our teeth need to be housed in good, solid bone in order to last us throughout our years."
As we age, the tissues that surround and support the teeth recede.
"It happens to everyone of us, so trying to minimize that and maintain them as long as we can is critical," Woodburn said.
Another component of maintaining good oral health is diet.
"Outside of your cleaning them, eating the right things and taking care of yourself from a dietary standpoint is also critical," Woodburn said.
Other problems, for some people, can be caused by genetic conditions or some other health-related factors.
"A lot of medications can dry our mouth so we have to be cautious of that and do what we can to battle the dry mouth situation," Woodburn said. "It's something that maybe gets overlooked when you're focusing on your heart, which is obviously a critical part of you."
It's important to recognize how the health of other parts of the body can affect teeth, and what the effects of some medications can be, he said.
Fluoride, a naturally occurring mineral, has been a long-standing facet of improving oral health.
"We're always trying to find different constitutions of fluoride, different things to mix it with," Woodburn said. "The standby has always been sodium fluoride and that's what you're used to in your toothpaste that bubbles up."
Stannous fluoride, a chemical compound, can also be utilized by dentists.
"What the fluoride actually does is it penetrates the enamel of your teeth," Woodburn said. "It changes the chemical structure of the tooth, the crystalline structure and makes the tooth harder."
That helps make the tooth resistant to decay.
"After you brush your teeth, your teeth are remineralizing after you've been demineralizing them all day," Woodburn said. "Our teeth are like crystals and when we drink soda and we eat, we're creating an acidic environment in our mouth that's destroying the crystal. It's dissolving it basically."
The flouride penetrates the crystal and recrystalizes it to make it strong again.
"We don't have another chemical that does that," Woodburn said.
At the end of the day, treatment options are tailored to each person based on individual analysis.
"Everybody's different and what's treatment for one person may be completely different for another," Woodburn said. "Every person's individual treatment needs to be a decision by that person and what is best for that person."
Be the first to know
Get local news delivered to your inbox!