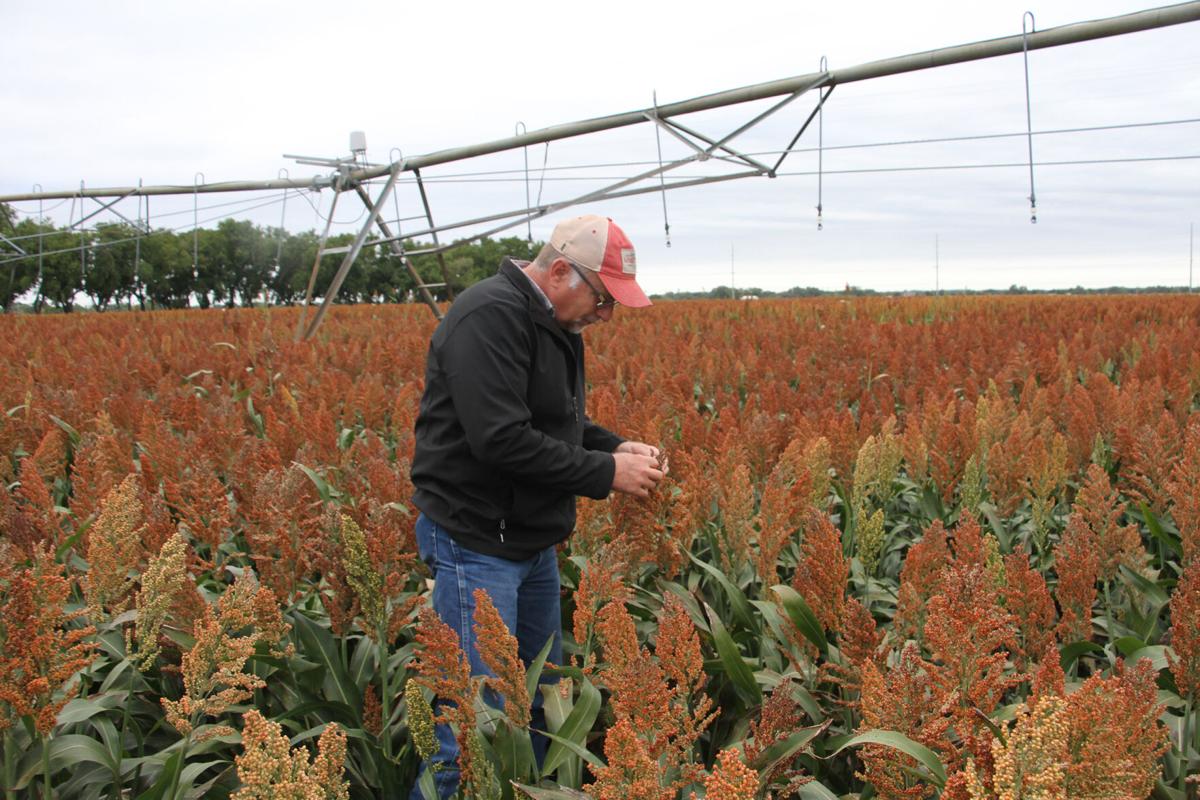 The impact of sorghum on the world market offers potential for Nebraska farmers to consider growing the alternative grain crop.
Nate Blum, executive director of the Nebraska Sorghum Producers Association, said the demand for sorghum is increasing worldwide and he hopes to develop the means for producers to benefit economically from the crop.
"The problem is we're not capturing the value here in Nebraska," Blum said. "So we're shipping out all this raw grain — and we don't just do this with sorghum, we do this with so many products — and we have very little profit."
Blum was in North Platte Sept. 9 at the West Central Research, Extension and Education Center with leaders from the U.S. Global Leadership Coalition. The visit was part of a series of conversations across Nebraska about the economic potential of producing the gluten-free, non-genetically modified grain.
"We ship this stuff out and it's processed into food products or other types of products, not in the Midwest, then it gets shipped back to us," Blum said.
An example, Blum said, is Barilla noodles.
"They have a gluten-free product," Blum said. "They get their sorghum flour for that product from New Life Market down in Kansas. They put it on a truck, put it on a train, put it on a ship and send it all the way to Italy."
In Italy, it is made into gluten-free noodles.
"They put it on a truck, put it on a train and ship it back here, where it's sold in a grocery store," Blum said. "That doesn't make any sense to me, particularly when these companies are looking at the cost of shipping and everything that's going on with logistics internationally. It doesn't make sense to them either."
Blum said he talks a lot with domestic processors trying to get them to locate in Nebraska.
"We also try to grow our own entrepreneurs through our Catalyst program, which you can find on our website," Blum said. That information can be found at nebraskasorghum.org/catalyst.
At WCREEC, water cropping systems Extension educator Chuck Burr said sorghum has potential to be a profitable alternative crop in Nebraska.
"Sorghum probably hasn't competed very well with our traditional corn cropping rotations in the past," Burr said.
He said typically sorghum yields are not as high as corn.
"Mostly sorghum in the past would be grown on fields or land that maybe is not the top quality," Burr said, "maybe lower organic matter or tougher soils. "
Sorghum, he said, does very well in dry weather.
"It's really a dry weather crop," Burr said. "It takes fewer inches of water for sorghum to produce that first bushel. So in some years when dryland corn doesn't produce anything, there would at least be some sorghum there to harvest."
Sorghum is a grain crop, similar to corn.
"They are both grass-type plants that produce grain," Burr said. "In the past, it has pretty much been used as a feed stock for feed lots, swine operations and things like that.
"The exciting thing about that is we're starting to see some food grain sorghums come out."
Sorghum is gluten free, Burr said, which fits into the diets of a growing number of individuals around the world.
"It is non-gluten and would also be a non-GMO (genetically modified organism)," Burr said. "We have a larger and larger segment of our population that's interested in eating non-GMO grains, whether that's right or wrong, that's the way things are moving."
Burr agrees with Blum on the possibility of processors locating to Nebraska.
"We've got quite a few acres of sorghum north of us in the Dakotas and south of us in Kansas and Texas," Burr said. "It's a little hotter environment down there."
He said sorghum seems to do better in warmer environments.
"We're kind of in an unique spot here, between those two fairly large sorghum acreage areas," Burr said. "We've got, obviously, a great rail system from here to be able to ship it back out."
Burr said the research ongoing at WCREEC is through the Testing Ag Performance Solutions program, which facilitates interactive real-life farm management competitions.
"We have a TAPS sorghum competition," Burr said. "What we're trying to look at is different seeding rates, different hybrids, when to apply nitrogen, how much to apply and then what kind of yields can you get on some pretty top-notch soils here under different water conditions."
Looking at the future, Burr believes some areas around North Platte could see water restrictions.
"So maybe producers in the future won't be able to pump as much water as they would like to," Burr said. "Sorghum might be that opportunity for them to be able to produce a full sorghum crop where they wouldn't have enough water to produce a full corn crop."
His research is looking at that aspect to see what the profitability might be.
"I want to see what our production functions are as we look at limited water environments," Burr said. "I think that could be pretty important."
Another aspect is a sorghum hybrid currently growing in the center's plots.
"We actually have a high-protein sorghum hybrid in our TAPS plot this year," Burr said. "I'm anxious to see how that yield compares to the other conventional sorghum or regular protein sorghum."
He said high-protein sorghum would go right into pancakes and other foods.
"I think eventually we'll see more and more of our sorghum going to food instead of just livestock feed," Burr said. "If we can get into that market, then the price ratchets up pretty quick."