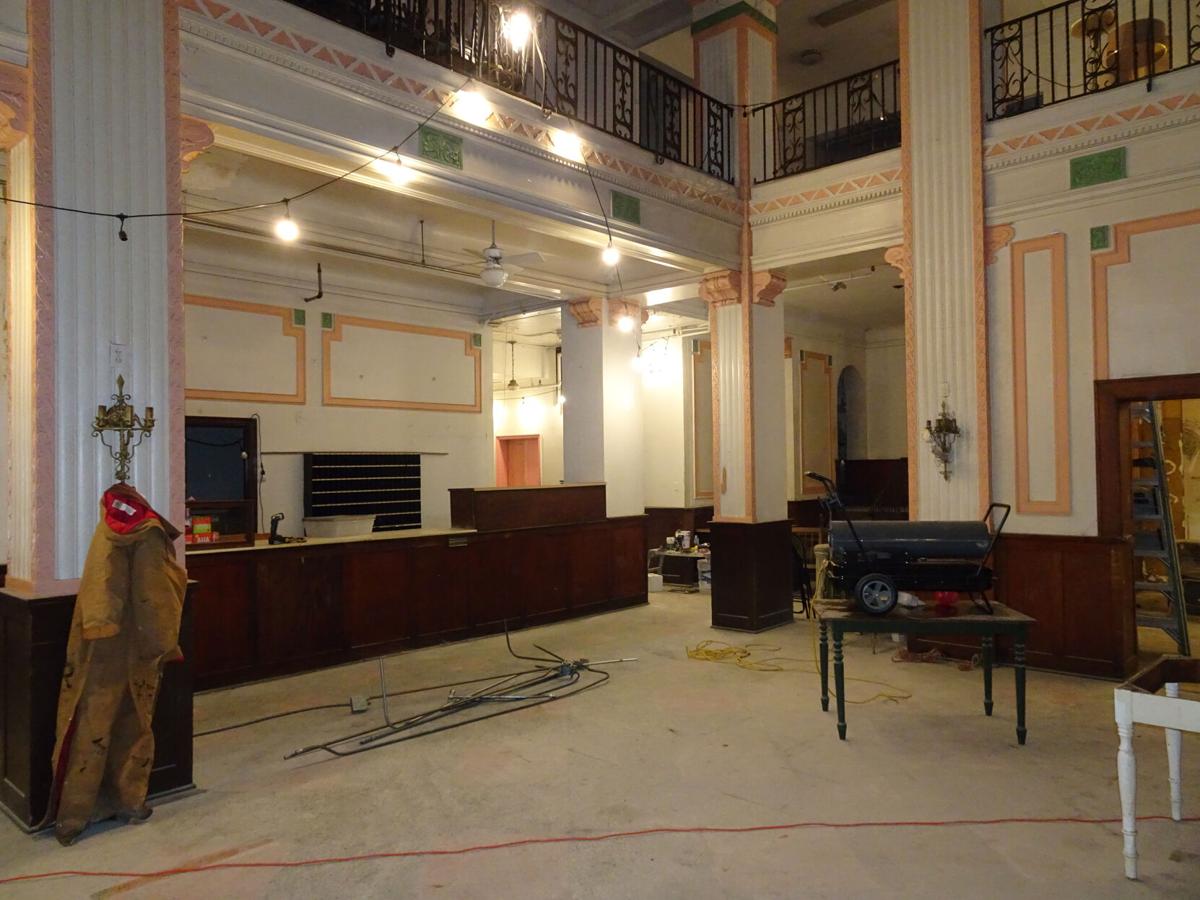 North Platte's grande dame is slowly opening the doors of her classic wardrobe.
Painted-over aesthetic touches and even entire artworks hidden for decades are emerging in the early stages of owner/historic redeveloper Jay Mitchell's revival of the 1929 Hotel Pawnee.
Since their arrival in mid-October, Mitchell and his core restoration team have been cleaning up, taking stock and beginning to uncover known and unknown gems inside the Canteen District's worn but stout eight-story jewel.
Though renovating it all will take some time, they're hoping to have the bottom two floors — the ones previous generations knew best — restored and ready for new businesses and public access by the end of next summer.
That includes the spacious first-floor lobby, its adjoining Green Room dining room and second-floor mezzanine balcony; the nine first-floor business spaces, anchored by the 1941 Tom-Tom Coffee Shop and 1936 White Horse Bar; and the second-floor Crystal Ballroom, in the worst shape after a ceiling cave-in several years ago.
As Mitchell guided us last week, we could see many tantalizing hints of the enduring and lost glories of the National Register of Historic Places structure.
Here's some of our favorites:
» The western-shaded, semicircular 1940s eating bar in the Tom-Tom, where Mitchell and his workers are locating and carefully re-exposing painted-over wall renderings of a bison, a coyote and a bird near the south entrance.
On the coffee shop's north wall, they've also spotted and begun to reveal a sitting Indian and what appears to be a cowboy.
"We'll find out as we chip away (paint) from this," Mitchell says.
» A detailed drawing of an Old West campsite that once offered a backdrop to a World War II-era newsstand just off the first-floor lobby.
» A 6-foot-tall, glass-encased and illuminated piece of Native American art, unknown even to Mitchell's team, integrated into and hiding behind plywood and paneling in a wall near the White Horse Bar entrance.
"This is unique. I've never seen anything like it," Mitchell says. "The worker who found it that day — it made his entire day (and) his entire week."
» The stubborn majesty of the Pawnee's imposing first-floor lobby, its Georgian Revival lines and original 1929 chandeliers and wall fixtures still in place. Mitchell intends to remove a late 1900s pink-and-cream paint scheme to recover the original darker shades.
» The still-crisp Art Deco glasswork and peacock seals marking the light fixtures and wall sconces beyond the lobby in the first-floor "Green Room" dining room.
It's not green now, Mitchell says, but it will be again once he and his team determine the original shade among the various flavors of green exposed by peeling paint in one corner. They're doing likewise in other parts of the hotel.
» Finally, the hopeful sadness amid the rubble that once was most of the plaster ceiling over the 300-seat Crystal Ballroom, where Gov. Arthur Weaver spoke at the Pawnee's dedication dinner on Oct. 16, 1929.
Pipes in a frozen-over fire sprinkler broke several years ago, flooding above the plaster and causing most of it to fall in, Mitchell says.
But despite its appearance, he adds, the ballroom's framework retains the stout construction with which former Gov. Keith Neville endowed the Pawnee, the neighboring 1929 Fox Theatre and the 1931 Paramount Theatre building across East Fifth Street.
"It looks very devastating and very horrible, and it is horrible," he says. But "the structure is great. ... This can all be repaired."