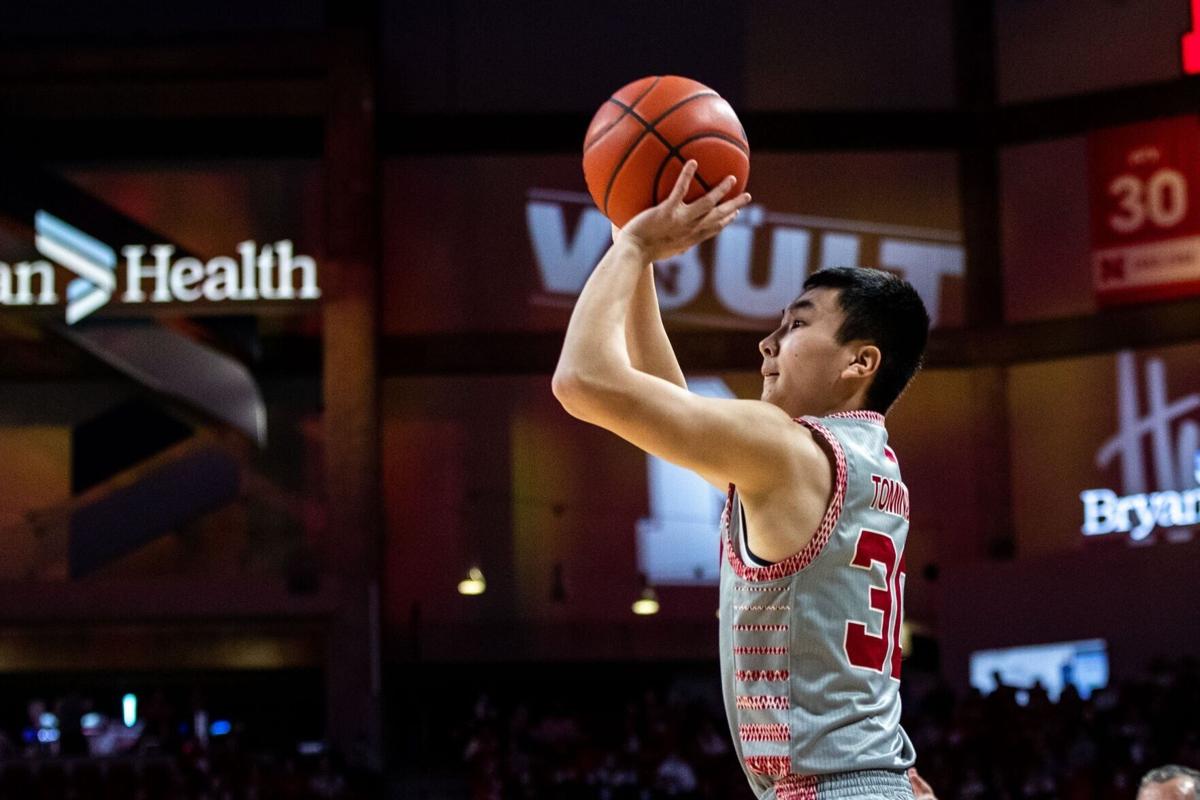 LINCOLN -- When Keisei Tominaga smiles, his Nebraska basketball teammates can't help but smile back.
They grin to make Tominaga feel welcome so far from his Nagoya, Japan, home, to encourage his infectious attitude. And during their 83-70 win over South Dakota on Saturday, they grinned because it was fun to watch him break free of his shooting struggles.
Tominaga finished with a career-high 23 points and five 3-pointers against the Coyotes. Each one came with its own unique celebration. Three fingers in their air for the first. A twirling index finger after the fourth. After splashing his fifth, which capped an 18-2 Nebraska run, Tominaga ran back on defense, turned around to find his man and raised both shoulders with palms turned upward.
"I don't know," Tominaga said. "But when I was young, I watched the NBA. So I learned how to (have fun)."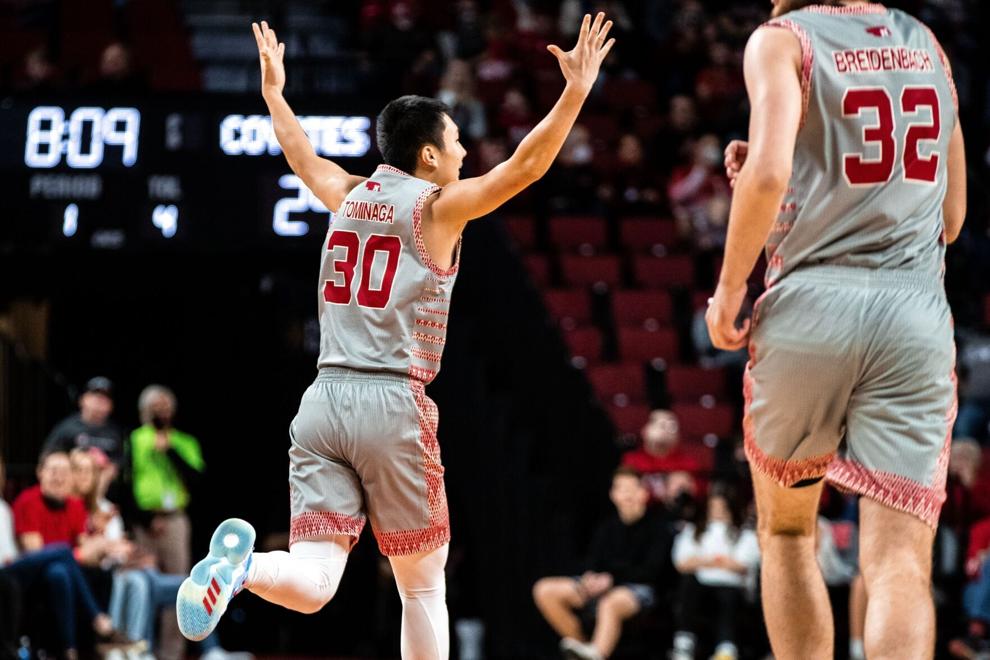 Entering Saturday's game, Tominaga had missed 15 of his 19 3-point attempts and 17 of his 26 shots overall. Nerves bothered his shooting rhythm, Tominaga said. He shot with too much power. He needed to relax.
Coach Fred Hoiberg didn't offered Tominaga much advice — "because of how good a shooter he is," Hoiberg said. But Hoiberg could tell Tominaga was pressing. It's human nature, the Huskers' coach said, for shooters to "guide" the ball when they've been missing.
"So (I was) really trying to get him back out and shoot with confidence, trust the stroke," Hoiberg said.
Tominaga put those words into action 77 seconds after entering the game. With 8:52 to play in the first half, he pump-faked a defender and made a 3 from the left corner. One possession later, he used Kobe Webster and Eduardo Andre as barricades to swish a leaning 3 with his defender underneath him. And with 6:51 left in the half, he lost his defender around another Andre screen and made his third straight 3 to give Nebraska a 31-29 lead it would never relinquish.
"I feel more comfortable now," Tominaga said. "I just kept shooting, practicing, that kind of stuff."
That's not all he did against the Coyotes, though. Tominaga's third 3-pointer gave Nebraska the lead, but his other skills extended it. He scrambled past his defender to score a layup that put the Huskers up three. And he assisted on two consecutive baskets by Derrick Walker, who scored in double figures (13 points) for the fourth straight game. After slicing a bounce pass between two defenders that Walker caught and dunked through a foul, Tominaga swung his fist like a mad boxer at half court to celebrate.
Lat Mayen followed Tominaga flexing and screaming. And Bryce McGowens, who finished with 22 points, nine rebounds and four assists, implored Tominaga to keep shooting despite his early-season slump.
"We know it's in you," McGowens recalled saying. "We know you know you have it. "Just keep shooting the ball."
The Huskers love celebrating Tominaga's success because, as Hoiberg said, they know how hard he works. They see how much joy it brings him when the work pays off. And they love to match the emotion he shows when he makes a big play.
"He's such a popular teammate and a great kid," Hoiberg said. "He's one of those guys that is a joy to be around. He's always got a smile on his face. And like I said, our guys love him. I thought we did a good job trying to locate him."
When they did, Tominaga delivered. His five 3-pointers are the most by a Husker this season, and he scored 10 points during the 18-2 run — including a sneaky inbound pass steal and score — that sealed Tominaga's widest smirk of the day.
After the game, a reporter asked Tominaga about his favorite part of game day.
"Winning," Tominaga said. Then he smiled. McGowens smiled with him.
Notes
» Bryce McGowens finished with 22 points against South Dakota, marking his third 20-point performance in seven games as a Husker. He also recorded four assists for the third straight game and three or more for the fourth time this season.
Throwing those passes requires confidence that the players catching them can do something with it. And after seven games, McGowens' trust in his teammates appears to be growing.
"Everybody can do a lot on this team," McGowens said. "So I feel comfortable knowing that the next player is gonna make a play out of the play I made."
» Tominaga supplied Nebraska's energy, but the Huskers' defense kept South Dakota's low. NU silenced Coyotes for nearly six minutes during their 18-2 run that put the game out of reach, and Hoiberg said his defense improved as the game went on.
The numbers support his argument, too. After making six of their first 10 3-pointers in 13 minutes, the Coyotes only made six more the rest of the way. And Coyotes forward Tasos Kamateros, who scored eight points in his first nine minutes, didn't score again afterward.
Hoiberg said the Huskers employed more switching on Kamateros' screens and ran South Dakota's shooters off the 3-point line during the second half.
(We) still need to do a better job running guys off (the 3-point line)," Hoiberg said. "(But) as the game went on, I was much happier with how we defended."
» After two promising performances, Alonzo Verge found himself watching large portions of the Huskers' latest win from the bench. Again.
Verge finished with three points and five assists on 1-of-7 shooting in 16 minutes, and he didn't play during the final 12.
That's because, with 12:44 to play, Verge missed an off-balance fadeaway jumper with a defender in his face. Hoiberg inserted Tominaga and stopped Verge to talk on Verge's way back to the bench.
Hoiberg subbed Verge out again with 13:57 to play in the first half after Verge committed a turnover and shot a floater during a 1-on-2 transition possession. Hoiberg said Verge did a "solid" job sharing the ball, "But again, getting into that paint is a big part of his job and then making the right play from there," Hoiberg said. "As we continue to grow with this thing, I'm confident we'll make those plays."
---
Photos: Nebraska men's basketball hosts South Dakota
112821-owh-spo-nubkc-LS01.jpg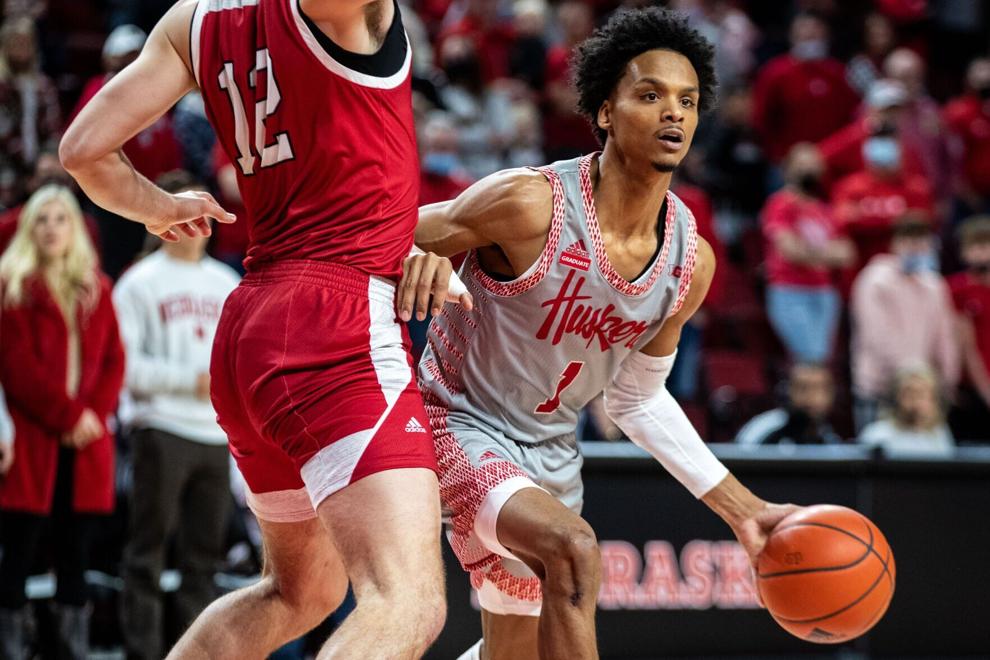 112821-owh-spo-nubkc-LS02.jpg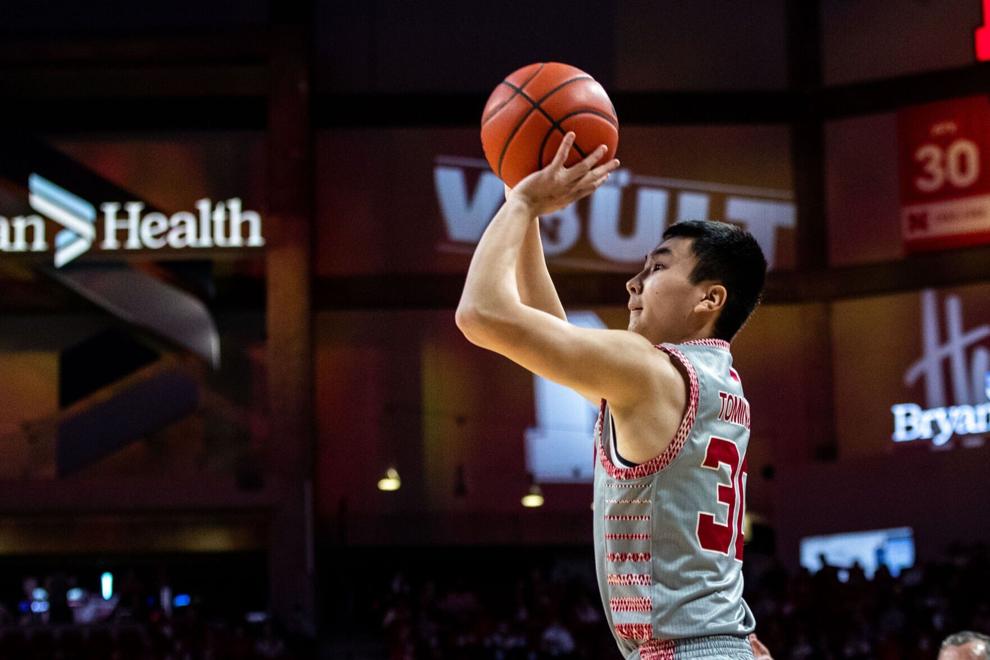 112821-owh-spo-nubkc-LS03.jpg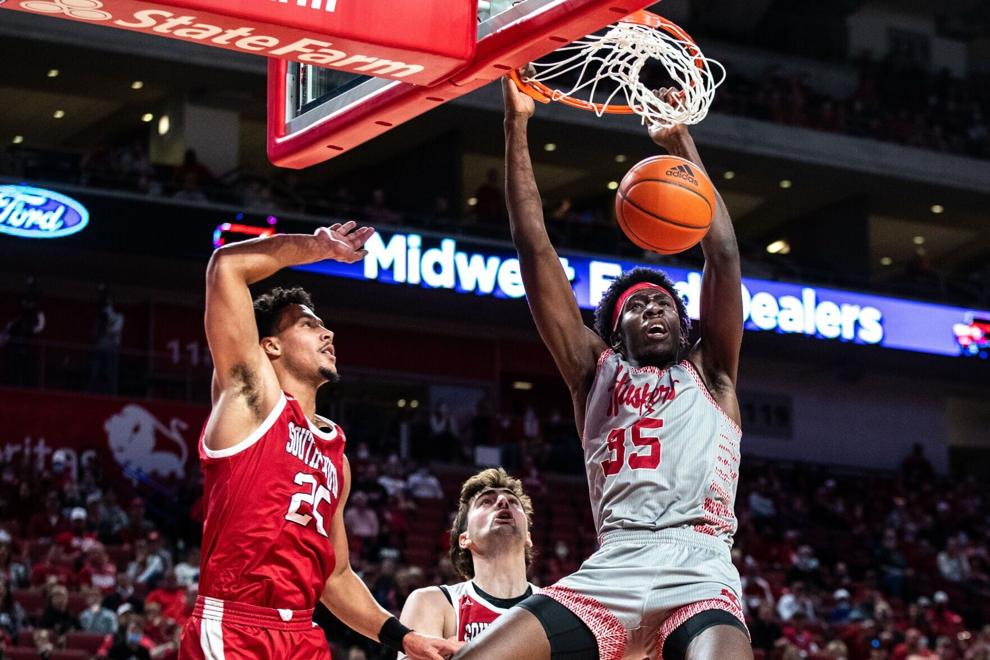 112821-owh-spo-nubkc-LS04.jpg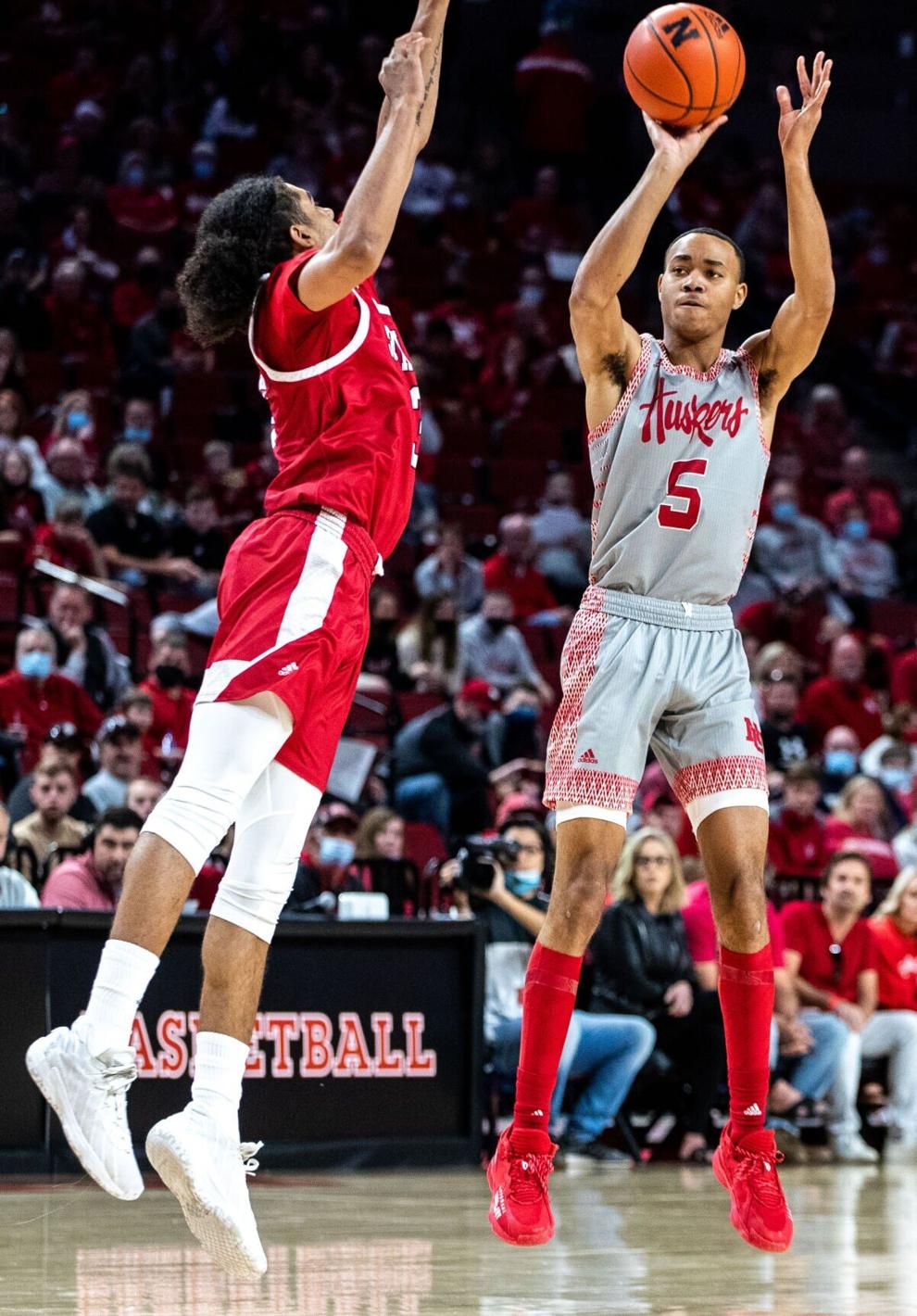 112821-owh-spo-nubkc-LS05.jpg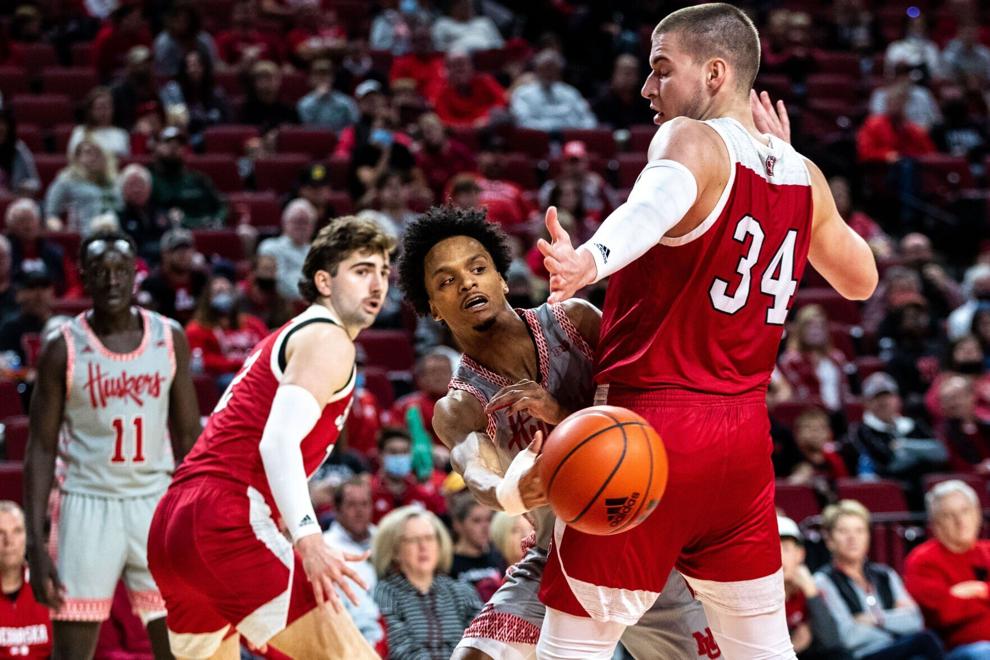 112821-owh-spo-nubkc-LS06.jpg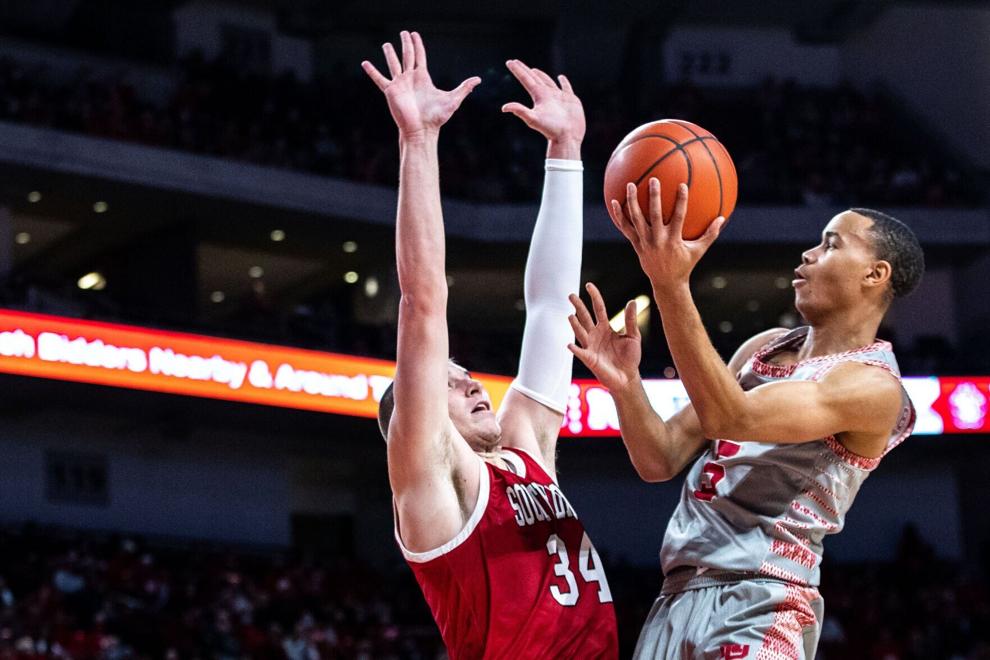 112821-owh-spo-nubkc-LS07.jpg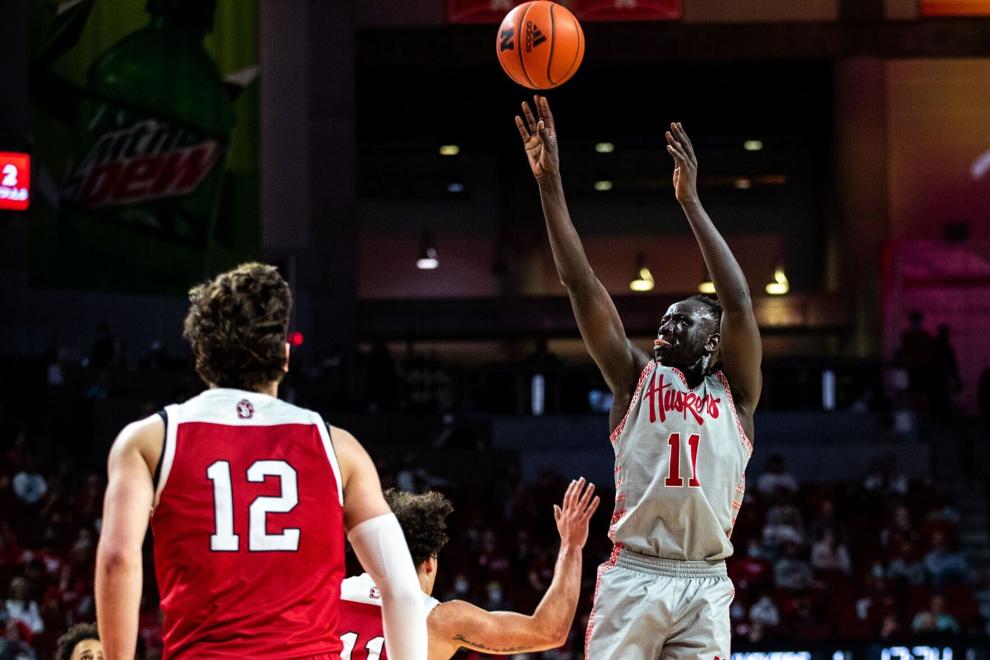 112821-owh-spo-nubkc-LS08.jpg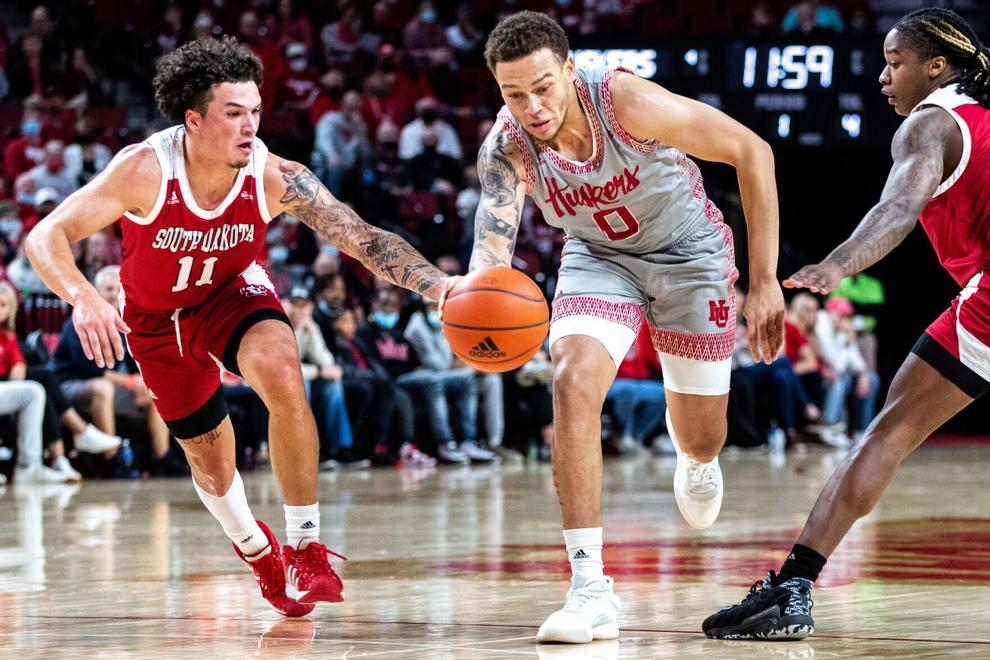 112821-owh-spo-nubkc-LS09.jpg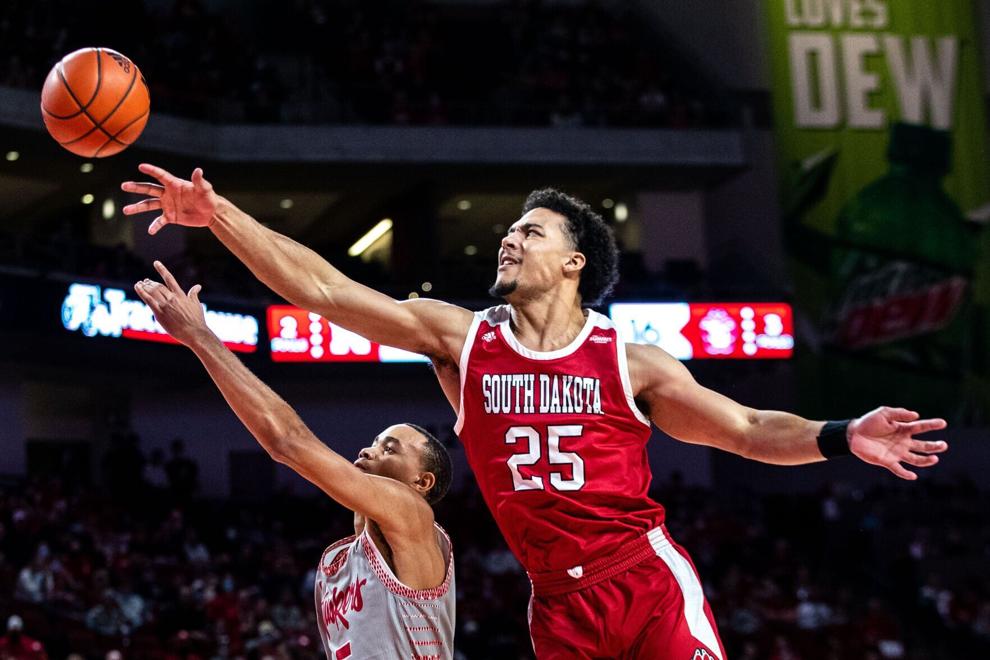 112821-owh-spo-nubkc-LS10.jpg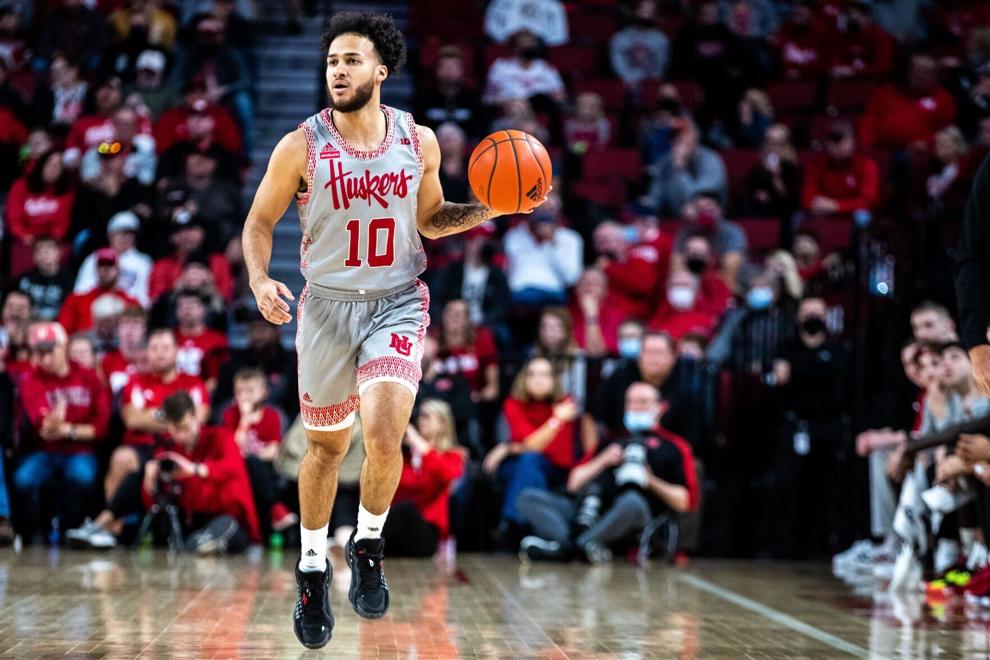 112821-owh-spo-nubkc-LS11.jpg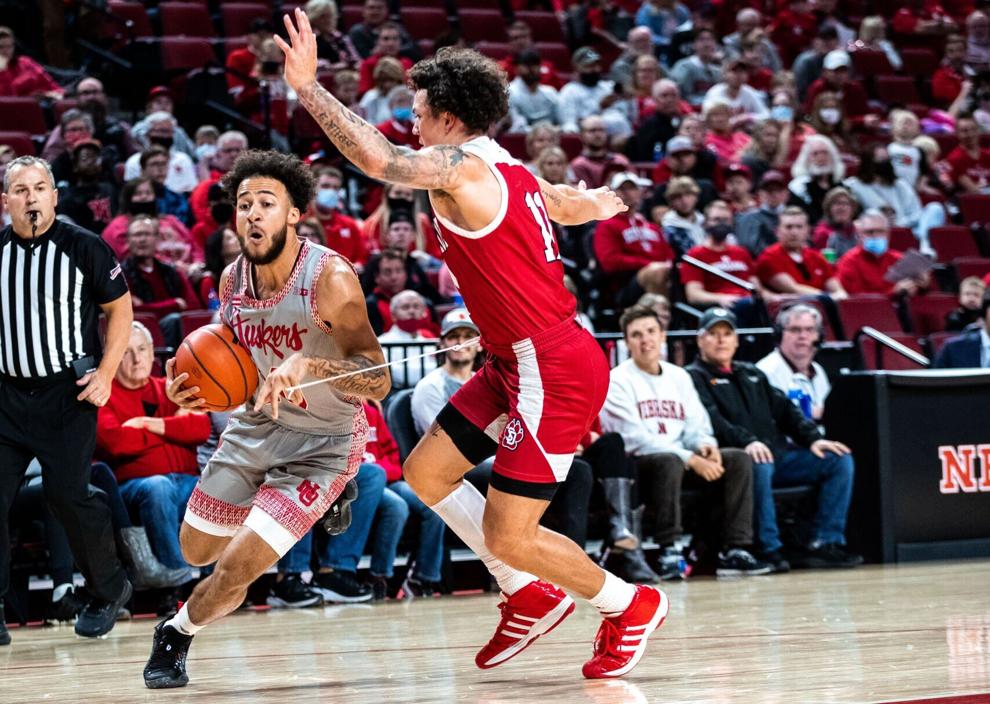 112821-owh-spo-nubkc-LS12.jpg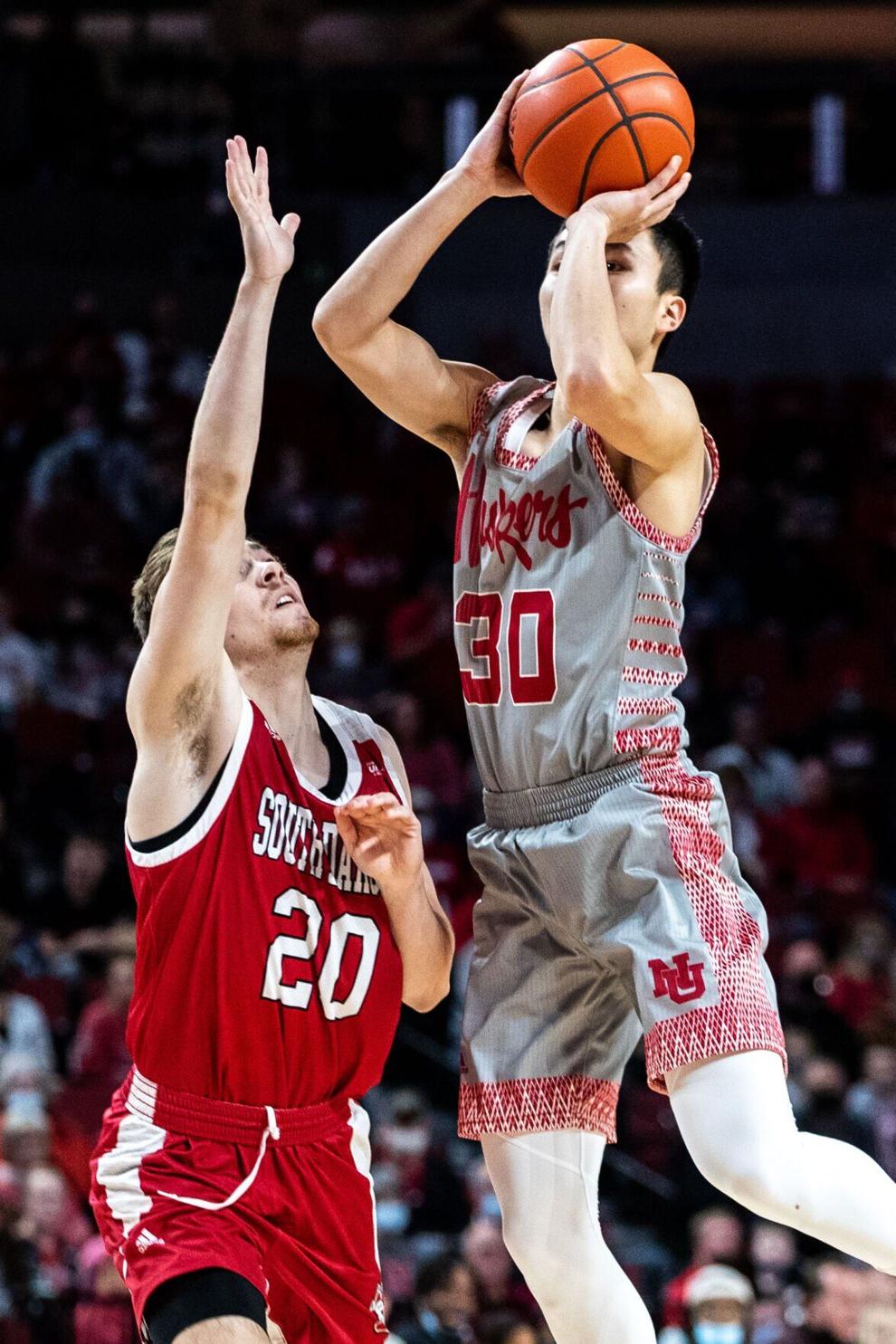 112821-owh-spo-nubkc-LS13.jpg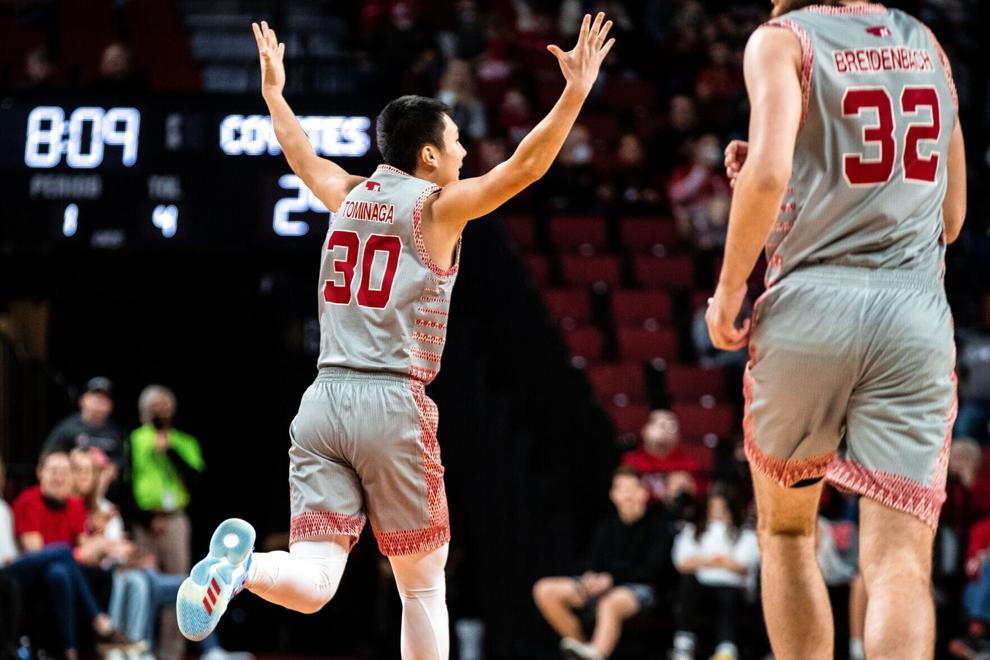 112821-owh-spo-nubkc-LS14.jpg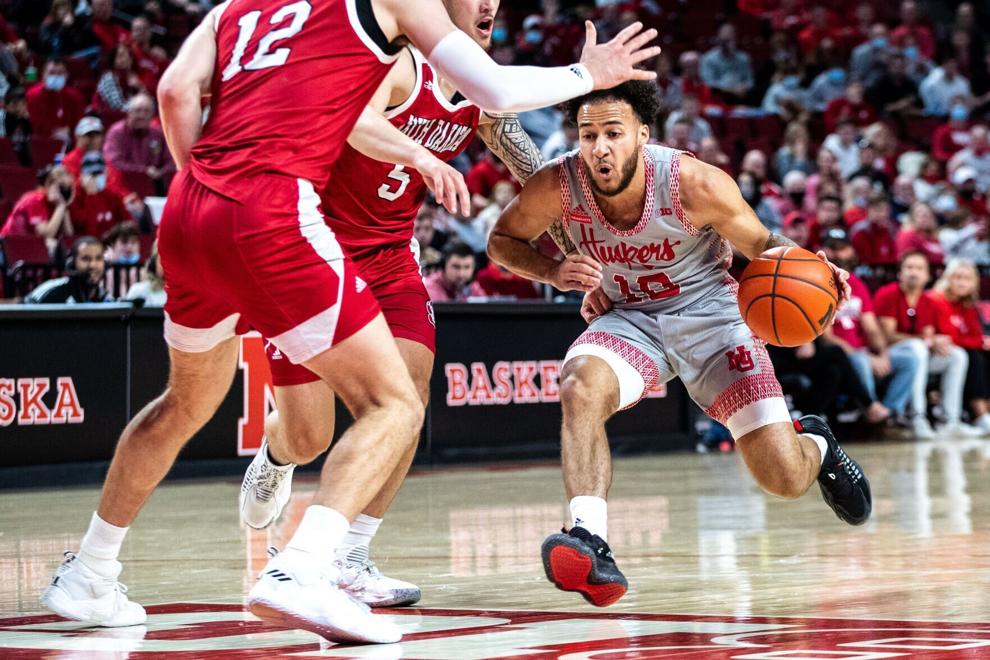 112821-owh-spo-nubkc-LS15.jpg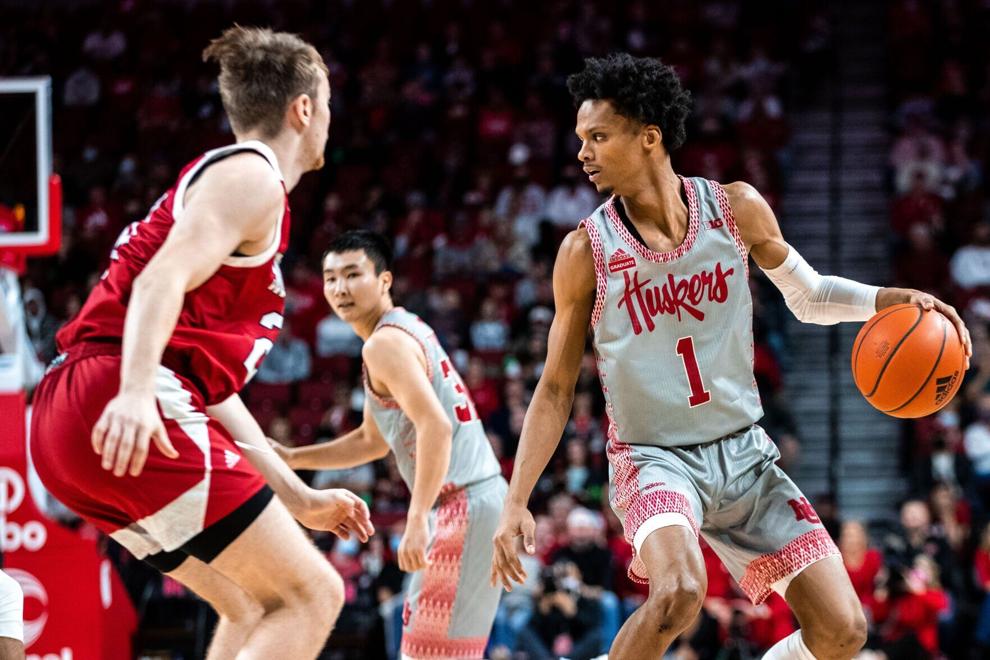 112821-owh-spo-nubkc-LS16.jpg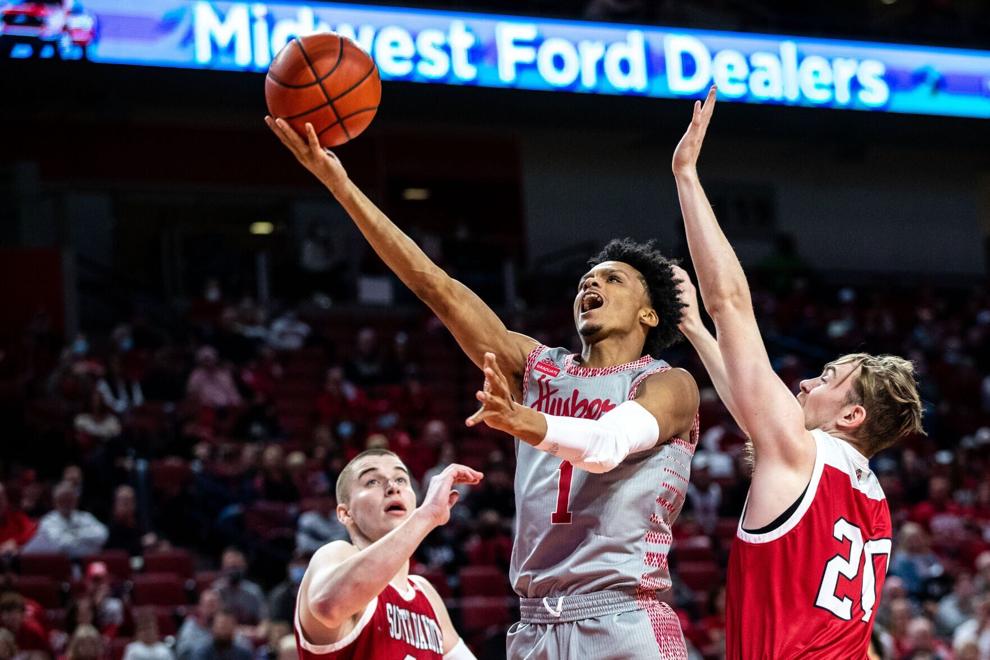 112821-owh-spo-nubkc-LS17.jpg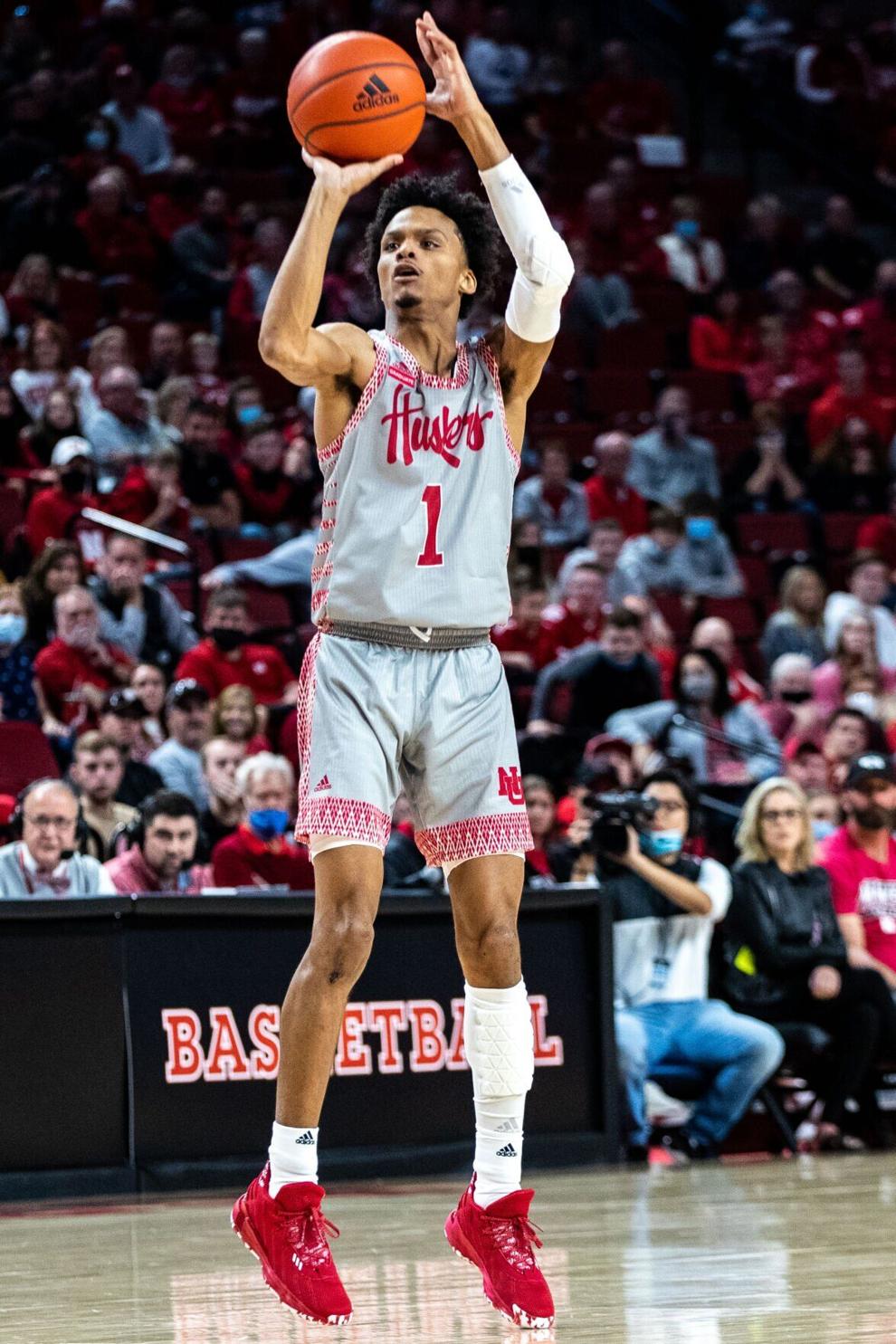 112821-owh-spo-nubkc-LS18.jpg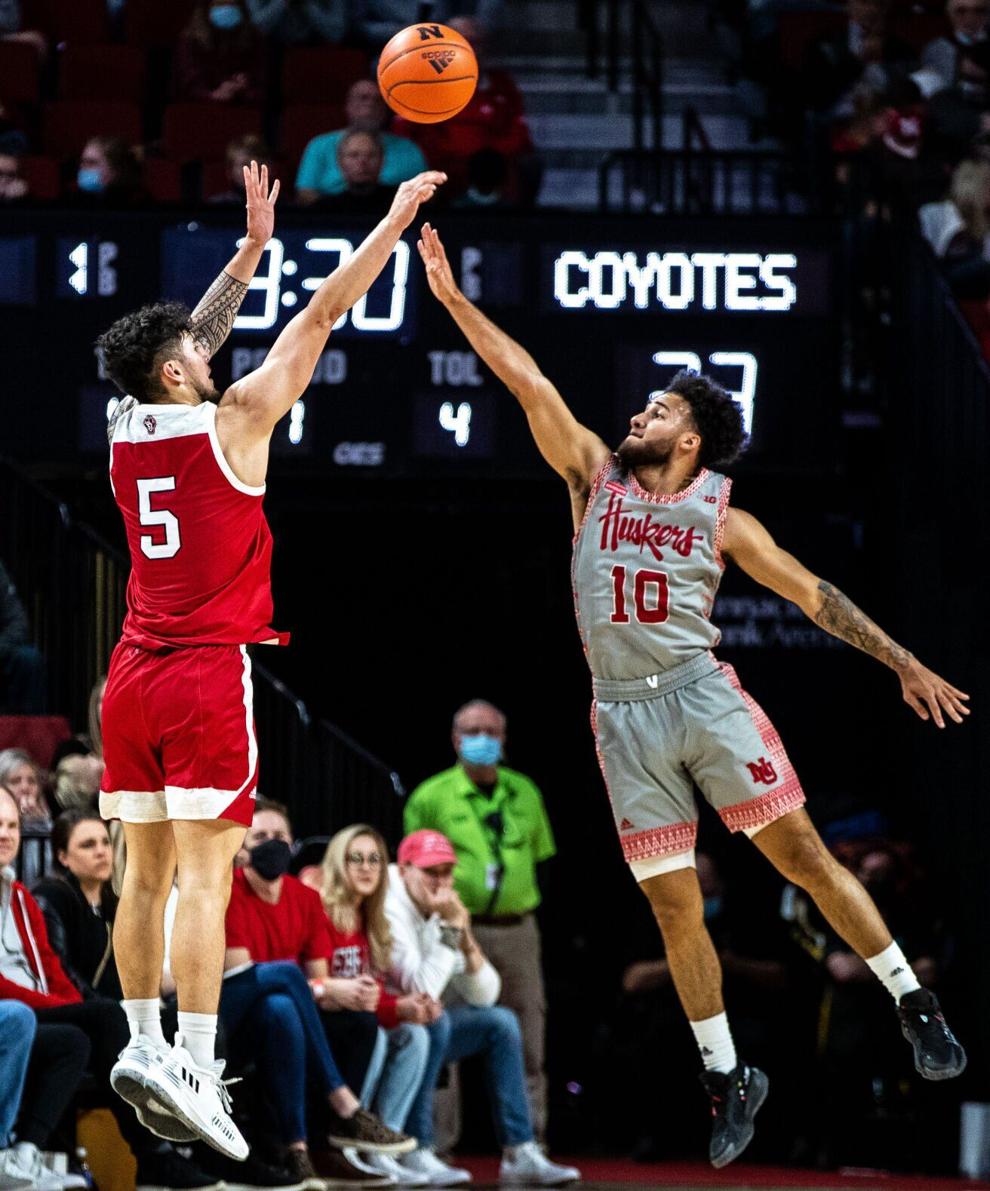 112821-owh-spo-nubkc-LS19.jpg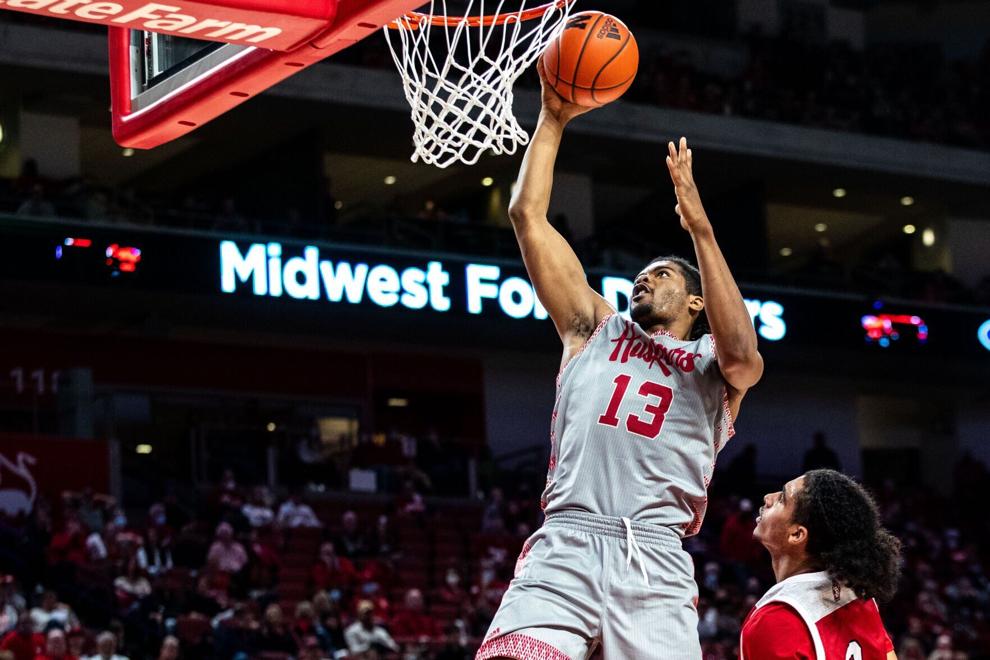 112821-owh-spo-nubkc-LS20.jpg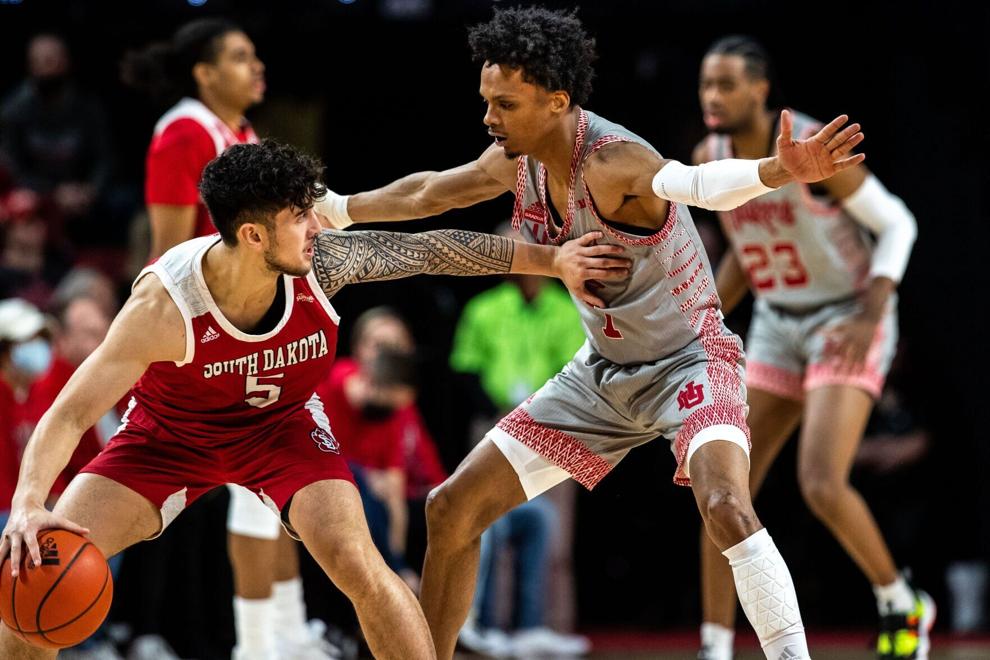 112821-owh-spo-nubkc-LS21.jpg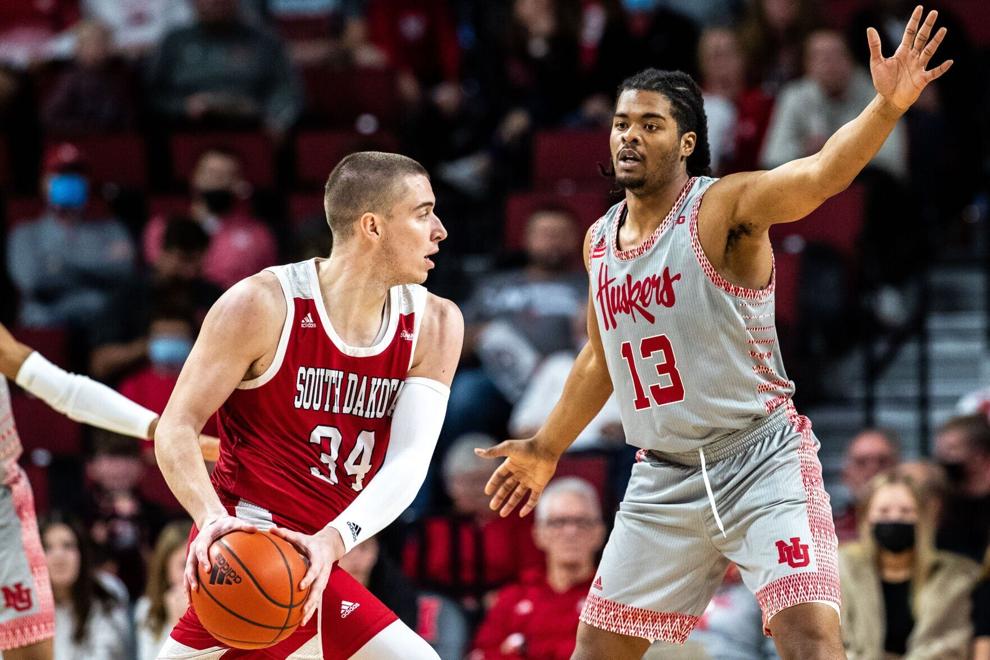 112821-owh-spo-nubkc-LS22.jpg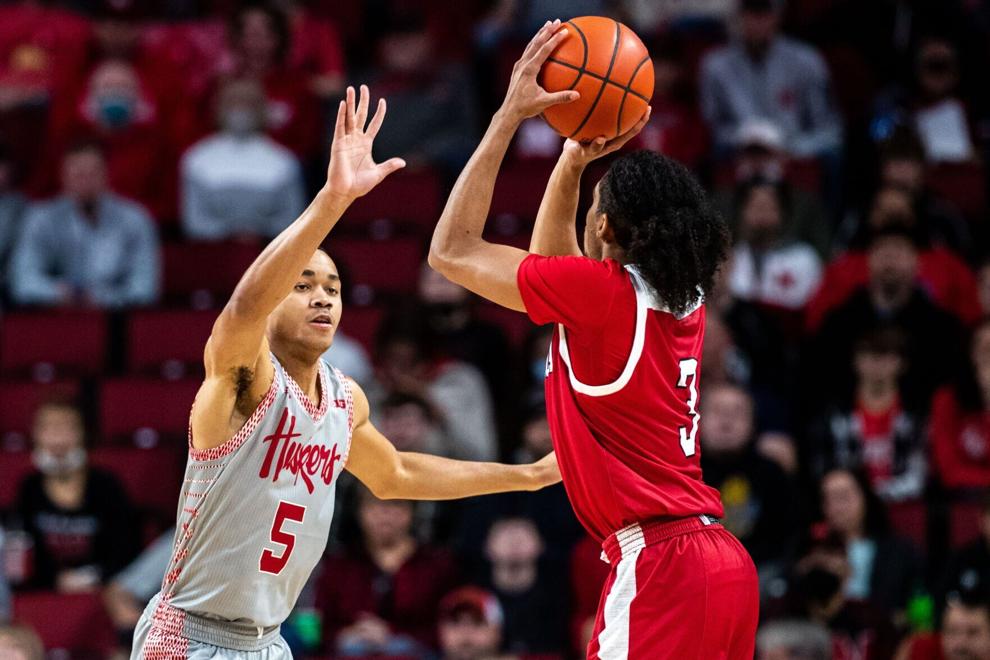 112821-owh-spo-nubkc-LS23.jpg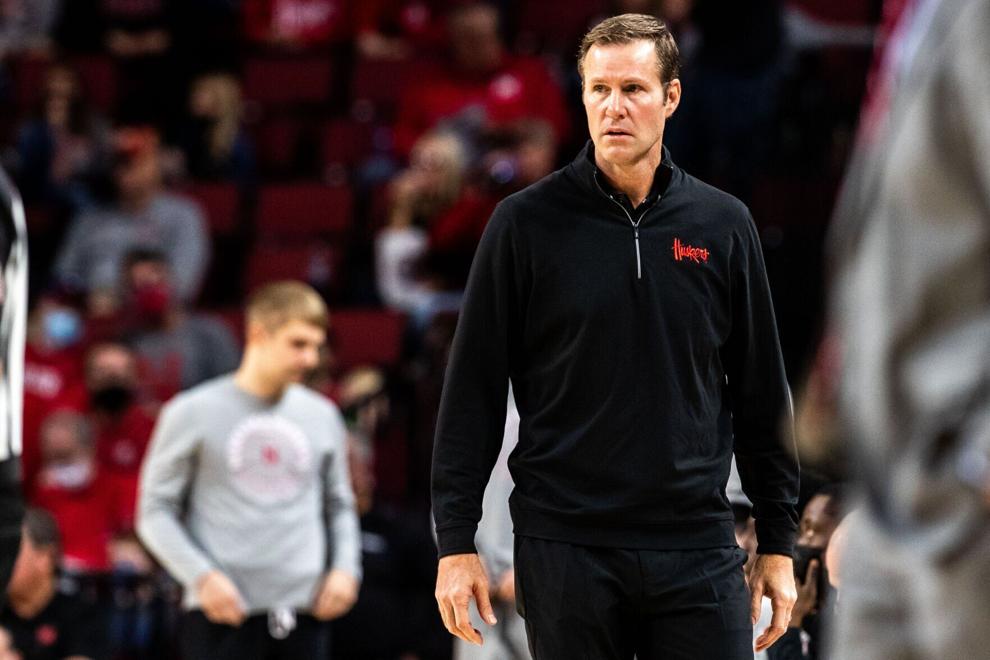 112821-owh-spo-nubkc-LS24.jpg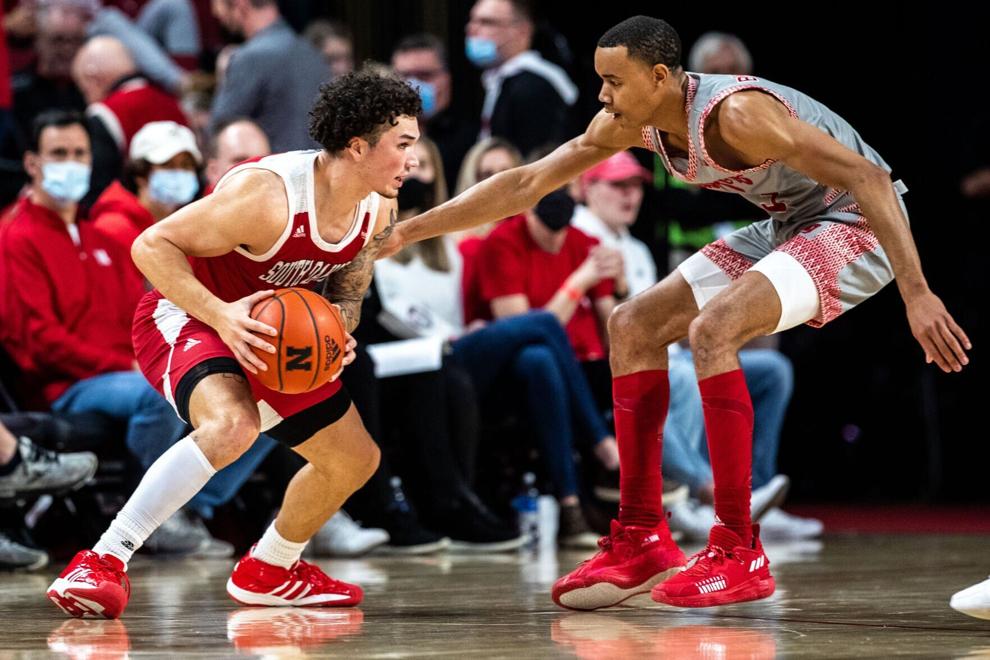 112821-owh-spo-nubkc-LS25.jpg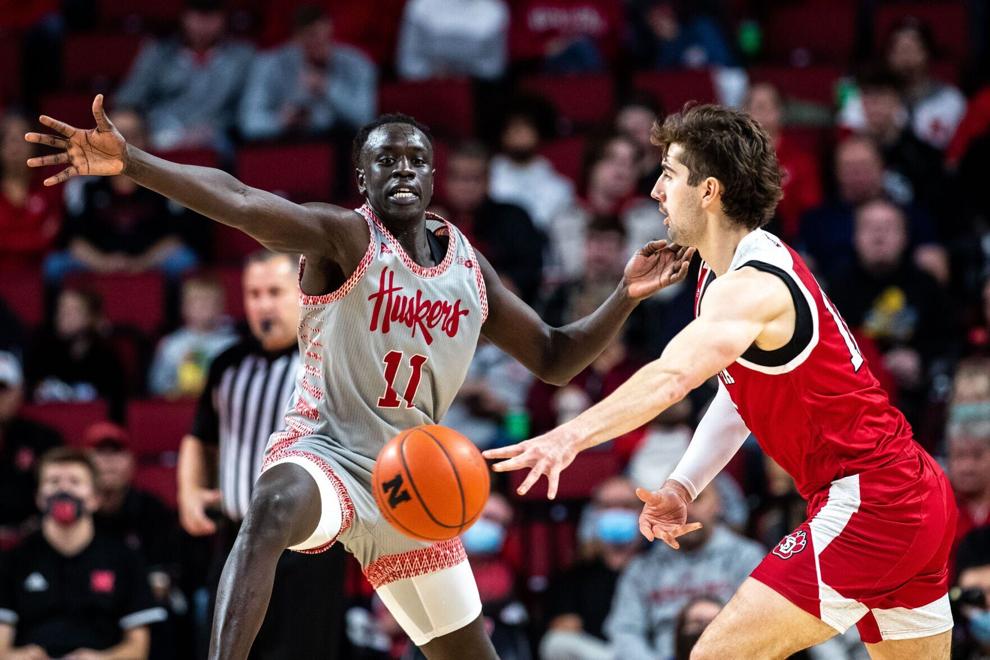 112821-owh-spo-nubkc-LS26.jpg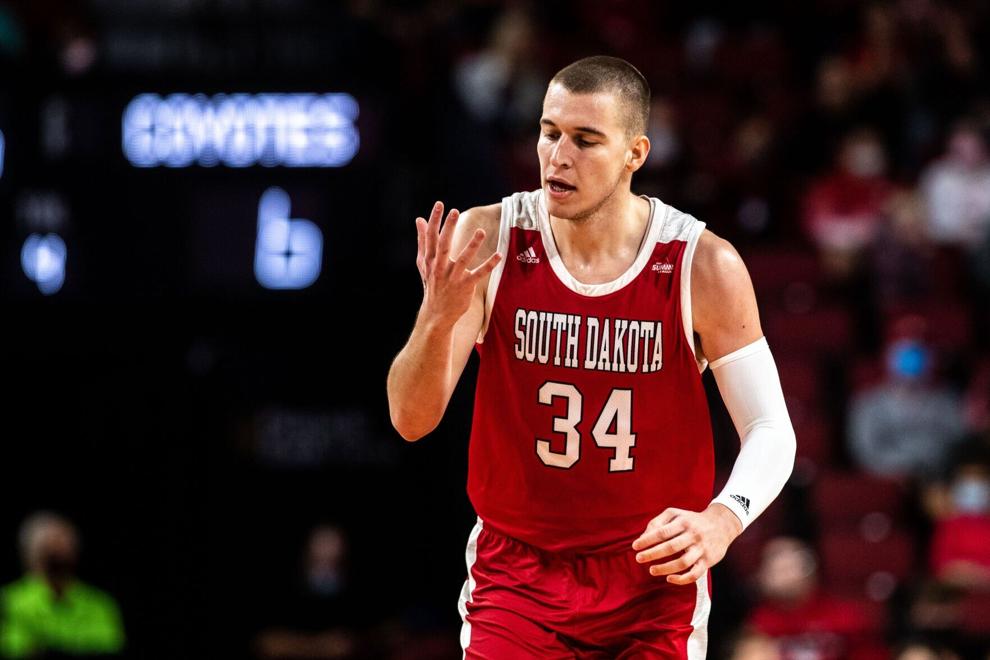 112821-owh-spo-nubkc-LS27.jpg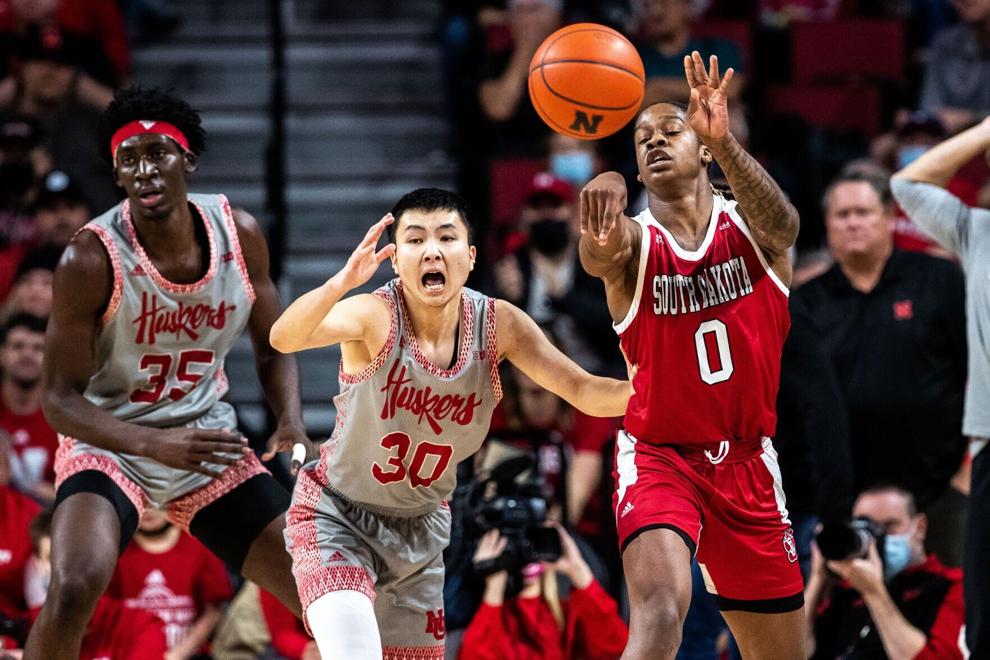 112821-owh-spo-nubkc-LS28.jpg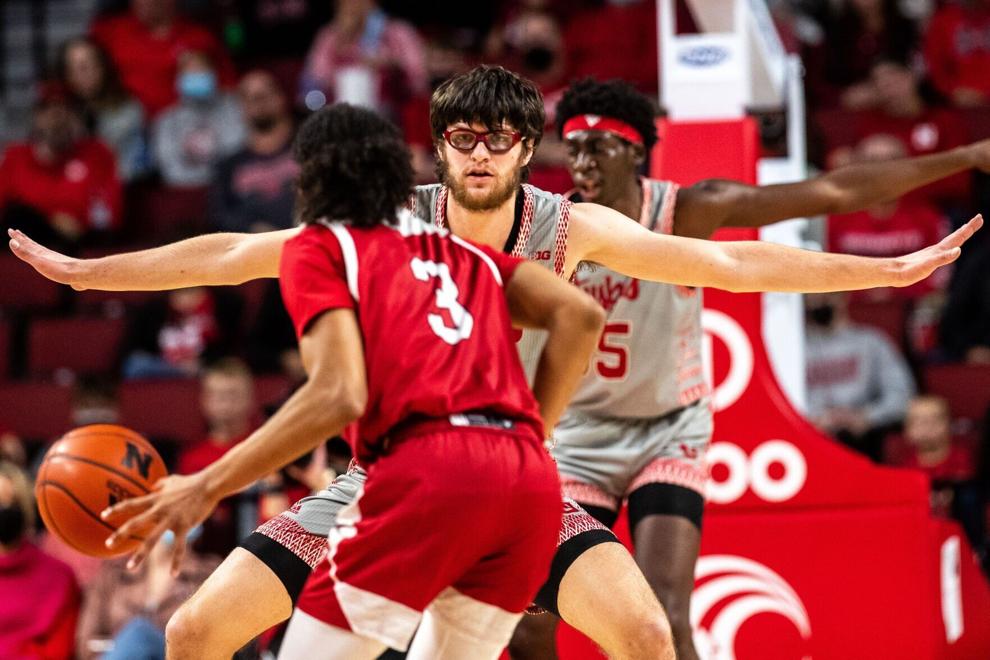 112821-owh-spo-nubkc-LS29.jpg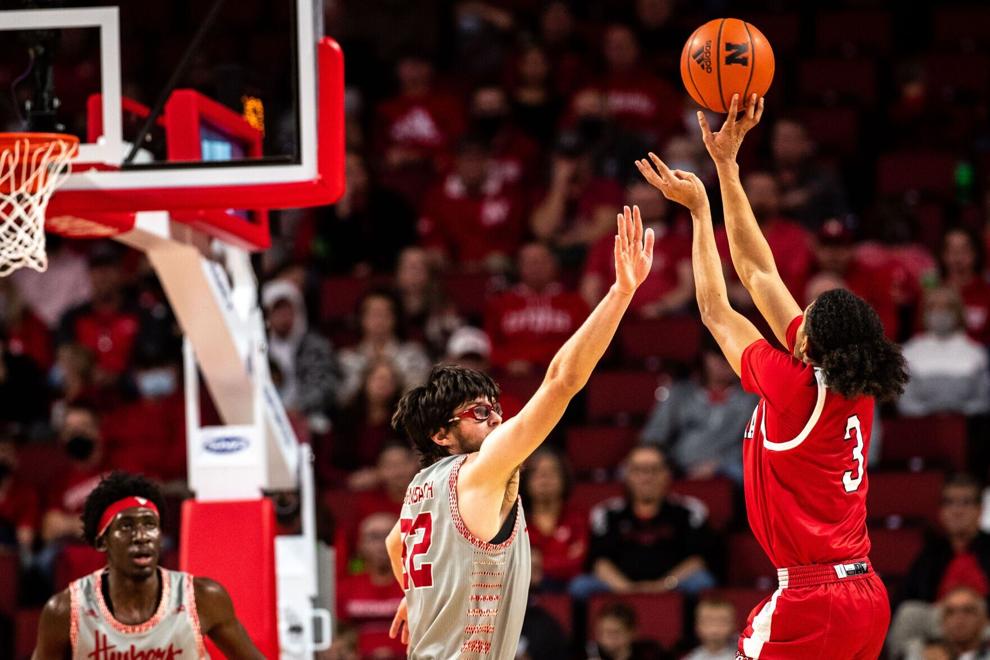 112821-owh-spo-nubkc-LS30.jpg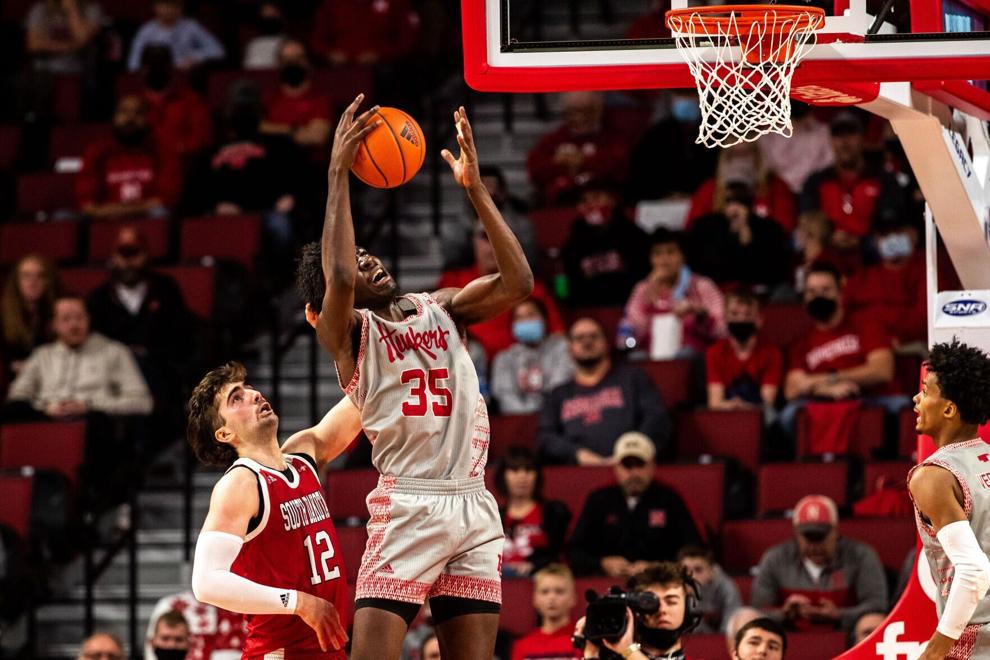 112821-owh-spo-nubkc-LS31.jpg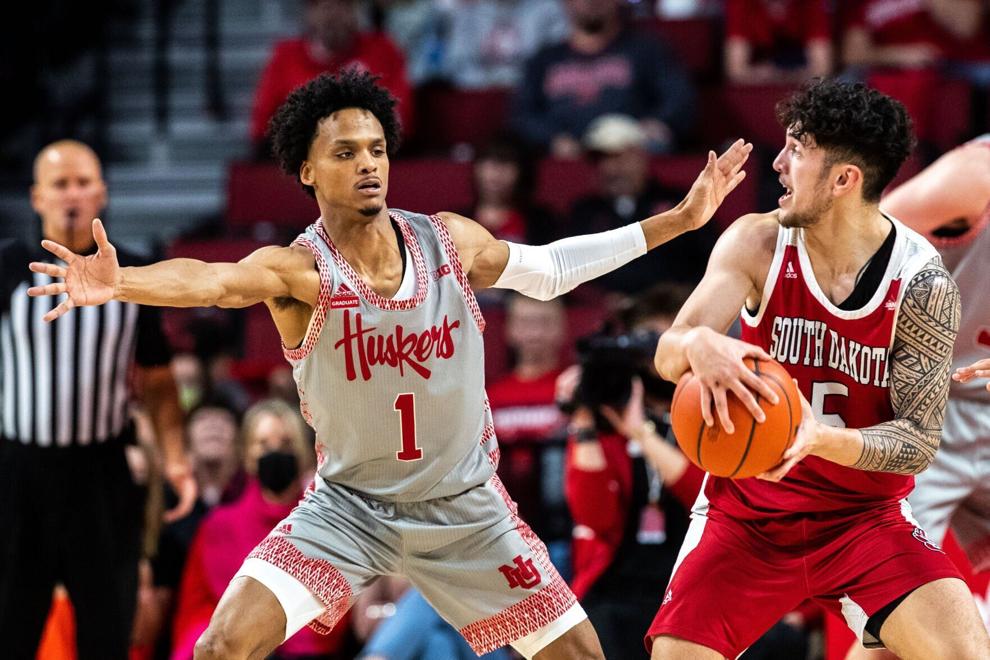 112821-owh-spo-nubkc-LS32.jpg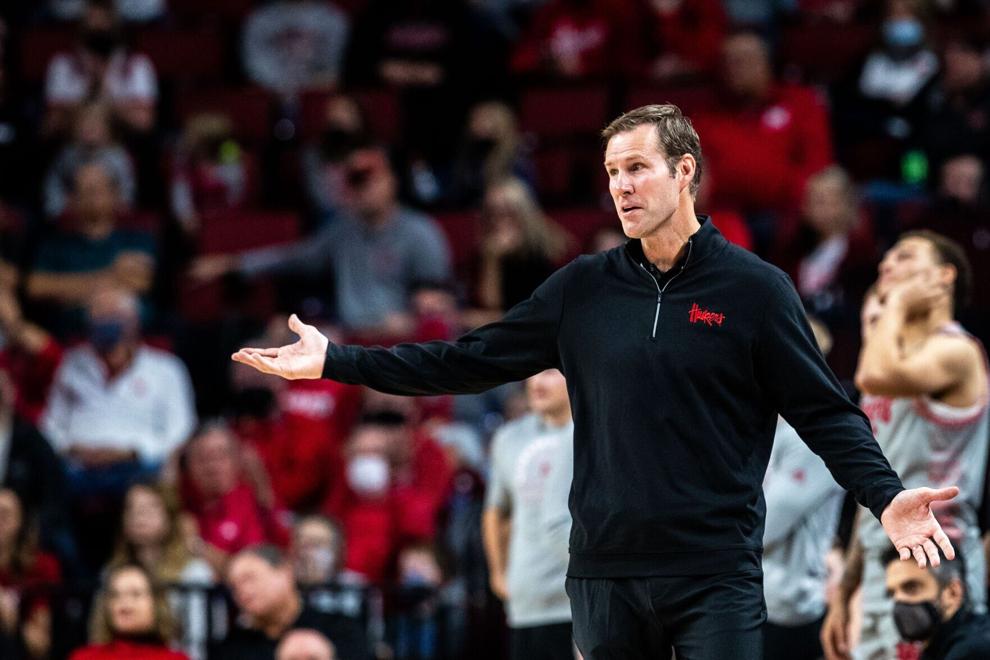 112821-owh-spo-nubkc-LS33.jpg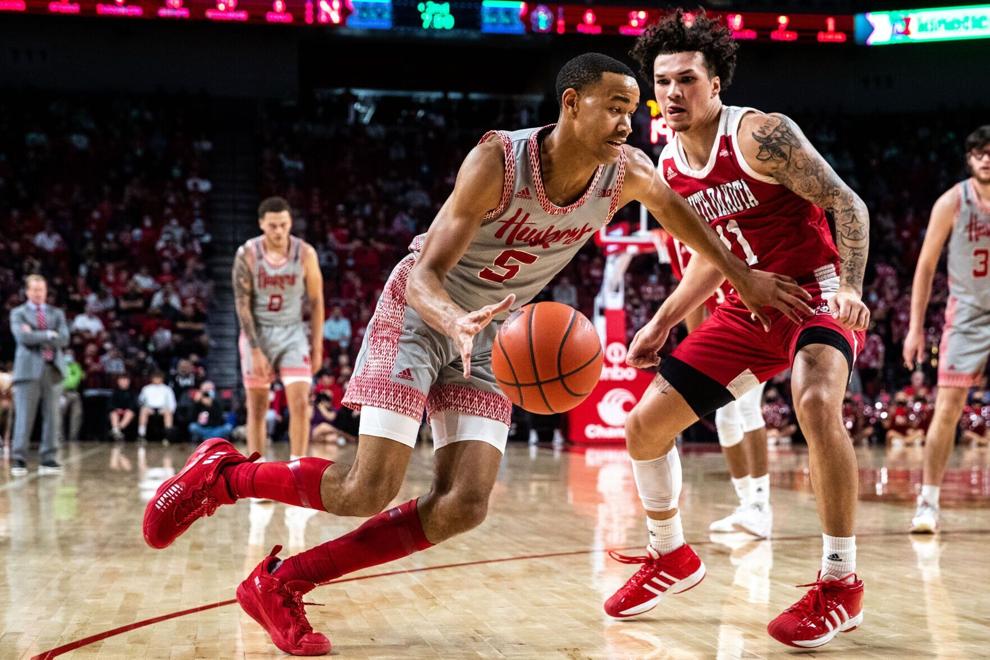 112821-owh-spo-nubkc-LS34.jpg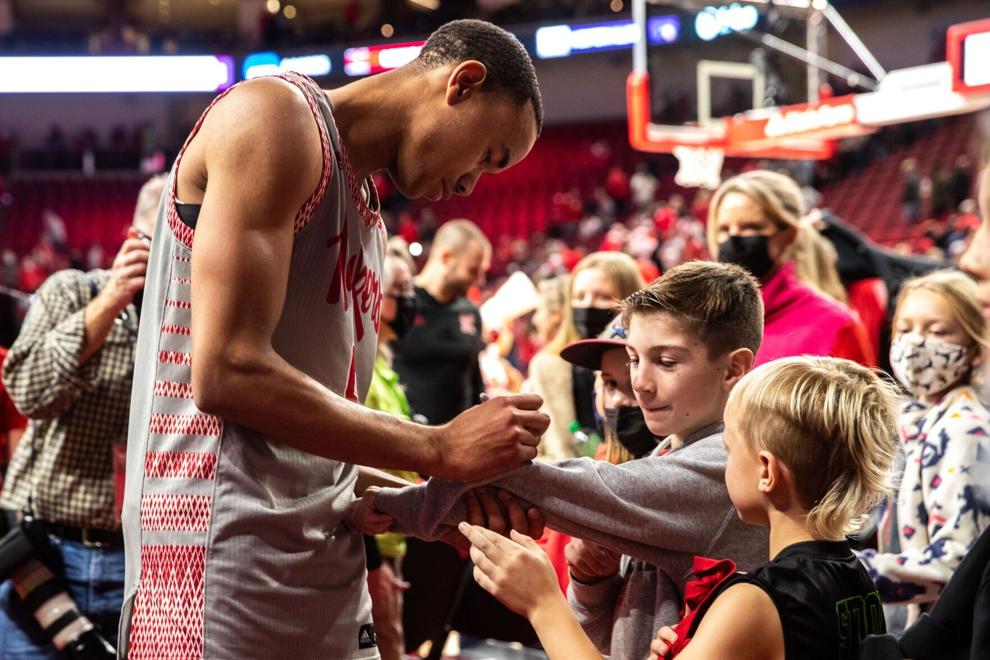 112821-owh-spo-nubkc-LS35.jpg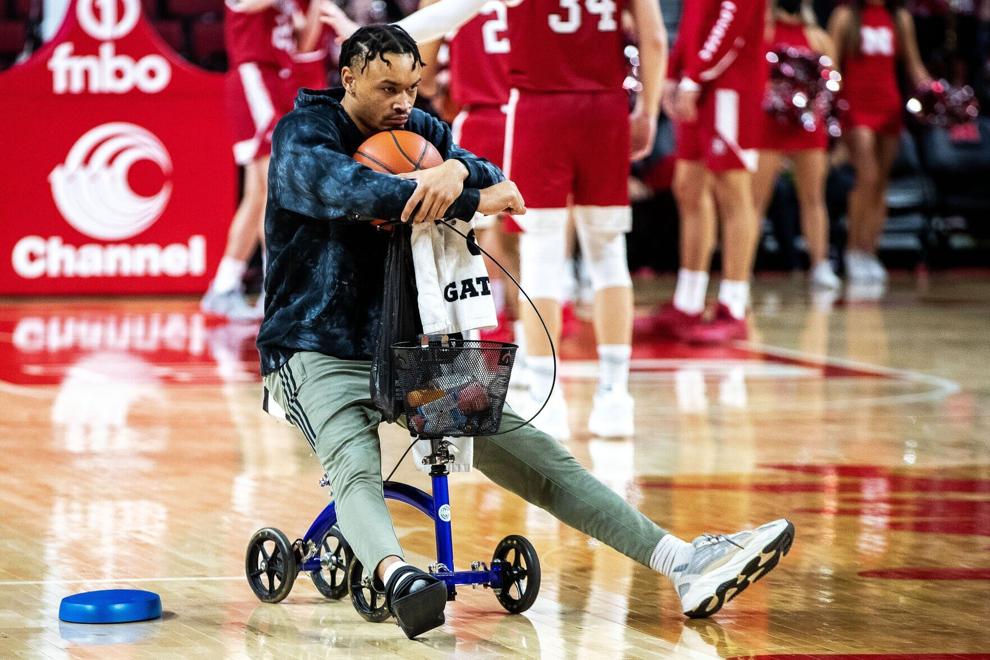 112821-owh-spo-nubkc-LS36.jpg