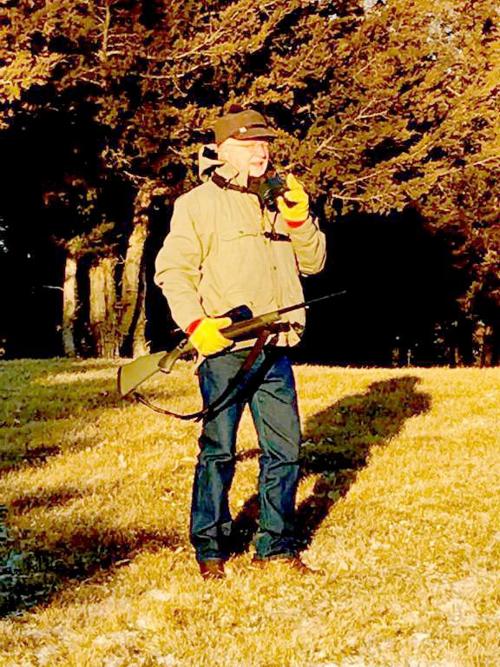 All the big game hunting seasons are done until next fall, but it is not too early to think about your next adventures. If you are pondering the need for a new big game rifle, now is a great time to look for them because it is the time of year when gun shows happen.
It doesn't have to be a new and expensive rifle to be effective. There is absolutely nothing wrong with buying a used deer rifle. If the rifle has been well cared for, it should perform well for you. Gun shows are great places to find a rifle that has served its previous owner well, but maybe that hunter has decided they wanted something else or is too old to chase deer any more or hike up/down mountains after elk. Unfortunately, we all get to that point sometime.
I have picked up several classic rifles at gun shows. They are rifles I read about as I grew up dreaming of big game hunts. They are chambered in calibers that may not be totally forgotten, but they are off the radar of most younger hunters. For example, I was in an antelope camp a couple of years ago and there was a younger hunter (early 30s) in the group. Most of the other rifles in camp were calibers like .243, .308, 7mm Mag, but I had a .264 Winchester Magnum. The guy looked over my rifle and made all the appropriate comments on its looks and feel, but as he handed it back to me he said. "A .264 Win Mag, huh? Never heard of that caliber."
It caused me to think about the other proven cartridges that may be fading into history. There is nothing wrong with them, it is just that they are not the cartridges hunters read about in today's gun magazines.
I first thought about the .270 Winchester. Jack O'Conner, one of the most famous gun writers for Outdoor Life Magazine, constantly wrote about the .270 and the hunts he had with it. He made the .270 famous. Ask someone you know who owns/shoots a .270 why they chose this cartridge. I bet a lot of them with mention Jack O'Conner — but he died 41 years ago. A couple of generations of shooters have grown up without O'Conner and his writings and the .270 is fading away.
There are other calibers that are fading into history. Calibers like the Savage .250-3000, the .257 Roberts, 7x57 Mauser, 8x57 Mauser, .35 Whelen and to some extent the .30-06 Springfield. Most of these calibers are just overshadowed by marketing and the hype surrounding newer calibers like the .224 Valkyrie, 6.5 PRC, .338 Federal or the .350 Legend — to name a few.
The .25-06 is another fine cartridge that fits into this discussion and the category of almost forgotten deer rifles. I look for rifles like this for two reasons: I don't want them to become the has-beens of hunting traditions and because they are not highly sought after, you can find some really good deals.
The .25-06 is based off the famous .30-06 and was a wildcat cartridge for about 50 years before Remington made commercial ammo for it, and introduced rifles for it, in 1969. It can send a laser-like bullet zipping downrange to take prairie dogs to black bear — not a bad all-around cartridge.
My first .25-06 was a Savage 110 that I acquired from an old rancher north of Oshkosh. He had reached that point in his hunting career where his hips and knees just couldn't handle walking through the hills. He had shot this rifle for years, under all kinds of conditions, and took many mule deer, antelope, coyotes and the occasional fox with it.
Like a lot of guys who really appreciate a favored gun, he wanted it to go to a good home. I must have fit the bill because he sold it to me — but he kept the Leupold scope that was on it. He wasn't giving up shooting totally. Good for him.
I put a 3.5x10 scope on it and discovered it was a tack driver. I became so impressed with that .25-06 that I bought another one. This one was a custom Mauser action fitted with a .25-06 barrel and set in a gorgeous tiger maple stock. It is one of those rifles that are almost too pretty to shoot. Fortunately, it shoots even better than it looks. This rifle will go with me on my next antelope hunt.
The .25-06 is made for this part of the state. It is a great caliber for wide open spaces, mule deer and antelope hunters. It is extremely accurate, fast, flat-shooting, has a very light recoil and ammunition is very affordable. The lack of a harsh recoil makes it a perfect choice for a shooter of smaller stature.
Russ Derickson, a friend and long-time big game hunter, has hunted with the .25-06 for a lot of years and he still reveres this cartridge.
"I've hunted deer and coyote with the .25-06," Derickson said. "One of the things I like best is that out to 250-300 yards, you can see your game start to go down before you lose the image in your scope. The bullet gets to the target before you move from the recoil."
Ballistically, the .25-06 has many of the qualities of the highly touted 6.5 Creedmoor. Check it out! Don't overlook a .25-06 if you find one in a rack somewhere.
Brule Gun Show
Put a note on your calendar for Feb. 23 and 24. Doors will be open from 9 a.m. to 5 p.m. on Saturday and 9 a.m. to 3 p.m. on Sunday. Keep in mind this is in Mountain Time. Admission is $5 (good for both days) and children must be with an adult. There are 117 tables set up to buy, sell, trade or display anything and everything related to guns and much more. There will be a raffle for a Savage Model BTVSS .17HRM. Lunch and refreshments will be available on site and the food is excellent! Call 308-287-2528 for more information.
Be the first to know
Get local news delivered to your inbox!