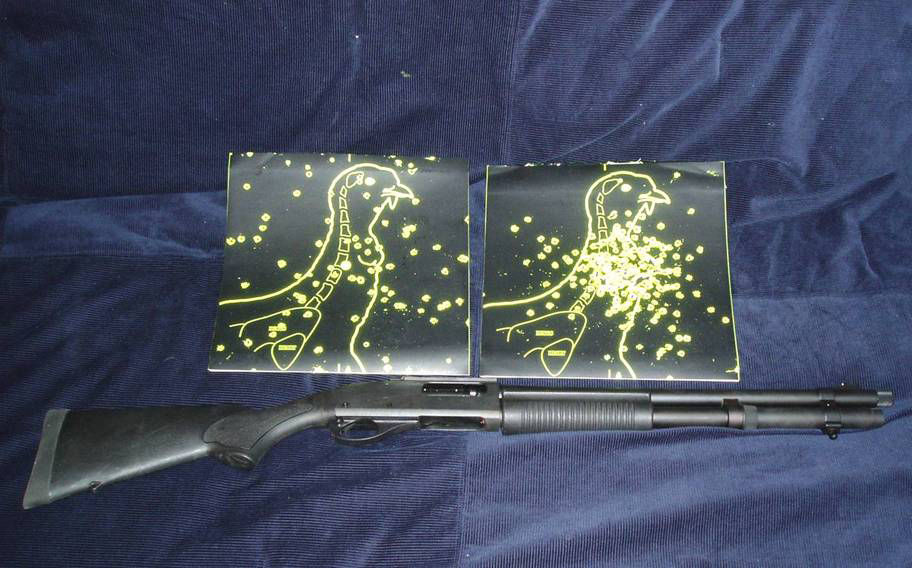 The spring shotgun turkey season is about a month away and the topic of chokes generally comes up about this time every year. This year was no different and I got an email from a reader wanting some advice on the best shotshells and chokes to use, specifically designed for turkey hunting. A particular point he wanted to know about was whether all the special turkey chokes on the market really made that much of a difference?
Yep — they do make a difference. Sometimes a significant difference, so much so that they can be the difference between getting that big gobbler and coming home empty handed.
There are lots of choke tubes on the market. Prices range from about $30 to more than $100 for a single choke tube. In my opinion, one of the best values out there is the Carlson tube. For about $35, you can dramatically improve the performance of your shotgun and make it a real turkey getter.
A couple years ago, I "tuned up" a Remington 870 tactical shotgun for the spring turkey season. This shotgun was capable of using screw-in chokes. I decided to use the factory full choke and a Carlson choke with a .660-inch restriction to test how much of an improvement could be made.
Choke is a generic term that means there is a restriction or tightening of the bore diameter at the muzzle end. The diameter of a 12 gauge barrel is about .730-inch. If the barrel is the same from breech to muzzle, it is said to have a cylinder bore or open choke. This type of choke allows the shot pattern to open up widely as it travels toward the target.
A full choke is about .700-inch in diameter. That doesn't look like much, but it compresses the shot column into a "tighter" configuration. It doesn't spread out as much and gets more shot on the target at longer ranges. Special turkey chokes create even a tighter pattern and ultimately increases the lethal range of the shotgun.
For my tests I set my targets at 25 yards, about the average distance a turkey is shot in the spring season. I used Federal 3-inch magnum loads with number 6 shot. I fired my first shot with the standard full choke. As you can see in the picture that accompanies this article, it would have done the job. There are hit in vital areas.
My second shot was with the Carlson turkey choke. The results are easy to see. The shot pattern is more condensed and many more pellets hit vital areas. It seems almost impossible that simply switching a tube can make such a dramatic difference in the performance of your shotgun, but it sure does! Looking at the target, I have no doubt this shotgun and choke combination could make a shot out to 40 yards.
Is it worth $35 to up your odds about tenfold to get a turkey? It is for me. I know I can hit effectively at longer ranges. Anything that is in 25 to 35 yards away is almost a certain kill.
If you are willing to spend a bit more, I would recommend looking at Comp-In-Choke tubes. The cost $65 to $70, but I have seen improvements of up to 45 percent more shot in the vital zone. I have one of these chokes on my primary turkey gun, and I'm using a buffered number 5 magnum load. I'm pushing the envelope out to 100 yards to kill a turkey.
Now is the time to get in some experimentation and practice time with your favorite turkey gun. Good luck on your turkey hunts this spring.
At this time of year, it is sort of the "off season" for many rifle hunters, but it is the time that many shooters add new accessories to their rifles. There is a big movement within rifle shooting right now for long range shooting. A new scope with higher magnification is generally one of the first upgrades a shooter makes to his/her rifle.
Fitting a new scope with 12x, 20x or more magnification has to be precise. There is an item on the market that may be of interest to you. Wheeler Engineering's Anti-Cant Indicator improves accuracy by insuring the proper rifle/scope alignment.
Keeping your scope perfectly aligned is critical to long-range accuracy. Canting your scope left or right only a couple of degrees may cause error in judging your point of impact. With modern "Bullet Drop-Compensating" scopes, an Anti-Cant Indicator is almost a mandatory item to have in your gun maintenance tool box. If your gun isn't aligned correctly, dialing up the turrets or using hold-over marks will just throw off your shot, causing you to miss your target.
The Wheeler Engineering Anti-Cant Indicator is available in both 1 inch and 30mm models. This is a precision piece of equipment machined from aircraft grade aluminum with an anodized finish. It attaches to a scope tube in the same fashion as a ring. The Anti-Cant Indicator is easy to view from all shooting positions, and when not in use, it folds in for protection. Cost: About $40. Check out battenfeldtechnologies.com or call 573-445-9200.