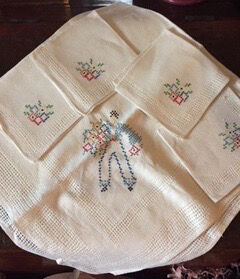 Through my growing-up years (over 70-plus years now), I would watch my mother make my clothes, crochet a few doilies and make her own clothes and aprons (when they were popular in the 1950s and 60s era). I remember one of our tougher years in the farming business, my mother was busy upstairs sewing away on her Singer Treadle sewing machine and she would never let us kids go up to watch or she would do it when we were in school or late at night. But, under the Christmas tree that year, I had a beautiful little doll with lots and lots of handmade clothes — I mean the whole wardrobe, even a beautiful bright-red satin-lined grey tweed poncho or cape in those days, night clothes and dress up clothes and every day fun clothes. She even had found a small little suitcase I could put all the doll's clothes in and take it from room to room — or I should say, from upstairs bedroom to downstairs living room. But they always were folded and put away after playing with them — every single time. (That is the way I remember it, anyway!).
I would hate to say how many hours she had put into those beautiful clothes — I still have them somewhere in storage (like all the rest of my "things" I have gathered up through these many years of my life). And, with my moving so many times in my lifetime, it is amazing that I still do have them. The doll gave up — I really don't blame her a bit, she had a bit of a rough life with my dragging her everywhere without a stitch of clothing on at first. And then I learned to play and dress her and have a beautiful time with her. I had two boy cousins and a brother, so I was pretty much a tomboy, I guess. I did not have many girl friends in our area to play with when I was real little, but I guess that just made me a bit more tougher in many ways also.
Just a bit of reminiscing there for a moment — the things that are brought to mind throughout the 28 years of writing these columns. I have fooled around with antiques and collectibles for the past 51 years — very seriously at times, and just for fun times, also. When moving my antique and collectible items this last time from one shop on East Fifth Street to our present location at 413 North Dewey St. here in North Platte, it was another big reminder of how much I do love this antiquing and collecting business I am in. Many tell me it can be a "sickness" — OK, I agree with that, and believe me, my kids probably have thought that about me several times. But, I must say, until the awful virus that has hit our world, I have kept busy with my collections and selling and hunting and buying and classes. Well, you know what I am getting at. At least I was staying out of their way — part of the time, anyway (Just joking, kids).
Seriously, though, the history that follows each item when you find it at an auction, yard sale, antique/collectibles shop or whatever, can be very intriguing to the finder or collector or dealer. So many times we may buy something without even knowing for sure "what it actually is" or "what was the actual use" of the item I just bought. And that is when the real fun begins — the searching years ago was page by page of many books and price guides I had bought from Collectors' Books in Paducah, Kentucky. Now, we go online and start searching by just pressing a few computer keys and we find the item, the history, the values, what it was used for and maybe even the popularity of the item by values and/or info immediately. The computer era of our lives has saved us so many many hours of flipping from one book to another or waiting until we receive a book in the mail on a particular area or subject — the computer process is amazing (most of the time, as long as I do not hit the wrong keys and get myself into trouble with the system).
The beautiful vintage linen (true linen, by the way) card table set or luncheon cloth with matching napkins embroidered set in my photo this week portrays one of the cuter and fun sets I have found through the years. I love the young man holding a beautiful large bouquet of flowers with a single rose in his other hand. The embroidery is all in cross-stitch — and the hours it must have taken this seamstress to pull threads and make a squarish open pattern along the bottom of each napkin as well as the card-table sized dining cloth. Amazing quality and fun design and colors. And this is what my antique and collecting business is all about. Some favorites I have kept through the years, of course, but many I have sold and regretted it later. As I have been reminded many times throughout the years, "Judy, you can't save it all." "Uh … why not?" is my renowned answer. Oh well, I have kept a lot of things but I have passed many nice pieces along to family and friends .— and now I am trying to sell my "over-abundant" inventory of a little bit of everything along with some of my precious "favs" as well.
And that my friends, is what I am getting to right now — please come see the new shop at 413 N. Dewey St. at CR Rustic, with the owners, Corey and Rob Derbyshire. The antique mall is open Tuesdays through Saturdays right now. The street has opened and providing much easier parking right in front of the antique shop. I am so very excited and thankful for all the hard work and many hours that the crews of the construction companies involved have dedicated to this project — absolutely making downtown North Platte even a better and prettier place to shop. Thank you, North Platte for creating beautiful places to drive, walk, shop, eat, and host many other fun activities. I have lived here in the North Platte area pretty much most of my life and gladly raised our boys here also. I am proud of North Platte and I know you are, too. Please stop by soon and visit the new shops downtown and the great restaurants as well. We are very lucky to have our city getting an uplift in certain areas and it will be enjoyed by all.
Have a safe and good week — and thank you for taking the time to read my articles and thank you for dropping me notes and/or texts on my phone to let me know you are enjoying them also. I wish I could get my "What's It Worth" antique classes up and running again, but sorry to say, it sounds like we are in another surge of the virus and we had better not risk starting the classes yet. Take good care of yourselves, everyone — and thank you for reminding me that you miss our antique classes.
Be the first to know
Get local news delivered to your inbox!