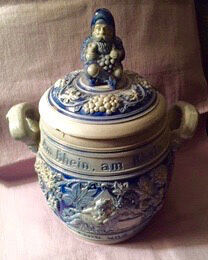 Well, if the title doesn't create interest in wanting to know what on Earth I am talking about this week in my Trash & Treasures article, then maybe a few more words of German definitions will do the trick to peak your interest! Yes, I may have "bitten off a little too much for me to chew" for my article this time. I have been on my computer checking out German sayings and certain words — and please believe me when I say this, I barely got through English classes in school let alone a foreign language course. But, maybe we should have some fun today. It's a tough old world out there right now with elections coming up and the virus hanging on a bit longer than expected — so, let's get started.
As I was unpacking more antiques to take down to the new antique store in town — you know, the one at 413 N. Dewey St., CR Rustic — where I have a small booth, and as I was unpacking I came across this German "what I thought was a cookie jar with handles" when I discovered that it had a cutout spot for a ladle which then made it officially a punch bowl with a lid. And do you know why some German steins have lids and why this particular item I am writing about right now has a lid? I had been told many many years ago that anything with a lid was to either keep the heat in if it was for hot foods or "to keep the flies out" if it was for cold liquids like beer or wine punches, or similar drinks as such. I have researched lids on many different types of items through the years, and "to keep flies out" was a very common reasoning for making a lid for a dish.
Sometimes — in fact many times — throughout my years of antiquing, I have discovered a lot of fun and very interesting items and why they were made and how they were to be used. I only wish this old brain of mine would retain more of it today, especially tonight as I am writing this to send to the paper late Thursday.
I have enjoyed all my years of antique buying, selling, (buying is always more fun) and researching before you can resell an item if you want to pass along the newfound information to the person who just bought the item. I have always felt that knowing what you have and a bit more knowledge about it might just make it sell a bit faster. After 50 years, I still have not figured that one out.
But tonight, as I am searching and rehashing what I found out on my computer, I was tickled to find more information on this item. The printing around the outside of the punch bowl interprets into "Punch da Waschsen unsure Reben," or in English, "Punch because our vines grow," And the other verse reads "schaffen frohgemut am rhein" or "Create happily on the Rhine."
Now, I hope you are reading this with a good strong cup of coffee and bear with me for a bit longer today — sorry to throw a twister at you first thing in the morning but I just thought this would be a perfect item for my article this week — just because it is a bit different and rather interesting. I hope you will think so, too.
I wish I had some punch cups to go with it, but I only found the punch bowl with a lid and they probably used a pewter dipper many years ago. They made these types of lidded punch bowls very early and are still making replicas, which means we do have to be very careful. I think the one I have may be about 50 to 60 years old — maybe a bit more — but it's very difficult to tell. But from the pricing online and the values of such are telling me to beware and be careful out there when you are buying antiques or treasures of any kind. And if you are like me, sometimes I really do not care how old it is but if I like it enough I will pay the price (value) of an item. Naturally, a dealer tries to buy many items at a time and that helps even out the pricing a bit — or we try to just find fun and unique items to bring back to our customers and hope they like them as much as we did when we bought them.
Please keep in mind that there was probably a dozen or so punch cups that may have gone with this cute punch bowl — it would be fun to try to find some matching ones down the line somewhere in your travels. Just a bit of advice from an old dealer, be sure to take photos of the things you are wanting to find or cut out articles in a catalog or whatever it takes. You will be surprised how handy it is when you do have to try to match something up, and usually you run across things when you least expect it and catch us off guard.
Another way to match up china patterns or silverware and/or just about anything these days is by looking up on Replacements online by the brand name first and then by the item for the faster results. But, please be prepared for taking a few minutes (or hours, sometimes) when researching online at any time. I am so thankful for computers today — it helps me so much when writing my TNT articles and researching for pricing my recent purchases (or research before my buying my purchases, as well).
I just want to take a moment tonight to make a simple comment — have been meaning to do it for several weeks — I was very much in hopes of opening up my "What's It Worth" antique classes by now, but we will have to wait a few more weeks to see what the virus is like in our hometown before we start. I miss seeing all my friends each week — it has been a tough one on us all. Praying the virus will soon be over and everyone will be feeling better and much safer.
Please keep in mind that CR Rustic is open and bringing in so many cute and fun things, with so many dealers it really makes a great variety. I can just about guarantee that you will not be able to go out the door without a small (or large) bag of goodies under your arm. It is so much fun to see you — when I am there, I try to go in on Saturday afternoons, but other times as well — and I love to see what the other dealers have brought in that is new to the shop and love seeing the changes every single week. Please tell Rob and Corey "hello" and hope you will be a regular customer forever. I can almost guarantee that there will be even more exciting things being brought in through the next few very busy months and you will have a blast looking through them all.
Be safe out there everyone, and I hope to see you next week. Take care and please remember that "what you have in your cupboard right now might be something very special indeed and you might not even know it." Hopefully, I will see you in my classes very soon also. Miss you all. Be safe, and I am so thankful that the Telegraph still allows me to write these TNT articles after the past 28 years — besides family and friends, antiques are my next special thing to love and to work with and research. Take care.
Be the first to know
Get local news delivered to your inbox!