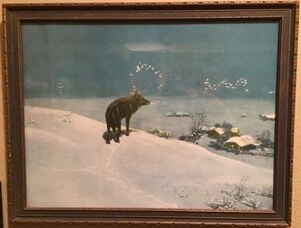 This Trash and Treasures column may bring back a few memories of your great-grandparents or grandparents, depending on your age today, of course. This print from the 1920s is probably the most popular print which hung in most country homes through the years.
I do not believe I remember seeing it in my grandparents' home in the country but their older home was way up in the hills of one of our beautiful country canyons and then they moved towards the Sioux Lookout area many years later. I remember a bit about the old place — especially the old red barn. It was an amazing place. I also jumped off a small cliff and broke my wrist when I was about 5 years old — and my mom paid the doctor with eggs and cream (for setting my wrist). We even used to take 4-H trail rides through the canyons over 60 some years ago. My dear grandpa would lead a string of riders up and down through the canyons along the magnificent trails through the hills to get to their place, where we would have a barn dance at night — never too tired for that. The girls would sleep in the old house and the boys would sleep in the haymow of the barn. The next morning, parents would fix us a magnificent pancake breakfast — sometimes with bacon or sausage. I can smell it now — what a beautiful aroma on an early fall morning.
All of us fed, we would ride the hills for hours and then head back to where we left our trucks and horse trailers and be on our way home again. The beautiful memories we all have today are because our parents and grandparents took the time to tell us stories of yesteryear and even point out a few deer along the way, and definitely many ranchers' cattle herds. My mom surprised me one year on my 16th birthday with a cake a neighbor baked for me — of a beautiful young doll in a long gown of homemade cake and frosting. My first ever bought cake — but still homemade by a dear friend. She had several sheet cakes there also for that special 16th birthday — a weekend I will always remember for so many reasons. A year-and-a-half later, I was on my way to Parks Business School in Denver, after I graduated at 17 in June and left home two weeks later. Memories that I still love to think and reminisce about.
Prints like the one in my photo this week bring back memories for many of us — most of these prints were unsigned but the artist was Victor Kowalski. The lone wolf was standing on a hill, sometimes facing right on the top of the hill, and in other prints he would be facing left. Those are a bit harder to find but then you would have a pair which would bring a bit more money today. I see online that the values of these prints have gone down a bit as many things have through the years, and considering the situation nationally is harder. But I have a feeling, in a few months all of this will be behind us and we will see markets rise in values for our collectibles and antique treasures.
I have seen various sizes of the "lone wolf" prints through the years — from post card size to much larger. Some were in a bit fancier frame while others were in a simple but fitting frame for the period of its time. The fun part about these prints are the various things that have been enhanced — for instance, you will usually see the breath of the wolf as well as footprints in the snow, knowing full well it is definitely winter time. Then we see light from many of the homes down in the valley. Some of the prints may have just a few buildings, such as a single farmstead or home place, whereas in many other prints, it looks like a whole town in the valley with the lone wolf overseeing it from the hill area. It is very serene, and definitely cold looking — but oh what a story it tells. Is the wolf hungry and looking for food? Or is he cold and wanting a warm place for the night? Probably both when you think about it. The night skies with the bold white snow on the hill above the homestead/town and the heavy steam from the wolf's nostrils tell us how very cold and alone he is.
These prints (in my opinion) tell a true story of loneliness at times, and also presents how hard and tough you would have to be to survive not only the winters but the loneliness as well. The print "talks" to you personally — and you are the only one who can interpret it. Many of our collectibles as well as true antique items will tell a story — we just need to take the time to see what it is trying to tell us. After doing a bit of more research, many people have interpreted this print to be a piece of USA art — but in reality, I discovered the artist was from Munich, Austria. This changes a bit of info I thought from a few years ago about this print. He was awarded an honorary membership of the residents of the Minch Academy as well as awarded several medals in Vienna as well as Munich. The story goes that his main work in 1910 was the "Assault of Wolves" — which explains a bit more of his reasoning of "the lone wolf" print. The artist's name was actually Alfred Von Wierusz-Kowalski, or Kowalski-Wierusz in some areas.
When researching my items for my articles in the Telegraph each week, I am still amazed "how" and "why" all of our antiques/collectibles have a story all their own. They provide an endless supply of items to talk about as well as reminisce about our own lives — and the tales we tell.
Have a good week, everyone, and a safe Thanksgiving holiday.