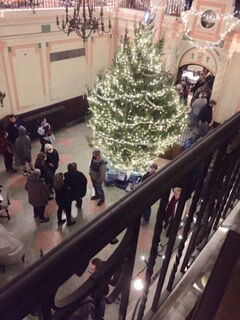 By the time you all are reading this Trash & Treasures column from me, Christmas will be all over for another year and we can look forward to a new year very soon. With the help of so many in our lives who help us on a daily basis, we want to especially thank everyone involved. Truly: thank you. I have had so many inquiries as to when I will be starting up my "What's It Worth" antique classes again. Sad to say, I am still not sure. But, hopefully soon.
As there has already been lots of information about the transformation or rehabilitation of our grand Pawnee Hotel here in North Platte, I wanted to talk a bit about my photo today. My son John and I decided to go in at the last moment and walk through the old Grand Lady herself, and we are so glad we did take the time. If and or when they do open it again for quick walk-throughs, please make sure you take the time to do it. It is an amazing accomplishment and the progress that they have already made is absolutely awesome.
I was so glad to see so many people — and most were wearing masks — and it was definitely a compliment to the buyer/contractor who is doing all the work and bringing the Grand Lady back to its pretty much original state, as much as possible of course, considering the timeframe that its been something else and then sitting idle for so many years. I am so happy that it was not torn down. So happy that someone can see the "finished product" as it should be seen in a few years, with lots and lots of hours and manpower provided along with skill and technique essential to finish the product.
Just walking the sidewalk to the Pawnee Hotel and seeing the Fox Theatre light so bright on the opposite corner brings back so many memories. As I am a country gal, we did not go to a lot of movies, but it was very special every once in awhile when we were allowed to go see a movie or two. But, the Pawnee Hotel was a bit different on wintry Saturday nights, as the elegant ballroom on the second floor would be lit up like a million Christmas trees with the gorgeous crystal chandelier hanging from the ballroom ceiling. How well I remember it, even though I was probably 9 or 10 at the time when we first started going. Then in later years, I was able to even dance with anyone or everyone at the dance and enjoy it tremendously. In fact, between the barn dances out in our neighborhood, our 4-H trail rides with staying overnight at my Granddad's old home place up Boxelder Canyon and dancing in his haymow and the Pawnee Hotel winter ballroom dances, that's pretty much where I learned to dance just about most dances with different dancing partners. A beautiful bundle of memories just keep racing through my mind at a million miles an hour.
As we entered the Hotel at the main south entrance, they had the most beautiful Christmas tree — humongous and gorgeous, glowing like diamonds in the evening light. It brought back so many memories in a flood of a few moments. As we were taking photos, a young lady asked if she could help us by taking a photo for us in front of the most gorgeous tree ever — so sweet of her to ask and, naturally, we said thank you for taking the time to take the pic. Something he can tell his grandkids and even show them our pic — and some day maybe he will take the four (my) great-grandkids into the same hotel and show them the tree, as well.
Memories keep flooding in to my mind. The hours it must have taken to decorate the tree alone as well as stringing extension cords pretty much everywhere, including the second floor stairways so we all could stand on the balcony looking down on the tree and the decor, again sparkling like so many diamonds. But the most important part for me was the fact that I was standing at the very exact spot where my folks would leave us out in the hallway and we could peek in the door of the ballroom and watch our parents twirling under that chandelier and the smiles on their faces were absolutely never forgettable moments. I can still see my mom and dad having a lovely time — with farm chores out of the way that night and an entire evening of music and singing and dancing, and friends dancing with friends and even us kids were allowed on the dance floor as long as we stayed out of their way! So many wonderful memories of those many wintry evenings — even driving 12 miles to town in the heavily snowed dirt roads at that time, and again back home after midnight or later. I still remember the old Greyhound bus depot cafe at the end of the block, north of the hotel where many of us met for a late night (or very early morning) breakfast or a hamburger and fries before we all followed each other on the cold snowy country roads back home again. The next morning, it seemed almost like a magical dream that the dance had even happened. But, then you closed your eyes for a moment and you could see the grownups dancing and smiling once again under the sparkling beautiful diamonds from the gorgeous chandelier hanging in the grand ballroom of the Pawnee Hotel.
Everyone was so hospitable this week — taking turns going up (and down) stairs in order to walk around the second floor outskirts of the ballroom and seeing so many of the original pieces of furniture was amazing. Of course, we could not look into the ballroom yet as they have not cleaned up that part, but what they have accomplished in such a short time is really amazing. Looking out over the main floor from the second floor and looking down on the most beautiful Christmas tree was an amazing sight, indeed! I want to congratulate the people who have been working so hard on this project — it is so comforting to see something being rebuilt or remodeled to yesteryear's decor, especially my speaking from my antique business and hobby of collecting for most of my adult life. They said they have spoken many times to the owner of the CR Rustics Antique Mall and to many other antique shop owners as well. It is so rewarding to visit with someone who is "restoring" instead of "tearing down" something old and what is so important to many of us in our hometown of North Platte.
If you have a chance to walk through the Pawnee Hotel sometime in the near future, please take the opportunity to do so. And when it is all refinished back to original as much as possible, it will be an awesome renewal of something old back to new. We cannot even start to imagine how much work is involved in a project this size — unless you have done it yourself. But, the work will be rewarded for years and years to come and I thank those who have the vision and the heart to take on or tackle a project of this size. As we did visit with the owner for just a few short moments in the stairway, he mentioned that his mother is an antique collector/dealer herself — so he has had lots of education on the subject of antiques and collectables, I am sure.
Hats off to you and your crew — thank you for giving back to the community something that we almost lost. Be safe, happy new year, and we all are awaiting the finished product of your many hours, days, weeks, months — maybe even years — of bringing back life to something that has sat for so long empty and forlorn. It will now shine like diamonds in the sky for all who live nearby or drive thru North Platte to just take a look at the grand Pawnee Hotel. Thank you, and God bless.