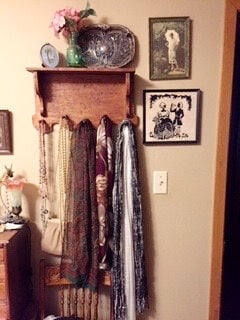 Today I am writing about values in general. We can take a used vehicle to the car dealership and they have a "Blue Book" value on most vehicles and it can be looked up almost immediately. Each car has an identification number so it can be tracked down to the last place it has been worked on or repaired. But, I am afraid to say that the antiques sitting in our homes or attics may be a bit different in processing the values than automobiles. We can go by miles on a car, but we cannot track the miles in most cases with our antiques which do not have an odometer. Sometimes I wish it could be that easy, actually, when I am assessing values on some pretty wonderful antique pieces of furniture or dishes from different era — or maybe even a different country or different part of our world today.
We can go online and visit many various sites showing us how to appraise something or at least assess the situation so we have a better idea how much an item may be worth. For instance, when we are looking up a certain piece of china and we know the china or porcelain's pattern name, we immediately go to replacements.com and we can look up just about any china manufacturers, as well as pattern names. I have talked about my Desert Rose Franciscan dinnerware a lot through the years and I like to look up — just for fun, because I won't ever sell my original pieces — to see how the prices or values are holding from year to year and locale to locale. As they are being made in England now, prices seem to be holding pretty well. But the older pieces stamped with California on the back of the plate or bowl, seems to make the item a bit more valuable if still in good condition with no cracks, hairlines or chips.
I am sure you have read enough of my Trash & Treasures columns through the years that most of you reading this have read it many times before, and I do apologize for repeating myself: But, for the sake of the newcomer and younger adults who are just now becoming acquainted with the Desert Rose pattern of china, it is nice to be able to give them updated information from time to time. And of course, replacements.com is definitely a very good place to go.
I have appraised a few items through the years at my antique classes where I found more information along the way through the years which would make my earlier assessments way too low. That is where it is so nice and easy to use replacements.com and identify or update values almost immediately. They even have sizes of dinnerware and/or various pieces or sizes of cups, for instance, as well as serving dishes and platters, and so on and so on.
My photo this week was taken in my bedroom with a very old (vintage) Northwind stamped or carved shelf with Mr. Northwind himself impressed into the wood. It has been done very lightly but definitely still makes a statement and is still very defined. It has handmade dowels to hang necklaces or purses or scarves below the face of the Northwind and the shelf above still holds several of my favorite vintage items: A silver bread tray with a beautiful scrolled design (art nouveau) as well as an oval hand embroidered picture by my grandkids' great grandmother (who is no longer with us).
She was wanting to always keep busy so I would find her embroidery kits — usually they would even come with a pattern, color scheme, floss or thread, linen stamped with a pattern and directions, of course. But, you could vary it to your liking. Grandmother Tripp had done so many and had so much leftover thread, sometimes she would not even open the kit as she would see the pattern and transplant it mentally to another piece of linen and begin stitching right on the spot. How her fingers flew when she was totally in to the stitching rhythm and creative mood. So fun watching her — she did several cross stitch pieces also for family members, such as tablecloths and matching napkins, coverlets and many various sizes of pictures. How fun to reminisce about each piece she made.
Sentimental value varies from actual values, naturally! If they were paid by the hour, can you imagine what an afghan or tablecloth could be worth? But that is not usually how it works. It is the same with a painter/artist or a potter or a dressmaker. Values all depend on the item itself as well as the fine stitching (smaller the stitch, or stitches per inch, the more valuable the sewing piece would be) on quilts, for example. Or lace on a beautiful lady's blouse or maybe the handmade buttons or even the embroidery work itself. Values can be higher than we thought possible when the work is incredibly done and it makes a statement on its own.
Back to my photo today, though, I have a silhouette-framed picture from the late 1930s or early 1940s — these were quite pricy about 15 years ago and so many showed up on the market when the values shot up that it actually started making the prices fall because there were way too many on the market. The same holds true on a farmer's wheat market or corn, or even alfalfa. Too much of a good thing sometimes brings the price down. But if it happens to be a very rare item, then we will see the prices hold a bit longer than normal.
And since we are on the subject of pricing and values — this is just a reminder again about my "Antique Classes" starting this Tuesday at the Good Life on the Bricks, 402 N. Dewey St. in downtown North Platte. Parking on the streets and/or their own parking lot behind the building is available. I am having my classes during the day this year. We will start around 1:30 p.m. and close around 4 p.m. on Tuesdays. I am so excited to finally feel safe enough to begin the classes again. Please feel free to wear a mask if you would like to. We will be on their patio area as you just walk in the front door off from Dewey and to your left. It will be warm and cozy as they have plenty of heat for cold weather and AC for hot weather. The food is awesome — I presume most of you will like to eat as you come in and/or you are welcome to wait a spell and maybe take something home for your late meal of the day when we are all done with our fun appraising of items. Please bring one item for each person, $5 per item, and it will be so fun to get people together once again. And after my class (or come really early before class) you will want to visit the CR Rustic Antique Mall just across the street as well as so many other wonderful individual shops up and down Dewey and along Jeffers, as well.
I was born and raised here in the North Platte area. I went to Parks Business School in Denver immediately after high school graduation, graduated and had a job immediately from Parks. I worked for IBM in Boulder, Colorado, and started out in the typist pool — but the same day I started I was chosen for one of the department manager's secretary, I was there for a few months and then promoted to general manager's secretary — I was scared to death but had three very good friends who had been working for their upper management and they taught me the ropes. Just a bit of personal history thrown in today — then I got married when he came home from Vietnam and we headed to Jacksonville, Florida, for his next job and then came back home to North Platte and got out of the service and raised our two sons, Scott and John. I loved being home and much closer with other family members. We got into antiques pretty much while our boys were still very little so they grew up with "old stuff" all their lives. And, that my friends, is why their mother (me) is such a fanatic about "old things" and especially now that I am getting old, too. I actually am even more involved with antiques now than ever.
I welcome anyone interested to visit our classes and enjoy the ride with us on Tuesday afternoons. If you have any questions, please call me at 308-530-4572. Have a great week and please do not forget to visit all the wonderful shops in downtown North Platte and surrounding areas. Take care and be safe.