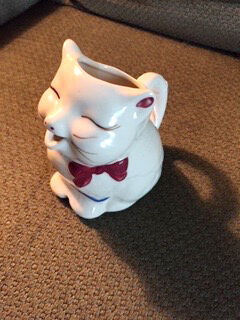 I am excited to tell everyone that I am trying to get the "What's It Worth" antique classes up and rolling again. I have made plans/reservations for my antique classes to begin on March 2, moving forward on Tuesday afternoons at Good Life on the Bricks, 402 N. Dewey St., in downtown North Platte. My previous classes were in the evening, so that is a slight change.
I felt it would be a good idea to try doing it during the day, and see how it goes. I have made reservations with the Good Life management for 1:30 to 4 p.m. on Tuesdays. There is parking in the back of their restaurant or various places as you see fit. We will be in the patio section — it's the private room right at the front door off of Dewey. Walk in the door, and turn to your left immediately and walk out on the beautiful closed-in patio area. It's a fun setting I believe for my classes with lots of light and tables, chairs, booths, fireplaces and room to display our items that you bring for me to appraise. The cost of my appraisal and the class will still be $5 for each person with an item. Anyone is welcome to come to see what it is all about, but due to space, I will still need to charge you $5, so you might as well dig something out of your closet or china hutch and bring it in for me to help identify your pattern and your value.
We will probably have the waitresses take your food order as soon as you come in — that way, we can get going with the appraising or show 'n' tell process around 2 p.m., and we should be done by 3 p.m. or a bit later so you will have time to visit with friends and newcomers as well.
I am so looking forward to seeing everyone from past classes. Please come when you can. If I have more people than we can handle, then I may have to set up another class on Thursdays, but for right now, let's try this and see how it goes. We are also just across the street from the new CR Rustic Antique shop. Come early and tour the shop or take a tour after class. It is a very exciting time for me and I am so happy to get back with people and to see what they brought in for me to appraise or tell them a little bit more about the "family heirloom" or a treasure found at an auction or sale, or maybe something they have had for a long time but need to get it updated as far as values go. Please bring your face mask with you until we get this all figured out. I believe we can make it work and still be careful too.
I am truly looking forward to seeing old friends and newcomers to my classes. You will enjoy every single item that everyone has brought to share with the class. The stories behind these precious treasures are sometimes very stirring to the heart and makes us all realize what we have sitting on our shelf at home may be a similar treasure as well. My phone number is 308-530-4572, and if I do not answer, please leave a message so I can get back with you. I will try to answer any questions you may have about my classes but I do not appraise items over the phone. That is way too difficult.
Now, I will talk about my cute little creamer/pitcher with the kitty on it in my photo. Many of you will recognize this little cutie as being a Shawnee Pottery item, made in the late 1930s and early 1940s. It is marked on the bottom with "PATENTED," "Puss 'n Boots" and "U.S.A." It measures about 4½ inches tall and the tail of the kitty is the handle. I had one years ago that a great aunt had given to me and when I moved from a larger house to a small apartment, it is still in one of my boxes and I have not had the space to bring it into the apartment and unload. But it is a fun item and a cutie. It also could still be used today if you wanted to for your creamer or milk for your cereal. It is actually a bit larger than a normal creamer — should be titled a milk pitcher for your cereal by rights, I suppose.
Shawnee items of all sorts are big collectibles today — not yet quite antiques, but getting closer each year. It is definitely considered to be a sweet collectible today. Many of us have things passed down to us from distant aunts and uncles, or grandparents. And some of you may think that they are just a dust catcher and you may not display the item in a favorite hutch or a shelf on your wall. But sometimes it helps to know a bit more about what you have and it may help you realize how cute and important the item really is. I have had some very surprised people through my past 25 years-plus of doing my classes. I started with the Mid Plains Community College that many years ago, and, because of the traveling late at night as I would go to small towns around the area for an evening class on antiques, I decided to stay a bit closer to town and start my own classes.
Another reason why I am having classes during the daytime — and not at 5 in the evening like I used to — is because I was hoping to bring those interested into my classes at maybe a more convenient time for them also. No late night driving home in the dark kind of business. But, I am excited to get opened up and running again and hope that I will see many of my "regulars" as well as newcomers come aboard.
Please remember that many times I learn more from your stories about your items than I would have ever known without your bringing your items to class, and many others will enjoy it with us. I am getting very excited about starting my classes again and so anxious to see whatever everyone brings in for show and tell, like we all did in grade school.
I think having my classes downtown in the fun and "new-old" Canteen District and celebrating our Union Pacific Railroad Depot days will be a fun way to continue my "What's It Worth" Classes. Come early so you can visit the new and old shops in this area of town while waiting for classes to start, or take a walk through the same shops after the class.
Please pass the word about my antique classes starting up once again. If you have any questions, please call me. Have a safe week and weekend and we hope to see many of you very soon. "What's It Worth" antique classes are opening on March 2 at Good Life on the Bricks.