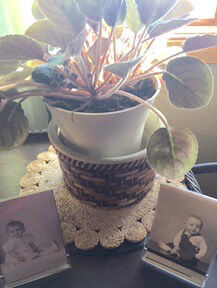 As I am looking around my apartment for things to write about each week, I begin to realize that so many of my articles pertain to how you can "use" your collectibles or antiques on a regular basis. Sometimes we forget about that and really need to utilize our living spaces more than we actually do.
I know I have mentioned it several times before, but I live in a cute 2 bedroom apartment with antiques and collectibles strung through the entire space — including every single square inch of it actually! Now, personally, I don't think that is bad, but I am sure some of you out there would love to ask me "Why?" Very simply put — I love my collectibles and my true antiques, whether they are family or not. I bought them for a reason — I love them, or I would have never bought them in the beginning. And of course, many were purchased for resale or were supposed to be on the market either by Etsy or antique shop or personal selling. Maybe some of it even at auction, which brings me to the reason nowadays why I am starting to sell more and more of my stuff as I am getting older and would hate to leave all this mess to my kids.
So, when another antique shop sprung up here in my hometown (North Platte, of course), I decided to give it one more shot to see if I could personally move some items which I know or had hoped would be on someone's wishlist eventually. And this is at the point I am right now. Yes, when CR Rustic was opening and several dealers needed a place to move their inventory or needed a different outlet, we were very thankful indeed for Corey and Rob Derbyshire to open a new shop on our main street here in North Platte — even when the streets were all tore up and parking was at its minimum it was a big chance for them to take, but they live here in North Platte and they love antiques/collectibles as all who are in the shop today trying to move our items, fun collectibles and a few newer items that could become antiques down the line. Or passing them on to family or friends who loved collecting items as much as we already did or do today.
I realize that antiquing has gone many directions in my 51 years of collecting as well as keeping my favorite items. That is a good thing — we all do not like the same things (Thank goodness for that) nor do we all want to "clutter" our homes like some of us love to do by clutter, I mean overload the flow of antiques until asking someone to sit down when they come into your home, may mean "Please let me move something so you can sit in a comfortable chair for a visit!" I am kind of one of those people right now but I am trying to do better — much better — by turning loose of many of my cherished items I have purchased through the years or my mind and heart has changed to go in a different direction.
I have sat down many times through the years and made a short — now a long — list of what I really love to hunt, find, clean up, oil or refinish, or to find more "ready to go" type of stuff. You know — the kind of item that takes a few moments to wash off the dust or polish lightly, no tough polishing nor nothing to actually strip any more (which I haven't ever done much of that anyway). Don't take me wrong, I have found many items that I loved and needed some heavy cleaning up — warm water and lots of suds — or maybe a bit of polishing — with a good and fairly fast silver or brass cleaner. Hint: My Howard Oil Products out of California definitely beats most categories of oiling or polishing or just plain steel wool efforts to spruce something up. Naturally, I try to have all my favorite products for making my treasures look great in my home and for others to have available in theirs as well.
When you find a good product that deters tarnish, that's the way to go, absolutely. I do not take the time any more to "spruce" up my house like I used to do a few years back — and I keep the fun things around me that are easy to take care of and add to my comfy spot. But once in awhile, I just cannot pass up a bargain or something that needs a little love, as I used to say. Sad part about that is my little love methods don't get done like they used to. Because, I just love finding stuff in better condition more now than I used to. Thus, giving the arthritis in my hands and fingers a bit of rest nowadays. And I am sure a few of you may know exactly what I am talking about.
In my photo this week, I have an African violet in a pot which has the watering hole at the bottom and proper drain — but I have it sitting in a Western — probably a butter — crock in a brick-like pattern on the sides. It is one of my favorites and I used it for just about everything years ago. I love the style of it and especially the size. Those two photos sitting beside the African violet are my brother on the right and me on the left — when we were babies, of course. I think Brown Harano here in North Platte took them. We did not have many professional photos taken but Mom made sure she had some of us when we were smaller or younger. Please remind your family members to check out the photos and negatives out at the museum that they have available for families to go through and claim them for your albums and passing down to other family members. I am just now reminding myself to do it, too. It is on my list of "to do" things and I really need to run out there soon and check it out.
Our baby books, scrap books, photo books, year books or annuals — all are wonderful keepsakes to pass down to family so we are not lost or forgotten through the years. Families need to be reminded to take the time to sit down with us older folks and reminisce a bit about our lives when we were younger and about our older generations. As children, then grandchildren and so on get married and extend their families, it is an awesome time for remembering the "good old days" — even for just an evening or two listening to the stories that our oldsters (like myself) may like to tell. We like to remind everyone how lucky you are today because you did not have to haul water in buckets each morning or chip ice out of a tank or crock to bring water into the home in the middle of winter, and many other stories I am sure need to be told to the "young'uns."
Every week when I start writing my Trash n' Treasures column, I look back through my notebooks and my photo albums to get an idea what to write on. Sometimes I have to really really dig deep into my other articles that may relate to some I have already written — but maybe did not cover entirely on certain areas. I am sorry when I do repeat or vary from my initial themes and I stray a bit down a memory lane, but please forgive me and remember that getting older sometimes gets in the way. I am thankful to just be here for yet another week of antiques and things to talk about with the other dealers in the antique shops as well as friends over a good cup of coffee.
The things we have just sitting around the house are more than just dust collectors — although they are truly that — but they hold memories of the day we found them and/or who may have given them to us as a birthday or Christmas gift. They do tell a story — I only wish the younger set would take time out for just a few moments to visit relatives who are not as lucky as some and cannot get out as much as they used to do. We all (I pray) have the privilege of growing older and some day rehashing our life long stories we have acquired over the many many years that God has given us.
And that is my story for this week. Take a single moment or two to make a phone call or drop a note or send a text message to a shut-in or someone who cannot get out and about like they used to. Take time out for those who might need a few extra moments here and there to just hear your voice. With COVID-19, it makes it even more difficult for some — so please remember those shutins with a phone call or drop a note. I needed the reminder today myself, as I am fortunate to get out and about still but I do know that one of these days even that will change for me also. No downers today — just reminders of who we once were when we made a bit more time for others. I was just reminiscing with my older son the other day about our beautiful times with Grandma Tripp — she was the boys' great-grandma — the times we had her out to the place in the country and she just loved it. Even welcomed her overnight several times and sometimes for several days, but those times now bring back such wonderful memories of good times — laughing and telling stories on each other and just plain talking about what is going on in the world today. All are memories that can never be replaced nor relived. My sons were pretty small when we had the pleasure of her company, but I know they too will always remember her sitting on the couch embroidering another picture for us to hang on our rather blank walls at the time or making beautiful Christmas tree ornaments with styrofoam balls and sequins, glue or pins, and lots of ribbon. They, too, will remember those times — I know I sure do.