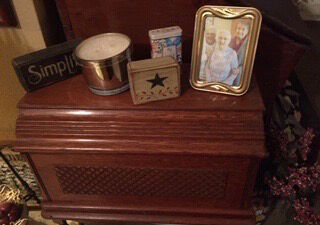 I don't remember how many times through the years that I have been asked this question: "Why do you do what you do with your antiques and writing articles and doing antique classes?"
I think I have a very good answer to that question: "Because I enjoy antiques and the history of them and I certainly enjoy meeting the people who have owned some of these antiques that I have written about over the years!"
When I was in school, history class was not my most favorite class — anything with numbers was my first love, then history came in on down the line as I thought I had a terrible time remembering dates in American history classes. Now, I still do not remember dates very well — but I still love the history of the items I find at auctions, estate sales, antique shops, etc. I do not buy as I used to do — especially after I bought out that small antique shop in New Mexico a few years back. That gave me quite a bit of inventory for a spell, and I am still getting "stuff" out of those boxes and it is almost like Christmas all over again. There was so much "stuff" in that shop and four of us were packing for two or three days — I did not even get to see it all with all of us going like crazy to back home in a few short days.
Now that we have a new beautiful antique shop here in North Platte — CR Rustic at 413 N. Dewey St., open on Tuesdays through Saturdays for now — and the brick street is open for public traffic and parking now. Yay! It is awesome to see all of the people streaming through their shop with such nice comments along the way. I usually try to go in on Saturday afternoons to help Corey out a bit as she is tending the store pretty much by herself that day and Saturdays can get pretty busy. I do enjoy seeing friends strolling through. I am afraid I talk more than I help these days, but I truly love being around friends and making new friends of antiques.
First thing I really enjoy about the new antique shop is the great variety of items they have — Corey and Rob have such great talent with their painting techniques — taking a rather damaged piece of furniture and making it look vintage yet new. They are always bringing in new ideas how to refinish or repaint something and make it a sweet addition to anyone's home. That definitely takes knowledge and talent, and they both definitely have that. But the best part, is that they work so well together. It is so rewarding to see a young couple enjoy the same things and help each other obtain a similar goal.
I have always preached that you should not redo an item as it could devalue the item and/or deplete it of worth entirely. But, the way they repair and/or paint/stain their finds, it makes everything just the opposite. Naturally, refinishing and/or totally stripping and staining are two different things. Let me remind you that when you do strip something totally and repair it so it can be a useful item again, or a beautiful addition to your home, it does retain a value and sometimes can even make the value go higher than the original value because of the quality of the finish.
Antique furniture and antique accessories, when taken care of, can hold values and increase properly through the years. That is why I do recommend that you have a visit with your insurance person to make sure you have a clause regarding the worth of some of your antique or collectible items as well as your jewelry. And the best thing to have is a notebook (or now a video or photos on a separate CD or flash drive) filled with your pictures along with dated estimates of what you paid for an item or its actual worth.
We used to think when you stripped a piece of furniture that it could lower the value of the item. It depends on what the item is, but in most instances, if the refinishing is done correctly it increases the value rather smartly and will make it look nicer sitting in your home as well. As most of you already know, we have various ways to correct dryness of furniture and how to take care of scratches or scrapes — and that is when I remind you that I am selling Howard Oil Products in the new shop in town also. Several new oil products have been made for certain projects. Please come into CR Rustic and see what I have for sprucing up your dried out furniture or special projects — something for just about anything any more. And that is great. why not spruce up what you already have and make it stay in the family a bit longer or get it ready to pass on to the younger set of the family or friends?
When we had the antique shop out in the country many many years ago, it was fun to buy a bunch of old stuff and then make it like new again. Or I should say "new/old" again! And Steele's Antique Depot (in North Platte) is still stripping and refinishing great pieces. And he is still using the same Howard Oil products and stains that we used back then. The nice thing about Howard Oil Products, they have discovered some new oils and polishes for other projects as well, so please visit the CR Rustic Antique Mall and ask about the products available.
I am getting closer to "maybe" starting my "What's It Worth" classes up again. If the virus will settle down a bit, I think we might have to have smaller classes but possibly figure out a way to have them safely. I miss seeing everyone who were in my original classes and am trying to work something out. With the help of friends, I think we might be able to get something done. More coming up on that subject next month.
I kind of got a bit sidetracked on other subjects — my photo this week is a box with a lid, walnut I believe, re-stained and oiled. It could be considered to be a document box or file box — maybe even used for a small Singer sewing machine cabinet. Do you remember the small featherweight Singer sewing machines that they used for making quilts? They had carrying boxes and some had fancier walnut cases or cabinets similar to the one in my photo today. Not absolutely sure what this was actually used for or its true purpose, but I am going to use it for my necessary catch all for filing purposes and/or income tax info, I think. (I found this cutie at "A to Z" Books here in North Platte. Stop by and say "Hi" to Sharon and tell her I sent you. She has a few antiques scattered throughout her book shop and a special room filled with great finds also.) On top of the case, I have displayed a favorite photo of a dear friend when we surprised her with a small birthday party, and a tin box, like a bandaid box but it holds tiny cards, to write prayers on and drop them in (received this from another dear friend in Omaha) and a scented candle that I received from my daughter-in-law for Christmas one year.
I love vintage boxes. Maybe I love them so much because I can hide some of my clutter in them — sad but true. I need to be a much better housekeeper and bookkeeper and I am sure my tax man thinks so also. But please bear with me the way I am, as I am afraid at my age, it is impossible to train me to be a better manager of paperwork and/or anything else.
Thank you for taking time to read my article this week. Please do not forget to stop by the CR Rustic and tell Corey and Rob "hello," and do not forget to tell them that "Judy sent you." Be safe everyone, and come see us when you can.
Be the first to know
Get local news delivered to your inbox!