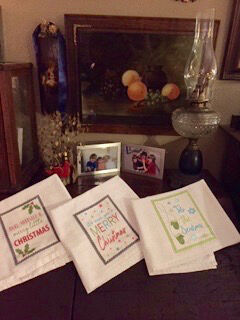 My holiday wishes to everyone: I pray that you all will have a wonderful Christmas with family and friends, as COVID-19 permits. It is truly a tough holiday season this year with so much illness, as well as political things going on all around us but we need to keep our spirits lifted, not just for our own sake, but for the sake of those in our families.
I was checking out a friend's shop here in North Platte, A to Z Books, looking for special gifts for my great-grandkids. I always try to at least have one book, or maybe two, for each of my four great-grandchildren. As always, I found them at Linda's shop — along with a few antique items as well. If you haven't been there before, please stop by. She has a really cute shop and a fantastic inventory of books in every category imaginable. She is just across from the North Platte Public Library, at 115 W. Fourth St. We have known each other for a very long time and it is always fun to walk through her library as well as her antique room.
My photo today shows the oil lamp I found at Linda's shop. It is an early American pressed glass lamp with a sawtooth-banded glass pattern on the font and an Eagle mark on the brass wick adjuster. The glass font also has three seams, meaning it is quite old. It has a very heavy ornate brass base with a piece of what seems to be black wood in the middle. I am thinking around the 1890s possibly, or maybe even a bit earlier. The lamp is in awesome condition: Lightly used but has been very carefully taken care of through the years!
It's always fun to find something for my shop, but I am afraid this lamp may have found its home on the top of the old grain bin I purchased at my dear friends' estate sale a few months back.
Anyway, I will probably keep the old lamp for a spell, and then eventually take it to my booth at the CR Rustic Antique Mall, 413 N. Dewey St. I have several vintage lamp collectors who come to my "What's It Worth" antique classes, and maybe when I get those classes started again, they will be able to help me with the actual age of it. Vintage and antique oil lamps cover a large territory when trying to estimate values and makers. But sometimes we can run across something similar to the lamps we have and go with the info originally found for other makers. That is the fun part about this whole business I am in — curiosity will get to you and you just have to keep on digging and digging for more and more information until you are satisfied. But I must say, having a computer today definitely shortens that search time by many, many hours.
You will notice in my photo also a set of tea towels. They are part of a set of 7, given to me by dear friends just a few weeks ago. I don't know where she finds the time, as she is a very busy lady with farming and ranching and family but they are the cutest tea towels with cut-outs stitched or appliquéd on the front. many Christmas sayings as well as 7 different patterns. They're too pretty to use for dishes but they will eventually be used, I promise!
But getting back to my desktop with the latest oil lamp purchase: It seems to be fully intact and usable. I hate the thought but if I did ever lose electricity out here a few miles from town, I definitely have a couple of oil lamps that will be lit ASAP. Everyone should have one or two oil lamps they could use in case of an electrical blackout, wind or storm. They definitely come in handy. I did use one of my other oil lamps several years ago for just a few hours in a bad wind storm where the lines were blown down.
With the holidays fast approaching, I am noticing a lot of buying activity on Etsy lately. I do have a shop on Etsy also, but have been very bad about keeping it updated. I sold something two days ago and thankfully caught it so I could get the item mailed off. I should be doing a lot more by mail but it takes time to put the items online — taking photos, writing a description, etc. — but the items do get looked at by many people. It's a fun thing to do, but I just wish I was a few years younger and could keep up with it all.
Anyway, getting back to the oil lamp collectors — there are quite a few lamps in the antique shop downtown. I am not sure how many dealers there are in the CR Rustics shop, but there are a bunch and different items coming in almost daily. For those who are really interested in collectibles and antiques or homemade items, etc., it will be worth your while to check the shop out on a weekly basis. It is so fun to see all the neat things brought in, from homemade items to collectibles of all kinds and true antique items as well. Even the furniture brought in — some of it painted or otherwise spruced up — seems to be purchased before they are even done. When it is completed, it just floats out the door.
Painted furniture has really become popular these past few years. Some of the decorative oak or carved pieces are not quite as popular as they were a few years ago, partially due to price and partially due to the availability of those pieces. But, we really would not want to paint an expensive or rare piece anyway. I love their paint — it has no odor at all.
So, before the holidays are here, please come take a look at all the inventory in their shop. There are so many handmade centerpieces or door hangers as well as whole doors and antiques and collectibles of all kinds, And, if they don't have what you are looking for, please leave a written note of what you are wanting and cannot seem to find. Things come in practically on a daily basis with so many individual booths. And, of course, that diversity is why their inventory is so amazing. There are so many different opinions and options. You throw over 28 people's tastes together and you can come up with a fantastic variety of items to choose from.
As Christmas is approaching rather quickly now, I want to thank everyone who has visited the shop lately and thank you for your patronage and your spreading the word to your friends. Things like this help people stay in business and we all are very grateful for that. I want to wish everyone a beautiful holiday season and to please remember the reason for the season.
Thank you for reading my articles these past 28 years — the time has just flown by and is picking up speed today even more! Take care and hope to hear from you by email or in person. Please be safe and enjoy your small family get-togethers this year and hopefully soon we can all be together in larger crowds. Merry Christmas!