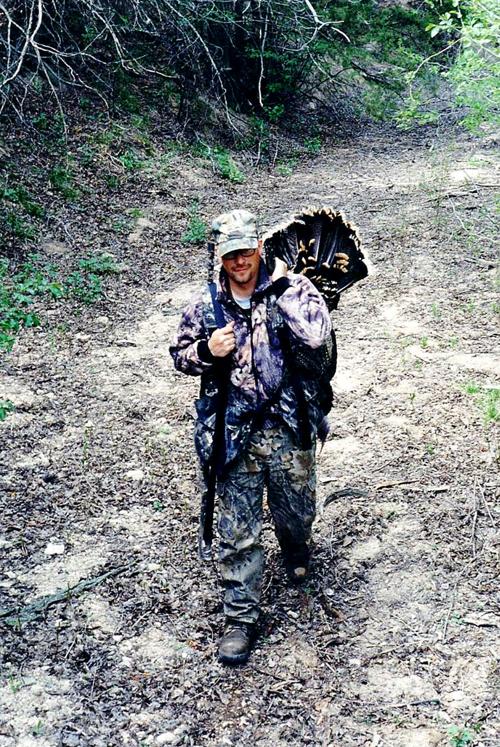 Now we're talking! The hunting seasons are upon us in earnest. This is my time of year. If you are a turkey or archery deer hunter, your seasons are here. Deer season is underway and the fall turkey season begins Tuesday.
If you are out scouting, here's a tip: For both deer and turkey, an element in success is to find their food sources. Animals instinctively know winter is coming and they try to put on weight for the colder, leaner months ahead.
Food sources in this region of Nebraska are quite diverse. We have corn, alfalfa, soybeans, scattered fruit trees and all the good tasting things people have in on the edge of town and suburban areas in their yards. Scouting is the key and watching the deer. They will tell you what they are eating. Once I know that, I figure out where I want to put a stand. Deer are creatures of habit and they will keep feeding in the same place until that food source is exhausted or until their pattern is interrupted by human activity.
Don't forget about water. Our recent hot weather and drought means that deer will be congregating around water sources. Even though the weather has moderated, deer will still be using these areas. A stand that overlooks a watering spot is a good one.
Whitetail bucks are now hanging out in their bachelor groups. They won't begin to really split up for a month or so. Now is the time to watch the deer and select the one you want to go after. I like glassing the edges of fields at dawn and dusk. You may be surprised at how many bucks you see in an evening.
Don't forget about mosquitoes. Although we have not heard much about it lately, West Nile Virus is still out there and is still a threat so make sure you protect yourself while out in the field. Cover up as much as possible and use a repellent that works for you. Personally, I use repellents with 30% to 35% DEET in them. It keeps the mosquitoes away and I don't see deer reacting to the scent.
Another factor for this year will be Epizootic Hemorrhagic Disease. We've had a textbook year for the production of the gnat that spreads this disease.
I like fall turkey hunting, especially if I'm introducing someone new to the sport, for a couple of reasons. First, you can hunt both sexes in the fall, and that greatly improves your chances of success. Secondly, there are more turkeys in the fall than any other time of the year. Weather, predators and winter's hardships take their toll on a flock and this year's hatch has not faced any of that, yet. That's why there are more birds now than in the spring. Biologists say there are more turkeys now in Nebraska than there ever has been. Think about that for a moment.
Food sources are just as important to turkeys, so key in on where the birds are at different times of the day. Watch those areas carefully and see what they are eating.
Insects are a big ticket item on a turkey's menu this time of the year — lots of protien. I like scouting and watching grassy fields early in the morning and in the afternoon. Grasshoppers can cause a flock of turkeys to go into a feeding frenzy. Crickets are another insect I listen for. I had a veteran turkey hunter tell me once that wherever you hear crickets, you find turkeys. I've used this advice several times over the years to be successful.
Corn in our area is a ready food source. If you have a cornfield, bordered on at least a couple sides by timber where you hunt, you may have a honey hole in the making. Set up along the edges and watch who comes to dinner. I love to hunt right after a field has been combined. As efficient as American farmers are today, there is still waste corn that drops on the ground. I've seen turkeys follow the combine and begin eating as soon as the crop has been harvested.
I am asked quite often if I use decoys in the fall. Yes, I do. Turkeys are social birds and are bunched up and traveling in flocks and family groups during the fall. Why wouldn't they respond to decoys?
I routinely put out several jake decoys and a mature hen or two when I hunt in the fall to mimic a small family group. I have often watched a flock move toward my decoys. I make a few soft calls and the turkeys in the flock respond. They approach the decoys as if they are trying to get them to join up with their group. Actually, early in the season, I don't think you can have too many decoys.
Good luck to everyone who is beginning their deer or turkey hunting season.
Since the early teal season ends today, I thought I'd add a very easy and unique recipe for this duck. Don't let your hunting partners see how you make it because it is so easy. It might ruin your reputation as a camp cook. Here's what you do:
Take 5-6 teal, cleaned and dressed, and arrange them standing up in a crock pot.
Pour in enough Dr. Pepper (the real stuff, not diet) to cover the birds.
Cook on high until the meat is falling off the bones.
Remove the birds from the crock pot and set aside.
Add 6 cups of rice and a stick of butter in the crock pot and cook until rice is soft.
Serve the meat over a bed of rice.
The Dr. Pepper has many fruit flavors that meld with the teal. The end result is delicious and almost seems like magic. This will feed four to six hunters.
If you are looking for something to do next weekend, check out the Platte River Sportsmen's Club Gun and Knife Show at the D&N Event Center. The dates will be Sept. 19-20.
Doors will be open 9 a.m. to 5 p.m. on Saturday and 9 a.m. to 4 p.m. on Sunday. Admission is $5 per day. Children 12 and younger are free when accompanied by an adult. There will be food and refreshments available at the event, so you can make a day of it!
For more information, call Marty Johnson at 308-660-1937.
Be the first to know
Get local news delivered to your inbox!