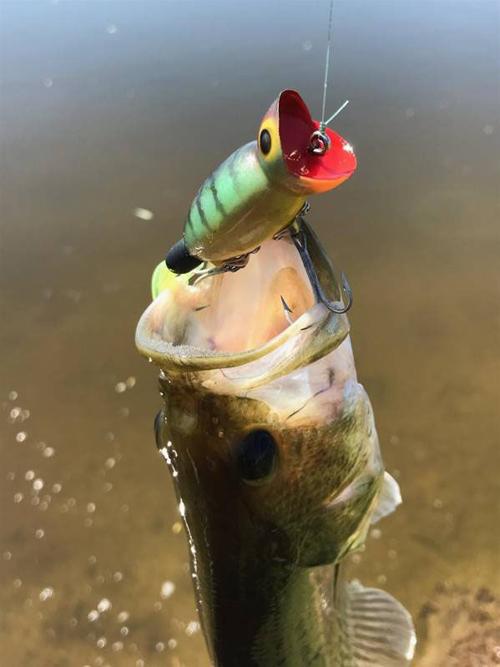 Open any fishing lure catalogue and you will see a wide selection of lures available to the bass angler today. I look at something like this and always wonder about the history and how we got to where we are now and when did we begin using lures.
Humans turned to water as a source of food very early in history. Fishing is an ancient practice that dates back about 40,000 years. Humans used weirs or rocks or wooden posts driven into the bottom of a body of water to corral the fish. The fish were then caught by hand, speared or caught with a net of some kind.
There is evidence of Native Americans fishing with a very early form of a hook, called a gorge, and catching fish 7,500 years ago. A gorge was a short piece of wood, bone or stone that was pointed at both ends, with a line tied at the center and covered with bait.
The Chinese have written accounts of using small metal hooks, silk line, a bamboo rod and boiled rice as bait some 2,500 years ago. The Egyptians have drawings of anglers using a rod with line in the Nile River about 2,000 years ago.
Back in Roman times, Claudius Aelianus, an author and teacher, wrote about the Macedonians using poles about the height of a man and a line of the same length and catching trout on artificial flies. He even described how the fly was made.
About 525 years ago, we seemed to shift from seeing fish only as a source of food and moved into what we call recreational fishing today. Documentation of that comes from a manuscript known as the "Treatyse of Fysshynge wyth an Angle" by Dame Juliana Berners, the head of the Benedictine Sopwell Nunnery. She wrote about this type of fishing and it became popular during the 16th and 17th centuries and practiced on rivers and lakes in Europe.
Fast forward to America. The oldest fishing lure patent on record dates back to 1859. It patented a design known as the Haskell Minnow. It was made of copper and looked like a small fish. It had a pair of hooks that turned up in the tail of the lure.
The original lure literally sold for pennies. If you could find one of there lures today, in good condition, it would be worth $15,000 or so. The Holy Grail of this lure example, what is known as the 1853 copper Giant Haskell Minnow is arguably the rarest antique lure of all time. Only one example of this lure is known to exist today. According to one vintage lure reference I perused, this lure sold at auction in 2003 for $101,200.
As you saw above, bass fishing with artificial lures started in the 1800s, but it really became popular the 1930s and '40s. the earliest bass lures were made out of wood and metal. By the early 1940s, some of the lures were being made with a new material: plastic. Then World War II came along and all industrial efforts shifted to support the war. Lure production ceased, but when the war was over, lure production exploded. World War II also created new methods of productions and great improvements in the composition of materials like plastic.
With all the new lures on the market, and dozens more new designs introduced each year, I wondered if the old vintage lures still worked? There is a belief among many anglers that fish get too familiar with the look of a particular type of lure and won't bite it — I disagree. Minnows and earthworms have looked pretty much the same for probably millions of years and fish still go after them.
I have fished for years with a few lures that are considered "vintage" now: the Heddon Zara Spook, Heddon Torpedo, Arbogast Jitterbug and Arbogast Hula Popper. I always have these lures in my tacklebox, but I wanted to fish only with these lures to see if they are still a viable option for today's angler.
My quest began with a Hula Popper on a sandpit lake here in the valley. It took three casts to get the first strike. A bass grabbed the lure and ran for deep water. I attempted to set the hook, but the lure came free and floated back to the surface.
Within the span of maybe five minutes I had two more short strikes. Obviously, this vintage lure was still appealing to bass.
I walked up the bank a few yards and changed my retrieve a bit. After popping the water with a flick of my wrist, I let the lure sit still a bit longer. On my second cast, I saw a flash of color rocket up from the depths and engulf my Hula Popper.
The lure disappeared with a splash and the bass ran back to deeper water. This time I definitely hooked up with the fish and the tug-of-war was on. A couple of minutes later I landed a nice largemouth bass.
I only had the fish out of the water long enough to get a couple photos and remove the hook. The bass wasted no time getting back to deep water when it was released. He'll be there to fight another day.
So, do old and vintage lures still work? The answer is yes. I am going back and "field test" my old Jitterbug lure next. Try some of those lures that have made their way to the back of your tacklebox. Relive a few fishing trips of the past and add some new stories about a favored lure.
The Fourth of July weekend is typically one of the busiest boating weekends of the year. The Nebraska Game and Parks Commission will be participating in Operation Dry Water Friday through Sunday as a joint effort with the National Association of State Boating Law Administrators and the U.S. Coast Guard. The goal is to reduce deaths and injuries that result from boating under the influence.
Alcohol use while boating is one of the leading factors in boater deaths. In Nebraska, it is unlawful to operate a motorboat with a blood alcohol level content of .08 percent or greater. Doing so constitutes BUI, which carries penalties such as vessel impoundment, fines, jail time and loss of boating privileges.
"Our agency encourages boaters to enjoy the boating season with friends and family, and we also encourage them do it in a safe and responsible way," said Craig Stover, administrator for the NGPC Law Enforcement Division. "Drinking alcohol while on a boat can have serious, even deadly consequences, and our goal is to make sure everyone is enjoying their time on the water and staying safe."