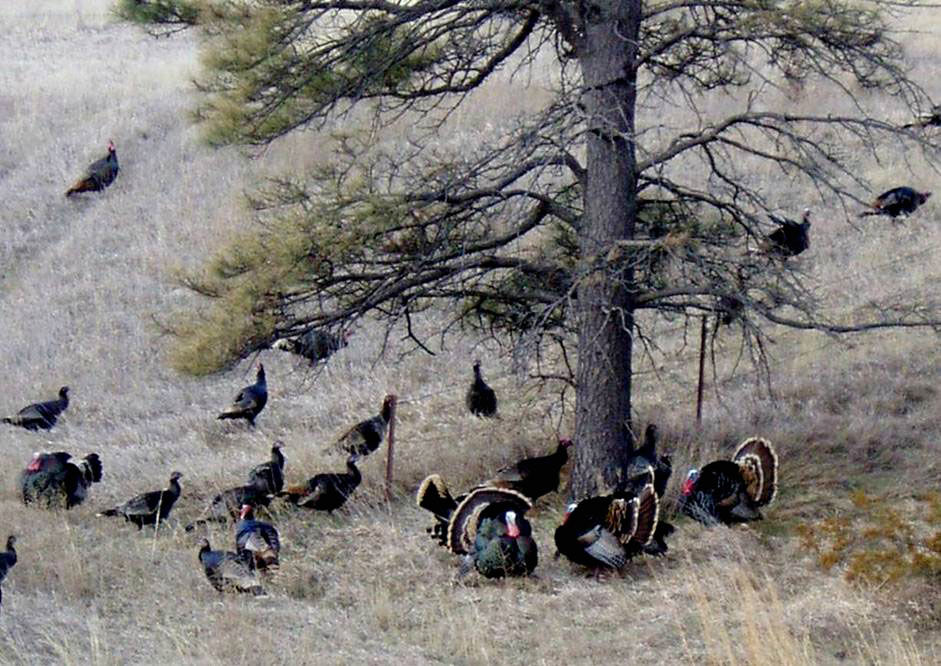 Each year, I anxiously wait for the fall turkey season. I'm starting to pack for my fall turkey camp back in the canyons. The fall turkey shotgun season is a great time to hunt, especially for young hunters and people just getting into the sport.
The fall turkey hunting season has some unique elements that you don't often find associated with the other big game hunting seasons. First of all, there is no age limit for hunting turkeys, so if you have a young hunter who is capable of hunting safely, they can. A young hunter must be accompanied by a licensed hunter 19 years of age or older.
Another reason the fall season is notable is that the turkey population for this part of Nebraska is up — way up. Population numbers are up maybe 500% from surveys done 20 years ago. That means there has been no better time to hunt turkeys — ever. You can also hunt either sex of turkey in the fall. Springtime hunting is limited to gobblers only. Being able to hunt both sexes is a big advantage.
Maybe the best reason to hunt the fall season is that there are more birds than in the spring. Natural predation and winter hardships take a great toll on turkey populations. Realistically, there are far more turkeys in the field in the fall than there are hunters. That makes your chances for a successful fall hunt pretty good.
Scouting is the key to being successful in the fall. Watch and learn the turkey's daily movement. When you can predict where they will be at a certain time of the day, you are almost guaranteed success.
When I "pattern" a flock, I want to know where it goes all through the day. I want to know where the birds are at first light, midday and the evening before they go to roost. If you know where the birds are, you can more easily sneak into the area and set up a blind before the birds are "scheduled" to show up.
Decoys in the fall? You bet. Turkeys are traveling in flocks and family groups during the fall. They are social birds. Why wouldn't they respond to decoys? I routinely put out several jake decoys when I hunt in the fall and I believe they have helped my chances. Many times I have watched a flock come into view and change their direction of travel toward my decoys. They approach the decoys as if they are trying to get it to join up with them.
What about calling turkeys in the fall? There are many hunters who don't think calling is effective in the fall. I disagree. True, you don't hear a lot of gobbling in the fall, but turkeys make other sounds to keep track of where they are. Clucks and purrs are often heard and if you can mimic these sounds you can get birds to come to you.
In the fall, there is no mating season, but you still want to sound like a hen. If you get out in the field, you'll hear turkeys. The hens are constantly calling to their young to keep the flocks together. Just imagine a mom with her kids in a mall environment. The mom is constantly telling the kids not to touch anything, to get back with the group, to keep up with the group, etc., etc. The hen turkey is basically doing the same thing to keep her brood close and safe. Listen to the sounds these mother hens make. Learn how to mimic that sound and you can successfully call turkeys in the fall.
I am often asked what shotgun and load is good for hunting turkeys. Any shotgun that you can shoot well can take a turkey. Gauge and load aren't absolutely critical considerations. I have hunted turkey with every gauge of shotgun except a 28 gauge. I need to rectify that oversight. However, I'd recommend at least a 20 gauge with standard 2¾ inch Nos. 4 or 6 shotshell for most beginning hunters. This is a manageable load that is very capable of taking a turkey out to 25 to 30 yards. Good luck.
Typically by this time, fall's cooler weather has pushed most of the doves south for the winter and we are done hunting for the season, but there is a difference now. While the majority of mourning doves and white-winged doves have headed south, they are plenty of Eurasian collared doves in the area. Eurasian collared doves are a very different species and tolerate the cold much better than their cousins. In fact, they generally stay right where they are year-round.
They are "urban" birds. They are very accustomed to living around humans and sometimes flying out into the countryside to feed when convenient. They tend to travel to their feeding spots in the morning and again in the evening. These habits have begun to make me rethink my dove hunting strategies.
The Eurasian collared doves are native to Europe and Asia; however they started to expand their range about the end of World War II. Biologists can't quite explain why they began expanding their range, but they have become one of the greatest avian colonizers the world has ever seen. They range over all of Asia and Europe, as far north as the Arctic Circle in Norway and east into the Ural Mountains in Russia. In 1974, about 50 Eurasian collared doves escaped captivity in Nassau, Bahamas. They made their way north to Florida and are now found in nearly every state and in Mexico.
In years past you had to hunt hard the first few days of the dove season because you never knew when a cold front would push through and the birds would be gone. Dove hunting now seems to be becoming a more stretched affair. In my travels I have found a couple spots not far from town where the Eurasian Collared Doves congregate to feed and water. They literally fly out of town in waves. I need to explore these opportunities a little more.
Be the first to know
Get local news delivered to your inbox!