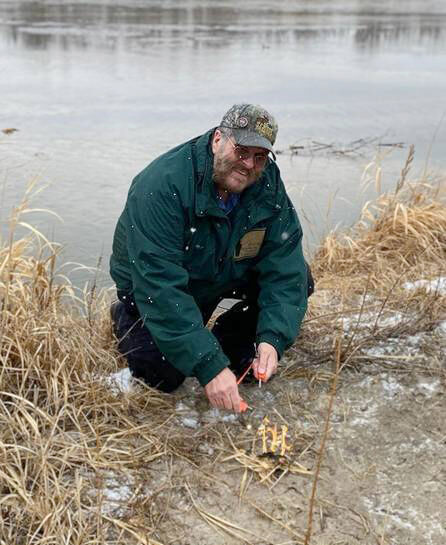 It is cold outside. It may get above freezing during the day but overnight temperatures are well below freezing. Could you make it through the night in this weather if you got stuck outside?
When I was about 12 or 13 years old, I read the story, "To Build a Fire," by Jack London. That book made quite an impact on me and I have been obsessed with being able to build a fire in multiple ways ever since. Very plainly, being able to build and maintain a fire means survival. If you are an outdoor enthusiast, and you have not read this book, you should.
London's story is about a young unnamed trapper who ventures out in the subzero forest of the Yukon Territory in northwest Canada. He is followed by a wolf/dog hybrid and intends to trek through the wilderness to visit his friends.
The young trapper ignores the warnings from an older outdoorsman about the dangers of hiking alone in extreme cold. The young trapper overestimates his abilities and the harsh conditions of the wilderness.
During his trek he realizes that he is beginning to freeze to death. After building one fire and warming up, he unwisely leaves the fire and sheltered place to venture on in his journey. The same scenario plays out and he feels the need to build another fire. His inexperience with extreme conditions leads him to build the fire in the wrong place. The attempt fails. The how and why it failed has always stuck with me. Ultimately, the young trapper freezes to death.
It may not be the most cheerful book to read, but it made a lasting impression on me. To this day, I am rarely without something to start a fire. You don't have to be on a plane that crashes in the wilderness to need to be able to start a fire. What if a flood cuts you off from town and the grocery store, or a tornado tore through the area and you have no power to your home — assuming you still have a home? How are you going to cook your next meal? What if you simply slide off an icy road and you are stuck in a ditch overnight? Can you stay warm until help comes? Accidents and emergencies can happen anywhere, anytime.
Almost anyone can start a fire with some lighter fluid and newspapers. Hopefully you are not one of the future Darwin Award winners that use gasoline to start a family campfire by dousing everything in the fire pit and then tossing in a match. That is a recipe for disaster! No, I'm talking about starting a small fire to get a flame going. After you have a small fire going, you can then add to it as needed to cook a meal or simply sit around and enjoy the flickering of the flames.
Being able to make fire is a critical skill you need for the outdoors. A fire may be needed for warmth or as a signaling effort. Think about this for a moment — can you create a fire with what you have on you right now? If not, you're not ready for an emergency.
When I'm in the field I generally carry several methods of starting a fire with me all the time. I personally carry a lighter and my vehicles have a couple lighters tucked into glove boxes and center consoles. Not just any lighter though. I prefer the Scripto disposable lighters. They have a built in "safety" on them that makes it very difficult to open the valve and let the fuel out accidently. I have found that BIC lighters are notorious for being empty when you need them. However, even a broken lighter or one that is out of fuel can be of value. If the flint and steel still produce a spark, you can start a fire. Practice that sometime.
One item I carry in my "survival gear" is what I call "fire balls." They are effective and quite easy to make. Take a cotton ball and permeate it with Neosporin. Light a cotton ball saturated with Neosporin, with whatever method you have for lighting it and it will burn for several minutes or so. Not only will you have an excellent fire starter, you'll also have a ready treatment for minor cuts and scrapes.
Commercial fire starters or fire-starting tools can run from a few dollars to $30-plus. They all work, but I'm sure you can spend that money on something else that would be more fun. All you really need are some good strike-anywhere matches, carried in a waterproof container and you are aptly prepared to start a fire.
One of the best fire starters I've ever found is 3M Automotive Trim Adhesive. Shoe Goo is another familiar product that burns well. To start a fire with any adhesive like this, simply squeeze out a ribbon of adhesive a couple inches long and touch a lighted match to it. It will burn for several minutes. I've used this kind of fire starter in numerous camps where everything was wet because of rain or snow. It works great and it's a lot safer than gasoline.
Get outside and practice your fire-starting skills. This could be a fun family affair and training for dealing with an emergency.
There are a few fishing regulations that went into effect Jan. 1 that have a bearing on local fishing. Here is the synopsis:
» Muskellunge and tiger muskellunge — Pelican Lake on the Valentine National Wildlife Refuge will have a muskie and tiger muskie daily bag limit of three, including not more than one fish 34 inches or greater in length. A possession limit of three also is established for those species at Pelican Lake.
» Northern Pike — Hershey Interstate 80 Lake Wildlife Management Area no longer will have a 34-inch minimum length limit in place on northern pike. Statewide regulations will apply (daily bag limit of three, including not more than one fish 34 inches or greater in length).
» No live baitfish — The following areas are added to the list of waters where no live baitfish may be used or possessed: Rock Creek Lake State Recreation Area, Dundy County or Avocet Wildlife Management Area, Grant County. Check the NGPC regulations to get all the information you need for where you're fishing.
Have a great week outdoors.