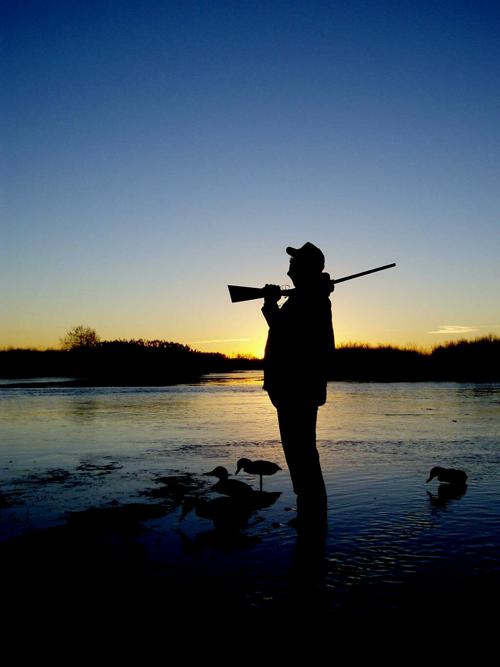 Fall is here. You can feel a chill in the air and waterfowlers are getting anxious to hunt. And the major duck and goose seasons are just days away from opening. Talk about a recipe for getting pumped up for doing some hunting! The big question at this time of the year is, "Where are the ducks"?
Well, Ducks Unlimited knows how you feel and they have an answer. DU is dedicated to helping waterfowl hunters. They have a comprehensive migration map at ducks.org/migrationmap. This waterfowl migration map is the perfect combination of technology and word-of-mouth communication between duck hunters in the field.
"With roughly 8,000 reports submitted each fall, the migration map can be a tremendous asset to waterfowl hunters in their scouting and planning efforts," said Anthony Jones, DU's director of internet services. "During the off-season, we ask for feedback from our supporters on how to improve the map. The result is a more powerful tool with new, innovative features that duck hunters can't afford to miss."
Migration map users can report waterfowl activity and hunting conditions in their local area. Visitors loading the map will see an aerial view of North America with colored markers scattered across it.
Each marker represents user-submitted reports with color-coded waterfowl concentrations. Hunters can click on any marker to view the detailed reports, and in some cases, see aerial maps of their favorite hunting spots. The migration map is available 24/7 on the Ducks Unlimited website. Everyone is encouraged to submit a report, whether you're an avid hunter or someone who just enjoys following and watching the annual migration.
"We're always looking for ways to use technology to better serve our members," said Robby Parker, DU's manager of web development. "As waterfowl hunters use the map, we will continue to enhance this and other online applications to provide maximum value to our members and supporters."
"The fall migration across prairie Canada is generally moving at a normal pace," said Scott Stephens, director of regional operations for Ducks Unlimited Canada. "Wetland conditions are another cause for concern. Large areas of harvested peas and other favorite food resources were basically void of ducks and other waterfowl because water levels were so low. Across much of Saskatchewan and Manitoba, the semi-permanent wetlands are dry or nearly dry. We will need to see high soil moisture at freeze-up and lots of snow to change that for next spring.
"Right now ducks and geese numbers are building across the prairies of Alberta, Saskatchewan and Manitoba," Stephens said. "Birds have ample food resources and receiving little hunting pressure. Their numbers will continue to increase in the coming days until cold and snow force waterfowl to migrate south. The lack of hunters from the United States due to travel restrictions related to COVID-19 is noticeable and hunting pressure is low. Hunting reports from resident hunters are generally positive."
Wetland conditions are somewhat better in Alberta, reports Ron Maher, manager of provincial operations for Ducks Unlimited Canada in Calgary.
"Wetland habitat for staging and migrating birds is generally good and the crop harvest is well under way. Ducks and geese are really just starting to congregate in larger numbers," Maher said.
"I'll admit that there was discussion early on about the border being closed to American hunters and questions about the impact of that on hunting pressure and migration that I thought was overblown at first," Stephens said. "However, while in Saskatchewan I encountered no other hunters on the landscapes I spent time in. There was zero pressure out there, so the birds were completely undisturbed.
"I believe the lack of hunting pressure could impact the migration for snow geese, mallards and Canada geese if mild weather persists. I expect that it will take sustained freezing temperatures and snow to move substantial numbers of mallards and geese south as hunting pressure is very light across prairie Canada," Stephens concluded.
You can't look anywhere in town now and not see a campaign sign. It doesn't matter which candidate you want for president, or who you favor in local political races, election years are a good thing for shooters.
When all the races are done and votes cast, the campaign signs that have been in everyone's yard, along roadsides and vacate lots need to be cleaned up. I gladly take every one I can get my hands on. They make great backer boards for target shooting. I generally always get enough signs to make it through my target shooting needs until the next election cycle.
Have a great week outdoors.
Be the first to know
Get local news delivered to your inbox!