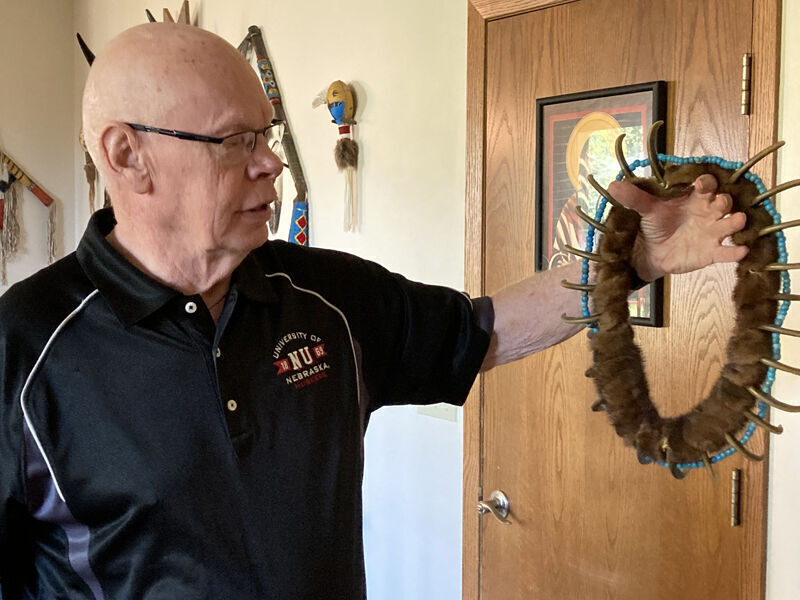 KEARNEY — Father Art Faesser considers his living room his sanctuary. A small crucifix hangs on the wall.
So, too, does an elaborate Sioux dress, a cradle board, drums, a buffalo head and dozens of authentic pieces from the Lakota Sioux Reservation in South Dakota.
These artifacts extend into every room of his house. He's been acquiring them for 30 years from native Lakota Sioux artists because they convey a spiritual significance.
"Of all my experiences in the priesthood, seeing what we'd done to the Native people gave me a great passion to find small ways to raise their sense of dignity and human worth," said Faesser, a retired priest who assists at St. James Catholic Church.
Humble beginnings
Father Art likes to say, "That drumbeat got me into it at a very early age."
In the spring of 1952, he was just 3 years old when he, his brother Vic, 5, and their immigrant parents stepped off a train in Ogallala with about $25 in cash, two suitcases and a wooden trunk built by his father, a carpenter.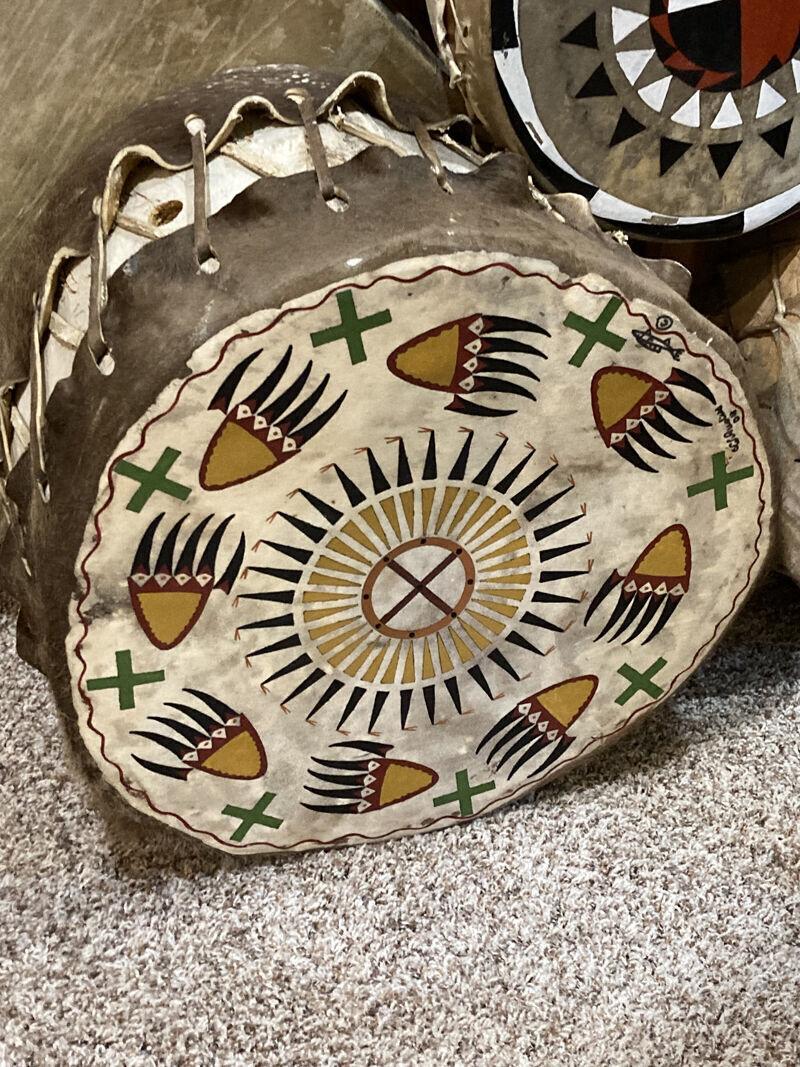 Although the family was German, they came to the U.S. from Russia, where they had taught Russians how to farm. In Ogallala, they were met by their sponsor, George McGinley. "Immigrants were required to have a sponsor to provide lodging, food, jobs and so forth," Faesser said.
Sioux Trading Post
In the 1950s, there was no interstate highway, but Highway 30 went through many small towns, and several had what Faesser humorously called "tourist traps" to entertain travelers.
Ogallala's was the Sioux Trading Post, owned by the Henline family. Every summer, three generations of the Lakota Henry Whitecalf family came down from the Pine Ridge Reservation to put on an evening powwow at the Sioux Trading Post.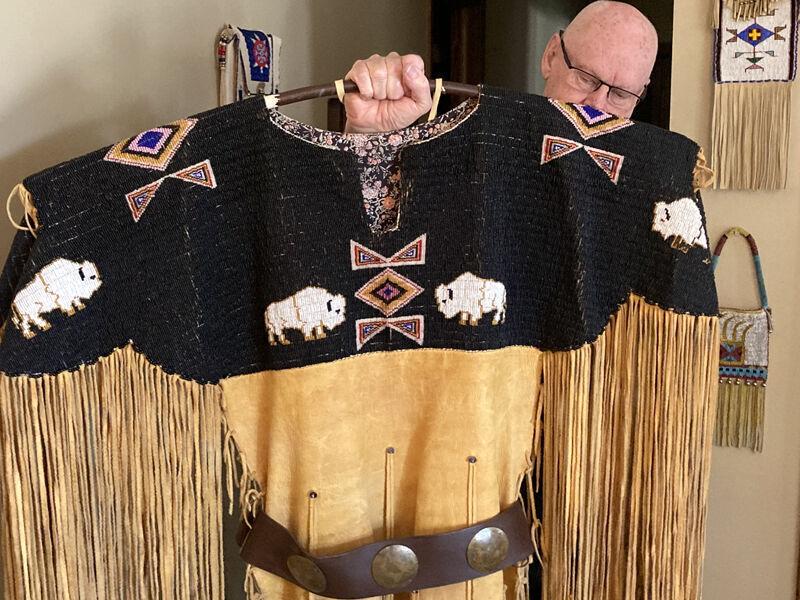 In the afternoon, Henry Whitecalf would drive the pickup through town, beating on the drum as his granddaughter danced, hoping to entice tourists to the powwow.
The dances were held behind a gift shop "full of stuff made in China," Faesser said. Teepees were set up, and the Whitecalf family would perform and take up a collection from the tourists to pay their living expenses.
"That drumbeat was the heartbeat of Mother Earth. I heard that drumbeat. That entered my spirit and stayed with me," Faesser said.
Poverty stricken
After being ordained in 1976, Faesser was assigned to Holy Rosary Church in Alliance, a railroad town with a sizeable Native American population "who lived south of the tracks, in dire poverty. There were many elderly Natives who lived in one room on a dirt floor with a single potbelly stove. My heart went out to them."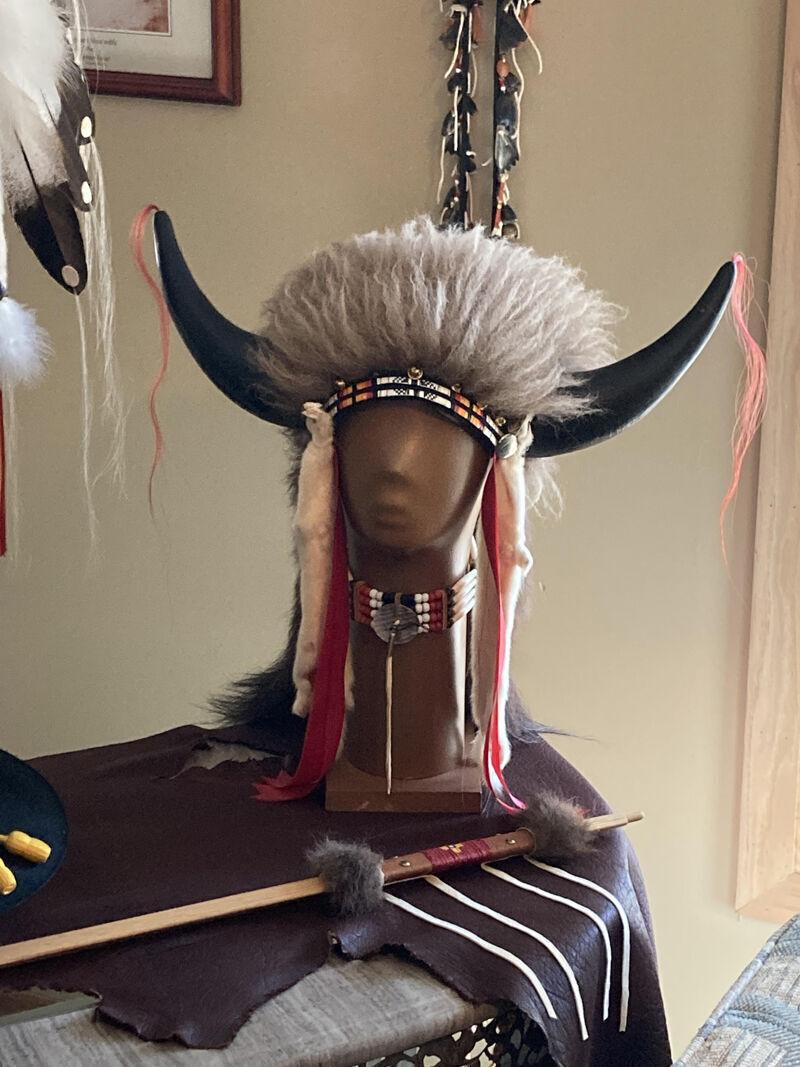 Five years later, he was assigned to churches in Rushville and Hay Springs, which bordered South Dakota's Pine Ridge Reservation. He was there for six years.
"Natives would come down from the rez and sell blocks of cheese and canned meats so they could buy alcohol. We had done that to them. We put them on non-productive reservation land, gave them minimum check payments and asked that they eke out a minimal living. They turned to alcoholism," he said.
"Sometimes, they would come to the door and ask for food. I would give them food, but to give them a sense of human dignity, I would ask them to pick up litter or twigs in the church yard," he said.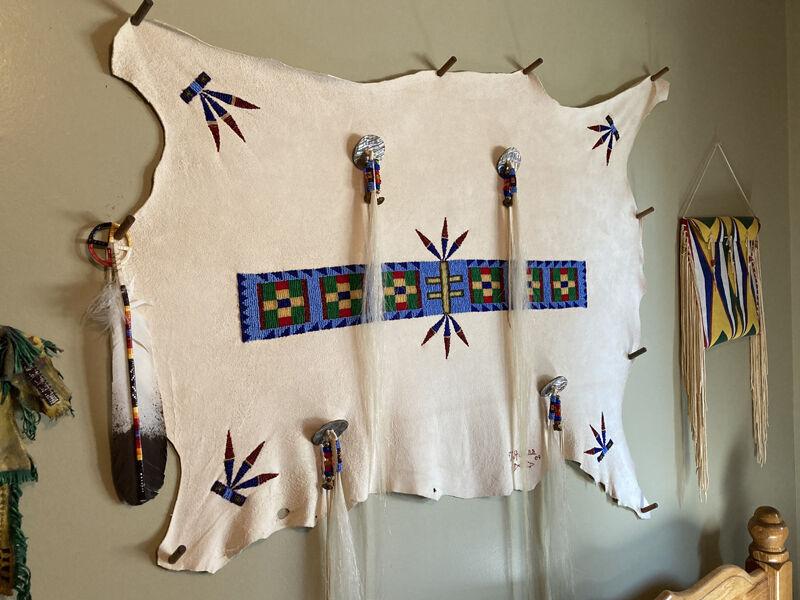 Some people came two or three times a week, especially in the summer. He got to know some of them. "One man in his mid- to late 20s looked like he was in his 40s because his face was so disfigured from alcoholism. I'd sit on the front porch with him. He was quiet. Sometimes we'd just sit together in silence," Faesser said.
Native peoples' plight
Faesser became increasingly troubled by what he saw and experienced.
"This engaged my passion for the plight of the Native people. Of all my experiences in the priesthood, seeing what we'd done to the Native people gave me a great passion to find small ways to raise their dignity and human worth," he said.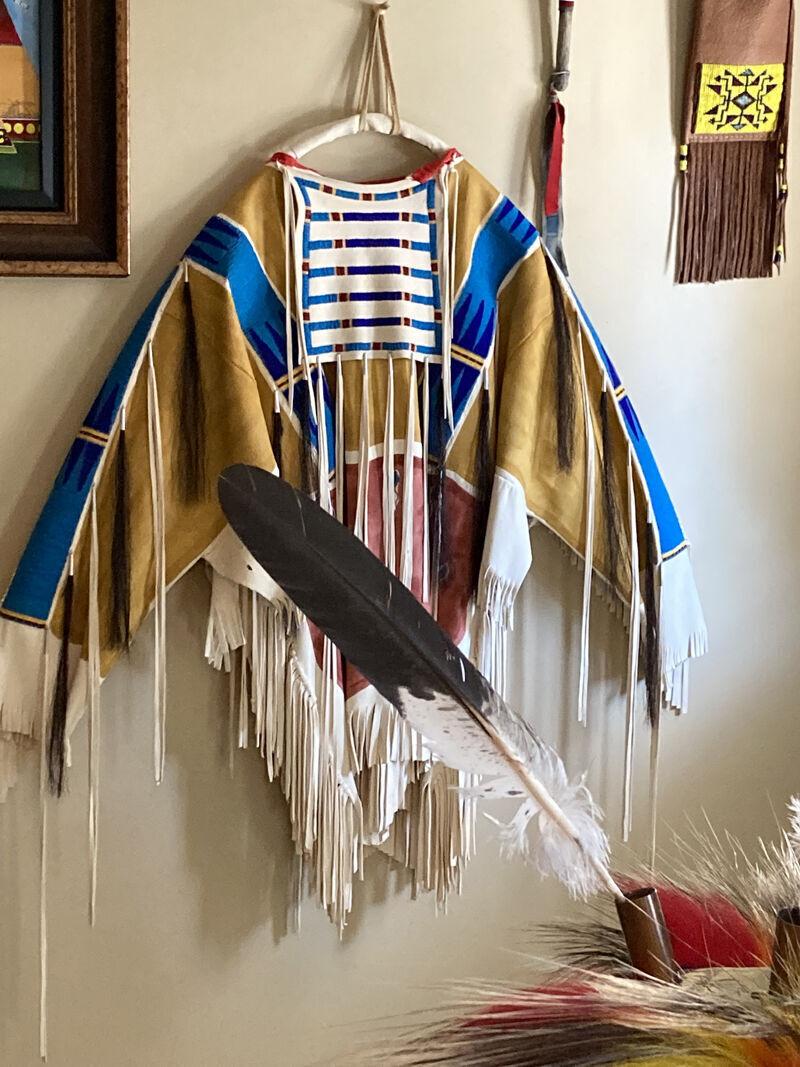 In 1991, he was assigned to the Newman Center at the University of Nebraska at Kearney. When he had time off, Faesser would travel to Rapid City. "I loved Rapid City. It became my mecca for Native art and culture," he said.
The first piece he bought was a plain drum. "I loved that drum, its heartbeat. I'd hear it when I went to powwows at the Pine Ridge or in the Black Hills," he said.
The Sun Dance
Soon he became friends with the Natives who made those items. He was invited to sweat lodges and ceremonies. He has attended two Sun Dances, which are multi-day ceremonies conducted by a medicine man. "They left a deep mark on me."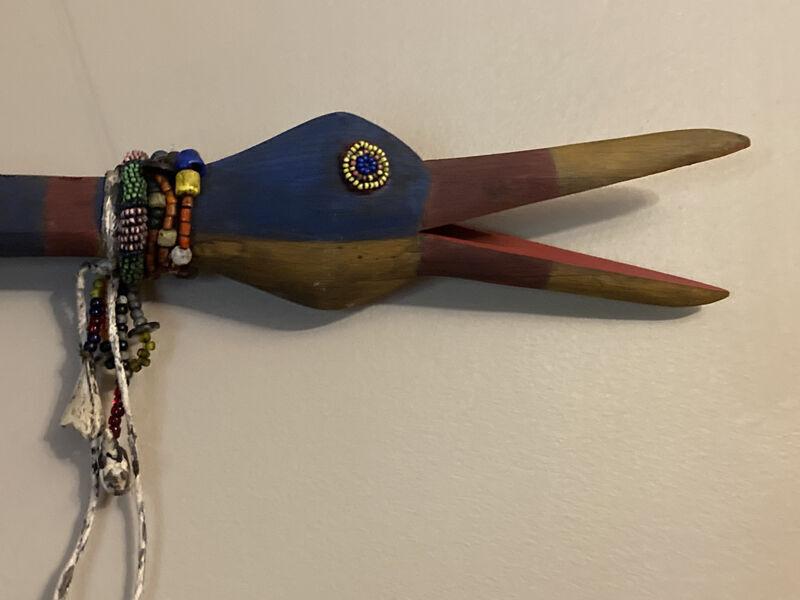 To Faesser, the Sun Dance resembles the liturgy of Good Friday. A tree is cut down and prayed over during the ceremony. Thongs are attached to it.
"The ceremony represents suffering and redemption. People commit to fasting. They pray for relatives, for the nation ("the hoop") and their culture, their way of life and more," he said.
"Lakota Sioux art carries a great deal of spiritual meaning for me. It invited me to enter into a fuller and deeper understanding of the spirituality of the Plains people," he said.
The Roman Catholic Church currently has one Native American saint, but a Lakota Sioux member, Black Elk, is being considered for the sainthood. "Black Elk saw parallels between Catholicism and blended that with Native spirituality," he said. Faesser sees them, too.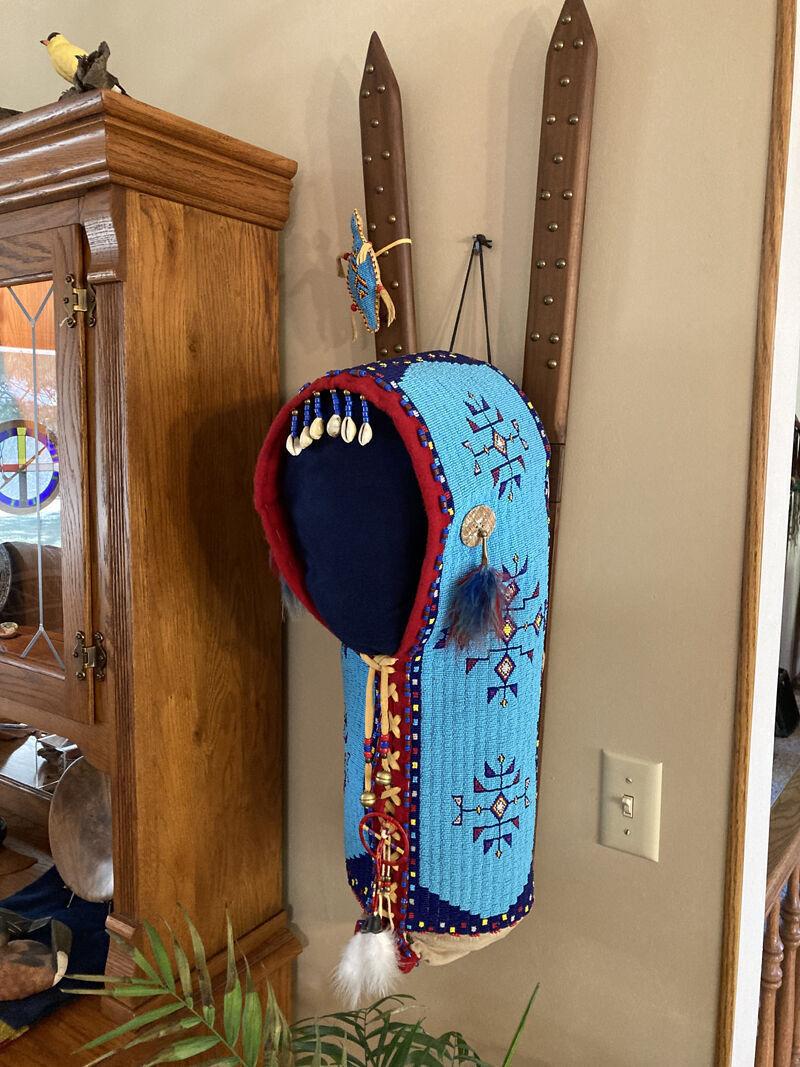 Favorite galleries
Traveling to Rapid City frequently, Faesser got to know many Native artists. He has met gallery owners like Ray Hillenbrand, a Michigan native who took over a century-old building in Rapid City and employed Native artists and sold their work.
One of Faesser's pieces, a buffalo skull, came from the sale table at a shop called Prairie Edge. If pieces didn't move, they would be marked down and placed on the Prairie Edge sale table. "That brought them within my reach. A number of my pieces came from there," he said.
He also commissioned pieces, such as a hide that hangs on his living room wall, decorated by artist Frank Shortie. "Three years later, he finished that piece. I've had that for 27 years," Faesser said.
Faesser understood that the gallery owners had thin profit markets. "They had to pay salaries, utilities, insurance. A commissioned piece enabled me to collect some very fine pieces at a price that I could afford," he said.
Faesser retired in 2019, but he continues to go to Rapid City and purchase keepsakes. "I cannot go up to Rapid City and not bring something back. I'd drive through the rez and see shacks, no trees, just one lone pine tree. I'd witness the poverty, the people walking down the highways," he said.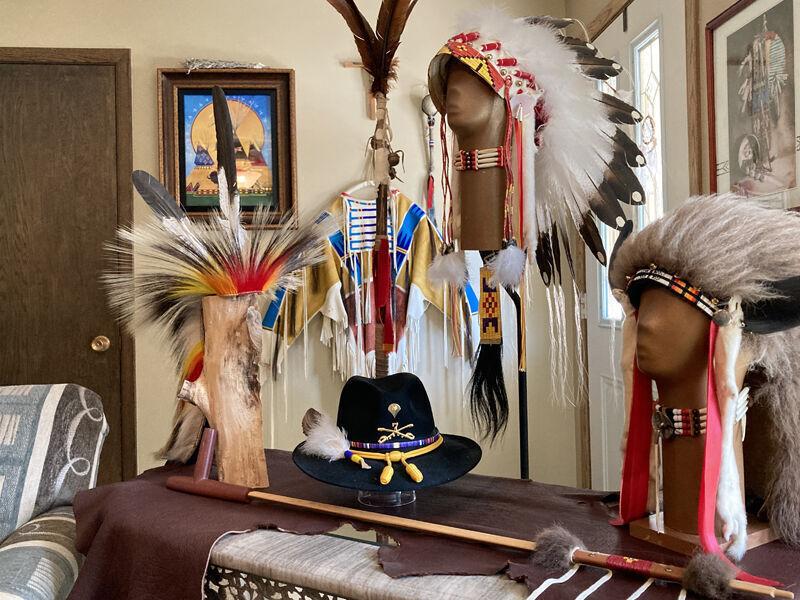 "I think the government has made efforts to right some of the wrongs, but we're not honoring our treaties," he added.
He said some Native people have become successful lawyers and medical people, "but those success stories aren't as widespread as they could be," he said.
Faesser — who, ironically, lives on Sioux Lane — considers his living room and its displays of bonnets, warrior shirts, a beaded elk dress, a buffalo headdress and more, his "prayer room."
"I'm surrounded by pieces that do not grow old. They are more beautiful each day. When I sit there and start looking at these pieces, I have a sense of being overwhelmed. Together with my prayer, the richness of the beauty of being surrounded by this kind of art nurtures my spirit."
Lasting legacy: From Dewing to Whiteclay, 1870-2017
WHITECLAY: The Beginning
WHITECLAY — They came here first in the 1870s: farmers and ranchers seeking a better life in the Sandhills of northwest Nebraska.
Others came, too, alcohol peddlers seeking to turn a profit by selling booze to the Oglala Lakota, who had been forced onto the nearby Pine Ridge Indian Reservation in 1877.
In 1882, President Chester Arthur responded to pleas to end alcohol sales near the reservation by setting aside a 50-square-mile buffer zone south of Pine Ridge. But President Theodore Roosevelt reopened the zone to settlement in 1904.
It didn't take long for a community to form near the reservation, as nearly 100 settlers were given land there, including Tom Dewing. The town took Dewing's name for less than a year.
A post office named after nearby White Clay Creek was established in late 1904. The town has been popularly known as Whiteclay since, although its official name remains Dewing.
By 1940, the town had 112 people.
By 2010, it had 10 people, four beer stores and a steady supply of vagrants.
Eli Bald Eagle called Whiteclay home for six years before sobering up and heading back to the reservation in 2015. He said he watched a lot of his friends die over the years while drinking and panhandling on the streets.
Still, he said, nothing could have convinced him to stop drinking until he made the decision himself. He told a New York Times columnist visiting Whiteclay in 2012: "Nobody's going to stop us from being alcoholics."
And even though the 56-year-old Lakota man is sober and seeking to start his own small landscaping business on the reservation, his views on efforts to choke the flow of beer in the town haven't changed.
"I understand they cut Whiteclay off, but what they didn't cut off was the drinking."
PHILOMENE LAKOTA: 1950s
Philomene Lakota would ride in a wagon with her parents to the town they knew as Dewing.
The high school Native language instructor and elder said a woman who owned a trading post would let her pick out a cookie from a jar every time she entered.
"It was our community's first image of a town," Lakota said. "It started out as that."
The town quickly devolved, however, after a ban against alcohol sales to Natives was lifted in 1954 and the Oglala people began drinking in the bars. Shootings occurred there regularly in the 1970s as American Indian Movement activists fought those loyal to former Oglala Sioux Tribal President Dick Wilson, Lakota said.
"That was a place to go and do your battles."
FRANK LaMERE: 1990s-present
Riding through on a hot day 20 years ago, seeing 50 people drunk beneath the sun — some passed out, some fighting, some peeing in the street — Frank LaMere formed his first definitive conclusions about Whiteclay.
He turned to his driver that day, an elder and fellow visitor from Winnebago country in northeast Nebraska.
"I said, 'Fred, someone needs to do something about this shit,'" LaMere recalls.
The reply: If LaMere wanted something done, he'd need to do it himself.
Two years later, when protesters marched in response to the deaths of Wilson Black Elk Jr. and Ronald Hard Heart just outside Whiteclay, and state and federal lawmen blocked the highway in their path, LaMere and a friend were the first to cross the barricade.
Nine people were arrested that day, including LaMere: "That's the beginning of it."
In the decades since, LaMere has become the most outspoken, persistent opponent of Whiteclay beer sales. 
"We did not let it go," he says. "I had resolved that I would never go away, and I have not."
JOHN MAISCH: 2013 to present
John Maisch spent the first 20 years of his life in Nebraska, growing up in Hastings and Grand Island.
But he had never heard of Whiteclay until he was an alcohol regulator in Oklahoma.
His curiosity to learn more led him to produce a documentary about life on Whiteclay's streets, "Sober Indian/Dangerous Indian," which he used to rally support to close the beer stores.
But he credits a 6-year-old girl with effectively shutting them down.
Arianna Boesem's story of being born with fetal alcohol spectrum disorder to a mother who drank daily in Whiteclay finally struck home the real impact of beer sales on the innocent, Maisch said.
About a month after the stores had closed, Maisch traveled to Whiteclay by himself. It was a Sunday afternoon when he stepped out of his car and onto the streets that only a month before would have been filled with men and women drinking and begging for change.
"It was silence, like how a town of nine should sound."
PATTY PANSING BROOKS: 2016-present
Strategy put Patty Pansing Brooks at odds with some close allies over the past 18 months. 
Recruited by LaMere, Maisch and other activists to be a legislative voice against Whiteclay beer sales, the Lincoln state senator found herself disagreeing with them on how to approach the issue.
"I felt a compulsion to do something and to look at it from a bunch of different angles," she said. Others wanted a more straightforward approach.
She recalls poring over state liquor laws and other laws connected to Whiteclay.
What she learned: Law enforcement is not only important, but legally necessary for alcohol sales to be allowed in a Nebraska community.
Her realization prompted a key hearing at the Capitol, where a Sheridan County commissioner acknowledged Whiteclay lacked adequate law enforcement. The statement triggered a review of the Whiteclay beer stores' licenses by the Nebraska Liquor Control Commission, which ultimately shut them down.
Now Pansing Brooks is leading efforts to develop businesses and services in Whiteclay, alongside state Sen. Tom Brewer of Gordon, who represents Sheridan County and is the Legislature's first Native member.
"I cannot imagine they're going to reopen those stores," she says.