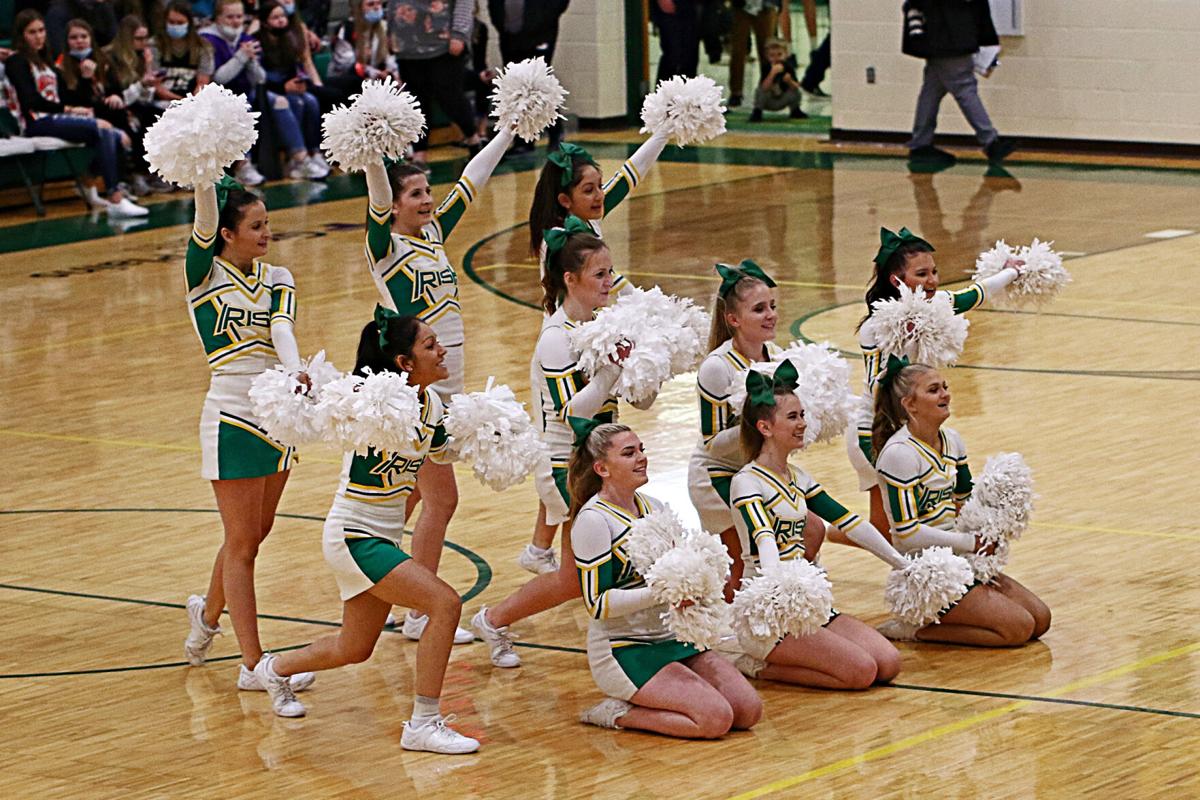 The St. Patrick High School cheerleaders won two divisions at state competition Feb. 20 in Grand Island.
The team finished at the top of the class D competition in the non-tumbling and game-day divisions.
"It was really exciting because last year we won one of the divisions, so we were hoping to do as good as last year or better," said sophomore Halley Childears. "It was just really good to win both after all the hard work we put in, the early mornings. It paid off."
The team practices at 6:30 a.m. nearly every school day.
"I think it's pretty awesome," said junior Katy Wrenn. "This is the first time we won non-tumbling and I think that's pretty exciting."
In non-tumbling, the team performs a dance that they choreographed themselves and do a cheer.
"I think when we were choreographing it, we just tried our best to make it unique and different than other routines that you're going to see (at state)," Wrenn said. "We try to highlight everyone's skills. We still have to make it difficult, but so you can still accomplish it."
Both girls said they tried to focus the choreography for the non-tumbling division on the strengths of the squad.
"I would say we have really good jumpers," Childears said. "We have five or six girls that are really good at jumps, so I think that was good to have that. Jumps can be really difficult."
For the game-day division, an announcer gives the girls a simulated action and they have to respond.
"(The announcer) says 'team's got the ball' or something like that," Wrenn said. "So you do an offense cheer, or if it's a defensive situation, the cheer encourages the players to get a stop."
Both girls said they participate in cheerleading mostly because of the relationships they've built.
"I like being so involved and being able to go to every game," Childears said. "Especially with COVID, we're still able to go and we're supporting the team.
"And (I like) the friendships we make because we're with each other a lot, so we become really close."
Wrenn said she enjoys going to all of the games.
"I think that's really fun," Wrenn said. "I also really like competing at state. You run out on the mat and there's so much adrenaline and it's just like so cool."
The friendships, Wrenn and Childears said, are special because they span the different grade levels of the team members.
There are 12 team members: Wrenn, Childears, Jordan Lech, Liv Phillips, Olivia Dimas, Dakota Guthrie, Carlie Homan, Madi Gifford, Ava Dimas, Hailey Guthrie, Sally McGill and Lilly Marlin.