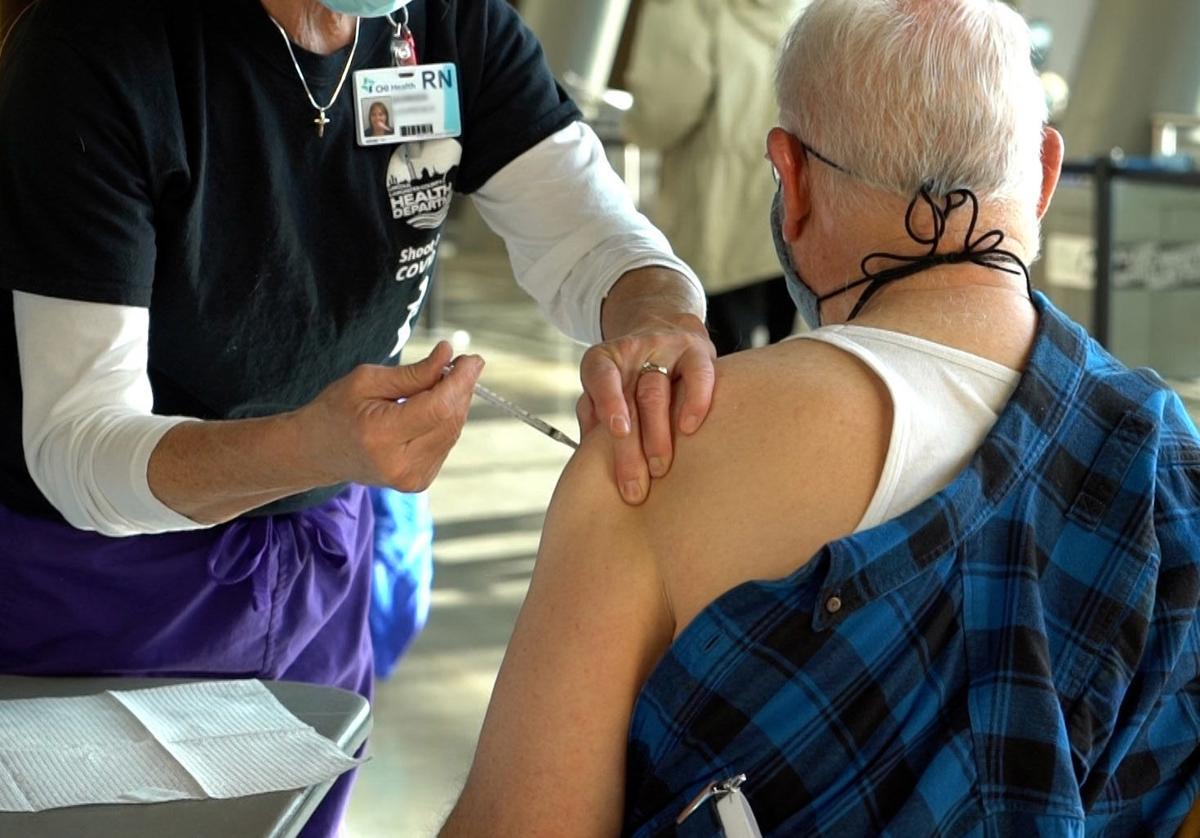 If the Johnson & Johnson COVID-19 vaccine gets an Emergency Use Authorization this weekend, it could mean thousands of extra doses in Nebraska's vaccination arsenal as early as next week.
Dr. Gary Anthone, the state's chief medical officer, said officials have been told that the company will be able to provide 2 million to 4 million vaccine doses nationwide in the first week after it gets approval and 20 million total by the end of March.
The Food and Drug Administration on Wednesday said the Johnson & Johnson vaccine is safe and meets the criteria for the emergency authorization. It now goes before the FDA's Vaccines and Related Biological Products Advisory Committee on Friday. If that group recommends it, as expected, the emergency approval could come as early as this weekend.
If allocation to states of the Johnson & Johnson vaccine is done based on population, as it was for the Pfizer and Moderna vaccines, that's likely to mean an extra 15,000 doses for Nebraska in the first week, said Public Health Administrator Sara Howard.
That would boost the number of vaccine doses available to the state to more than 52,000 weekly. Nebraska has already seen its weekly allocations of the Pfizer and Moderna vaccines grow, to 18,720 and 18,400, respectively.
That total doesn't include an estimated 7,600 doses that are being given at pharmacies in Nebraska participating in the Federal Retail Pharmacy program.
Anthone called the likely approval of the Johnson & Johnson vaccine "great news."
"We're so thrilled that we're going to have three vaccines," he said during a Facebook Live session Thursday.
The Johnson & Johnson vaccine, while slightly less effective at preventing COVID-19 than the Pfizer and Moderna vaccines, has some advantages, including that it requires only one dose and can be stored at higher temperatures, Anthone said.
The news comes as COVID-19 cases and hospitalizations continue to decline in Nebraska.
The Nebraska Department of Health and Human Services reported late Wednesday that the daily average number of new cases dropped to 291 last week, down from 367 the previous week and 548 the week before that.
Daily hospitalizations dropped to an average of 173 last week, down from 200 the previous week and 265 two weeks ago. As of Wednesday night, there were 160 COVID-19 patients hospitalized statewide.
So far, about 255,000 Nebraskans have received at least one vaccine dose, with nearly half of those recipients also receiving their second shot. More than 16,000 people received shots on Wednesday, the most ever in one day.
About 2,700 of those doses were administered in Lincoln at a mass clinic for people 71 and older at Pinnacle Bank Arena. The Lincoln-Lancaster County Health Department also was holding second-dose clinics Thursday and Friday for people 80 and older.
The state is still in Phase 1B of its vaccination program, which focuses on people older than 65 and front-line workers, and likely won't move on to further phases for several weeks. But Anthone said the availability of more doses will speed things up.
"The state continues to make improvements in our vaccine distribution efforts," he said in the Wednesday news release. "With more vaccine coming, we will be able to more quickly move through our current phase."
CORONAVIRUS QUESTIONS ANSWERED
When can I get vaccinated? And answers to 30 other coronavirus questions
What are the major COVID-19 symptoms?
Is COVID-19 dangerous for young people?
Is COVID-19 more dangerous for men?
Are smokers more at risk for COVID-19?
How do asymptomatic people spread COVID-19?
How long does COVID-19 survive on different surfaces?
Can dogs and other pets get COVID-19?
How can I naturally boost my immune system?
Is it safe to take ibuprofen?
Which over-the-counter medicines can safely alleviate symptoms?
What cleaning products will kill the virus?
Will wearing gloves protect you?
Why is handwashing so important?
Why do I need to wear a mask when I leave the house?
What should I do if I've been exposed to the virus?
What are the different types of COVID-19 tests?
How can I stay safe while grocery shopping?
How can I safely order take-out?
How can I stay safe while getting gas?
How can I protect my elderly parents?
How can I protect my kids?
How can I support my local health care workers?
How can I help postal workers and delivery drivers?
Should I go to a more rural location to wait this out?
Can people contract the virus more than once?
When will life return to normal?
How does COVID-19 spread?