Diana Ignaceo answers her door on a sweltering August morning, not expecting to see firsthand why South Omaha has increased its vaccination rate more than almost anywhere else in Nebraska this summer.
Mary McConnaughey and Eddie Nuñez are standing on her front steps.
Nuñez tells her in Spanish that they are from One World, the nearby health center, and they are going door-to-door to talk to residents in her largely Hispanic 25th Street neighborhood about the COVID-19 vaccine.
"Have you been vaccinated?" he asks. She hasn't.
Would you like to be? We have a vaccine for you right here, he says, pointing to a refrigerated bag on McConnaughey's shoulder.
I think I want the vaccine, Ignaceo says. But my children say it's more dangerous than the virus, she says, repeating a false claim.
One World has made vaccination as easy and omnipresent as possible to the residents in three South Omaha ZIP codes. It has invested time, money, creativity and sweat equity to convince a sizable chunk of residents, many of them dubious and some downright hostile, to get vaccinated.
That is why the One World employees stay put on Ignaceo's front steps. It's why McConnaughey offers a solution as Ignaceo starts to punch numbers into her cell phone.
Does your daughter speak English? Can I speak to her, too?
Sí, Ignaceo says, and hands McConnaughey her phone.
This summer, vaccination in Nebraska has morphed into a public health version of hand-to-hand combat, where medical providers go person-to-person, holding intensely personal conversations and trying to correct rampant vaccine misinformation.
In some places, such as South Omaha, this is happening widely. And working.
Since mid-May, the area served by One World has moved the needle more on vaccinations than almost anywhere else in Nebraska, according to data released by the Douglas County Health Department and the Nebraska Department of Health and Human Services.
More than one of every eight residents in the area One World serves were newly vaccinated between May 15 and Aug. 15.
"We simply weren't going to sit behind the scenes and wait for people to come to us," says Jennifer Mayhew, One World's director of operations. "Not when we can be proactive and do something to prevent this loss of life."
In other parts of Nebraska, the summer push hasn't been nearly as effective.
In the Northeast Health Department, a four-county area touching the South Dakota border, only 5.3% of residents got vaccinated during the same three-month period. The same percentage got vaccinated in the North Central Health Department that covers a giant swath of the Sandhills. In the Loup Basin Public Health Department, a nine-county area in the middle of the state, 5.4% of residents got vaccinated.
"There is zero question that we need to be out in the community engaging more, doing even more," says Dr. Andrea Jones, a family medicine physician at Nebraska Medicine who has co-directed months of vaccine outreach. "We have to do that until we get these vaccination numbers where we need them to be."
One World can teach the rest of the state that success takes money and manpower, follow-up and follow-through. It takes a population willing to listen, and skilled outreach specialists who know how to listen, too.
On a recent Saturday, One World set up a vaccine pop-up clinic in front of Chiltepes, a popular Guatemalan restaurant.
More than a dozen people, many Guatemalan American, show up soon after the pop-up clinic opens at noon.
When the number of walk-ins slows, two One World outreach specialists leave their post on foot, turn the corner and wade onto South 24th Street. They begin to strike up conversations with every person they pass.
As the outreach employees talk to another person, and another, several truths become clear: Most of the people they encounter already know One World. They have received care there. The community health center has built-in trust they can leverage to get people vaccinated.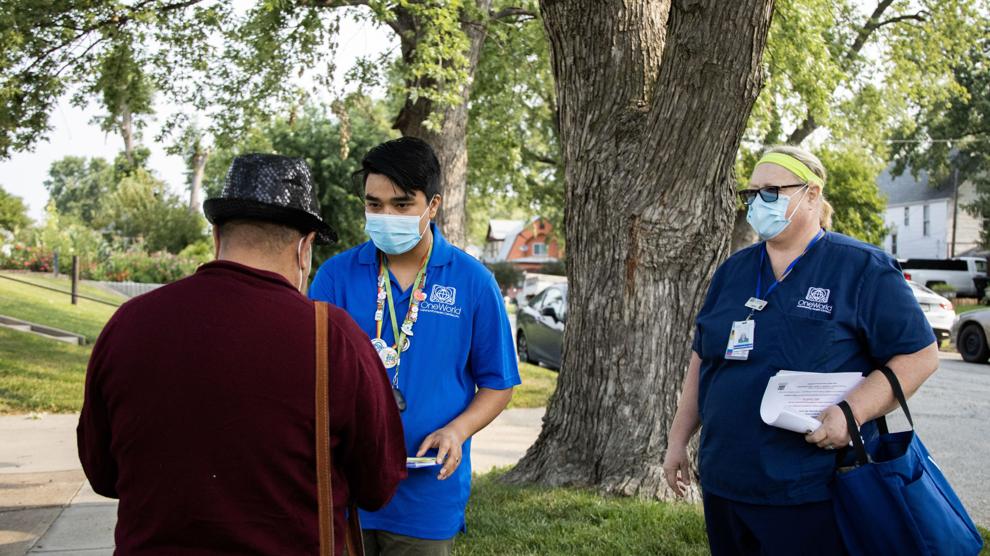 Another truth: These outreach employees aren't shy. They have been trained to speak plainly. They know how to listen and how to gently correct misinformation.
This type of successful outreach seems unthinkable in other parts of Nebraska, where a lack of resources makes the process more difficult.
The Panhandle Health District is a sprawling 11-county, 15,000-square-mile district in western Nebraska. One of every 421 Panhandle residents has died of COVID-19 during the pandemic, making the virus far deadlier in that region than it is nationally.
Yet, just more than a third of the Panhandle's residents are fully vaccinated. It's one of the least-vaccinated health districts in Nebraska.
"They will put a chip in your body. Once you have a shot you become magnetized. Every story you can think of, I have heard it," says Kim Engel, director of the Panhandle Public Health District. The misinformation "is coming at people nonstop on social media, and it's negative against vaccines, and that's all they are hearing."
The health district and area medical providers have fought back, holding weekly press briefings, educating local politicians, hosting pop-up clinics at county fairs and making walk-in vaccination easy at hospitals, clinics and pharmacies.
It hasn't had the intended effect.
Between May 15 and Aug. 15, 7.4% of Panhandle residents got vaccinated. That's roughly half the percentage of two South Omaha ZIP codes in that same time frame.
Part of the problem is staffing. Engel's health district has only a half-dozen employees working full-time on COVID-19, duties that include contact tracing, manning a 24-hour hotline and distributing vaccines to area hospitals. Her district is huge — it's a three-hour drive from one corner to the other.
This difference between the Panhandle and South Omaha may also be driven by demographics. National polling shows that many white, rural conservatives who remain unvaccinated are staunchly opposed to vaccination, while many unvaccinated Black and Hispanic Americans report they are still open to the idea.
Federal and state money can help. The Panhandle Health District will soon get two new employees who will do vaccination outreach after receiving a state grant, Engel says.
Government funding also helped One World hire extra outreach staff and start a program that allows residents to schedule at-home vaccination appointments. It's buying things such as the refrigerated bag that EMT Mary McConnaughey has flung over her shoulder as she does vaccine outreach in South Omaha.
Back on Ignaceo's front steps, McConnaughey has taken Ignaceo's cell phone and is speaking to her daughter. She answers questions and tries to combat false information.
She tells the daughter — and Ignaceo, also listening to the conversation — that the delta variant is filling up hospitals, and more than 95% of the people hospitalized aren't vaccinated.
McConnaughey hangs up the phone. She has failed to convince the daughter.
But as she hands the cell phone back, Ignaceo nods. She's ready to get her shot.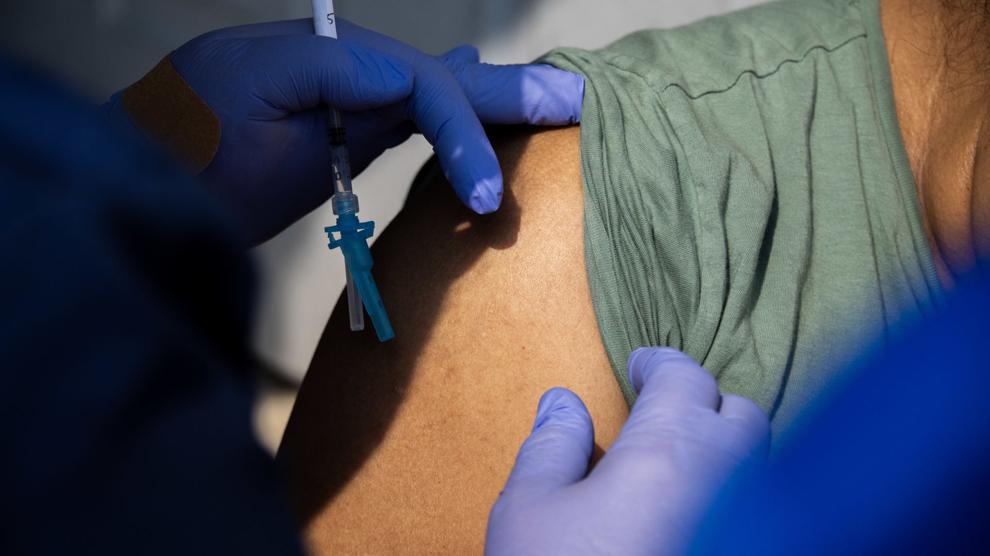 She sits down on the front steps and the EMT pokes the Pfizer vaccine into her arm.  McConnaughey talks to her about the side effects, and urges her to stay hydrated in the heat. Then she sits silently with Ignaceo for a few moments, gently stroking her arm and patting her shoulder.
"Brave, mami," she tells her. "Brave."
The clock is ticking toward noon. McConnaughey and Nuñez have been on Ignaceo's front steps for nearly a half-hour.
If you view this one way, they have vaccinated only a single person in this time. They have bailed one cup of water from a giant ship sinking and threatening to capsize.
If you view this another way, they haven't simply vaccinated one person. They have vaccinated Ignaceo. When she gets her second dose, she will be safe.
McConnaughey groans as she finally gets up from the front steps. She brushes the dust off her medical scrubs and waves goodbye to Ignaceo.
"OK," she says, smiling. "Who's next?"
The Flatwater Free Press is Nebraska's first independent, nonprofit newsroom focused on investigations and feature stories that matter. Learn more at flatwaterfreepress.org