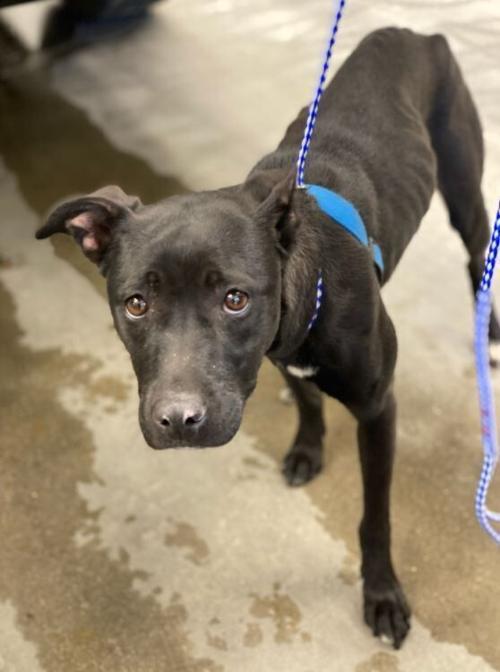 Scared and lost, the plight of a dog wandering around the northern edge of Omaha took on urgency this month when a social media image riveted animal-lovers: the pup was tired, gaunt, its tail was tucked between its legs, its collar and tag dangled from a scrawny neck.
Somewhere, it had a home.
Unlike many other lost pets, this dog would have happy outcome. She would be caught, and her tag would lead her home to Sioux City, Iowa.
Ivy, a black Lab/pit bull mix, had traveled nearly 100 miles over 23 days, including during the worst cold to hit the area in some 25 years.
No one knows how Ivy got to Omaha, but her rescue came just in time, said Kelli Brown, director of field operations for the Nebraska Humane Society.
Ivy had lost 10 to 15 pounds, and she had a badly infected wound where her collar had become embedded in her armpit. (Ivy had lost so much weight, she had "stepped through" her collar with one of her front legs trapped in the collar. When Ivy was found, she weighed 29 pounds, down from her previous 40 to 45 pounds.)
"She probably didn't have much time, so I'm glad we found her when we did," Brown said.
But the story of Ivy isn't just the good news that she was returned to her owner. It's a cautionary tale for well-intended citizens who rush to help when there's a sighting for a lost dog. In Ivy's case, an outpouring of searchers triggered what has happened too often: It sent an already skittish animal on the run.
Brown and Cathy Eaton, founder of Lost Pets of Omaha Area, said well-meaning people who didn't understand the psyche of a lost dog compounded the difficulty of rescuing Ivy.
"Many people hindered Ivy's capture," Eaton said. Numerous sightings of Ivy in the Ponca Hills, especially near the Alpine Inn, drew people to the area, which spooked Ivy. She was eventually captured a few days later and several miles away near 72nd Street and Rainwood Road. (A homeowner saw her, called the Humane Society and together they lured her into a garage.)
"Every day that a dog is out, it gets more scared," Eaton said. "Each time another person calls out to it, it freaks her out a little bit more … when a dog is lost, everything is strange to it."
Scared dogs are rarely caught by hand, Eaton said. Most are caught in a safe trap. If a dog isn't successfully trapped, it usually isn't found, she said. Eaton said she knows of three dogs who were scared into traffic and killed, despite the best intentions of the person trying to lure them by hand.
In the case of Ivy, some searchers became antagonistic toward Humane Society staff, Brown said.
Brown said she realizes that some people fear that the Humane Society will euthanize an animal it catches. That only happens, she said, with aggressive animals or dogs that are so ill or injured they can't be treated. Besides, Ivy had a collar and every effort would have been made to find her owner.
Another thing the public doesn't realize: Catching a dog is a laborious process, Brown and Eaton said. It involves talking with neighbors and learning the dog's movements and routes so a baited cage can be effectively set. And once the trap is set, it has to be monitored from a distance so the dog doesn't languish. So, in the case of Lost Pets of Omaha Area, a crew of volunteers has to be available to monitor any trap.
If well-meaning amateur searchers scare a dog out of an area, the detective work has to start over.
During the hunt for Ivy, an informal posse of searchers prompted Eaton to post a plea on social media, saying that people were making the dog's capture harder. Her post had an immediate effect, with some of the rescuers saying they would stand down.
This issue points to a conundrum with Eaton's own Lost Pets of Omaha Area Facebook page. Its photos and posts about lost pets naturally prompt followers to want to find an animal. But Eaton said that's not the group's goal.
The posts are intended to alert those already in the area where the pet has been sighted. Tips from those people help the owner or the group's experienced rescuers try to catch it.
Ivy's owner, Hope, said she's not surprised Ivy was scared of others.
"With me, she's a big cuddle bug," said Hope, who asked that her last name not be used to protect her privacy. "She loves to cuddle, she's really sweet, playful. But if she doesn't know anyone, she's automatically on guard, barking and the hair raising up on her back."
Hope's two dogs were in her brother's backyard when they escaped Feb. 12 — just as double-digit, below-zero record Arctic cold descended. The fence had a loose board, and the dogs had a habit of getting out. Typically, they ventured just a block or two. This time was different. Calypso, a Bernese mountain dog, has never been found.
Since Ivy's been home, her recovery is being monitored by a veterinarian. Her wound is healing nicely, and she's eating prescribed, small meals twice a day.
"Thank everyone that helped find her," she said. "I was really worried the whole time. I was heartbroken honestly."