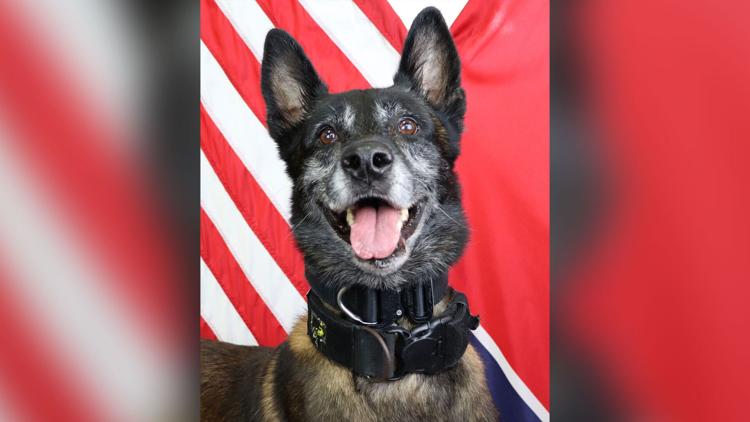 LA VERGNE, Tenn. — A Tennessee police department is mourning the loss of a K-9 officer that died after suffering gunshot wounds when a man opened fire on a patrol car.
The La Vergne Police Department announced the death of Sjaak (pronounced Jacques) on its Facebook page on Wednesday. The Belgian Malinois had been with the department since 2014.
Sjaak was shot three times on Tuesday when a man opened fire on his handler's patrol care. The handler, Officer Justin Darby, was not injured in the shooting or subsequent chase, the department said.
"Our hearts are broken," interim La Vergne Police Chief Chip Davis said in a statement. "Our K9s are members of the LPD family. Sjaak was an amazing and loyal dog. We ask everyone to keep Officer Darby, his family, and all of the La Vergne officers in your thoughts and prayers as we deal with this loss."
The Tennessee Bureau of Investigation is investigating the incident. According to a TBI statement, Darby had just left a police station when a vehicle pulled along the passenger side and the driver fired shots into the patrol car.
Darby and other officers pursued the driver, who pulled into a residential complex, exited his vehicle and began shooting at the officers, who returned fire, according to the TBI.
The man got back in his vehicle and drove further before striking a parked car and stopping. Officers found the man had suffered a gunshot wound. He was taken to a hospital, where he was pronounced dead, the TBI statement said.
Darby realized after the shootout that Sjaak had been wounded three times. The dog was taken to a veterinary hospital, where he underwent surgery on Wednesday but did not survive.
La Vergne is a suburb of Nashville with an estimated population of 35,716, according to the Census Bureau.
The K-9 was given a funeral procession with a police escort through the city on Thursday before he was taken to Faithful Friends Pet Memorial Services in Nashville for a burial with full honors. Video taken by CNN affiliate WSMV showed officers wiping tears from their eyes as Sjaak's body was placed in a police SUV for the procession.
The department said a memorial service for the dog is being planned for a later date.
Calming treats can help dogs cope with stress, extra energy
Calming ingredients
Calming dog treats can get their antianxiety and de-stressing properties from a range of calming ingredients. These are some of the most common:
L-tryptophan and theanine: These amino acids are both capable of increasing serotonin in the brain. Serotonin causes feelings of happiness and well-being.
Passionflower: By slightly boosting the brain's levels of gamma-aminobutyric acid (GABA), it can lessen feelings of anxiety in dogs and humans alike.
Chamomile: Thanks to this flower's mild calming effects, it may help stressed or anxious dogs to feel calmer.
Valerian root: This helps most dogs with anxiety, especially those showing compulsive behaviors such as excess chewing and licking.
Melatonin: A synthesized version of this natural sleep hormone is occasionally added to calming treats for its relaxing effect.
Package size and dosage
It's important to know both how many calming dog treats you receive in a package and what the correct dosage is for your dog. Only then will you know how much these treats will cost you monthly. For example, if your chosen product contains 100 individual treats in a package and the dosage is one treat per day, a single pack will last you more than three months, but if the dosage is five treats per day, it will only last you 20 days. Of course, big dogs have larger doses than small dogs, so adjust your expectations accordingly.
Features
Organic: You might choose to buy certified organic calming dog treats if you're concerned about pesticide use.
Treat type: Most calming dog treats are small chews or crunchy treats, but you'll occasionally find other treat types such as calming rawhide-style chews or calming dental treats.
Grain-free: There's no need to pay more for grain-free treats unless your dog has a legitimate allergy. In fact, whole grains are excellent for heart health.
Price: Dog calming treats vary in price from $10 to $50, depending on various factors including package size, active ingredients and overall quality.
FAQ
Do calming treats work on all dogs?
In theory, calming treats should work equally well on all dogs, but in practice, they seem to work better on some dogs than others. This can vary based on a range of factors including the severity and cause of the dog's stress or anxiety, the dog's size, temperament and natural reaction to the calming ingredients in each treat. For the best results, you should pair your chosen calming dog treats with behavioral training.
How quickly do these work?
This depends on your chosen treats. Some start calming your dog down within 30 minutes, whereas others need to be taken daily for a couple of weeks until you see the full calming effect.
The-CNN-Wire
™ & © 2020 Cable News Network, Inc., a WarnerMedia Company. All rights reserved.