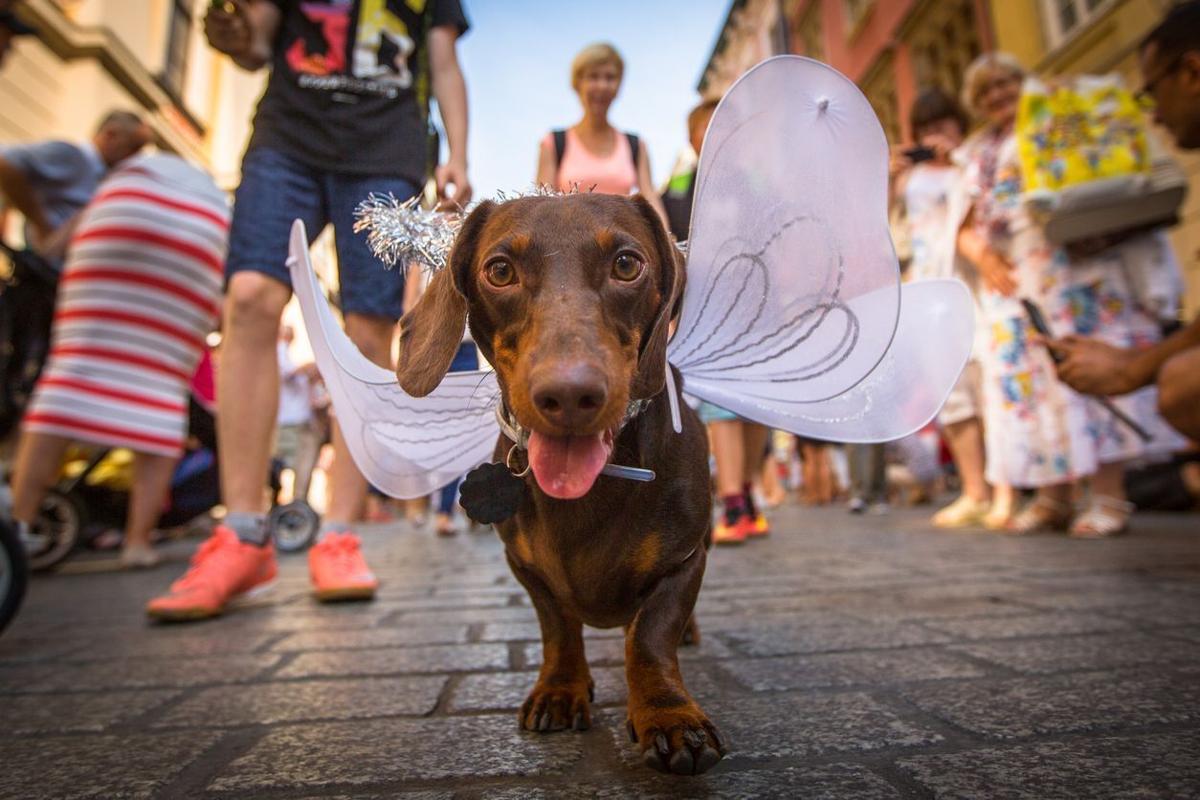 Pet parents know the places by heart where their furkids are welcomed: dog parks, most regular parks, some beaches, some hiking trails, and pet stores. Most everywhere else, their furry sidekicks get left behind . . . or, do they? Turns out, pets are allowed - and even welcomed - in more places than pet parents might think.
I bring my dogs with me everywhere I can, and we often try to sniff out new places we can hang out together. Along the way, I've found some surprising and fun spots where my pets are just as welcome as I am.
As a side note, be aware that this list is not exhaustive. All companies have specific rules and regulations when it comes to allowing pets, that are subject to change and can also differ between locations within the same company. It's a good idea to contact any location ahead of time before you bring your pet. It's also worth noting that no matter how pet friendly a location is, they will still expect your furkid to be friendly, calm, and under your control during their entire visit.
Retail stores and shops
Yes, really! It's a surprise to many pet parents that their furkids are welcome at a number of different stores. The Gap, Old Navy, Banana Republic, Macy's, Nordstrom, and Bloomingdales are just a few places that allow furry customers to browse with their humans. Nordstrom even has a "Dogs of Nordstrom" Instagram page!
Other stores are pet friendly as well - both Lowe's and Home Depot are known for welcoming four-legged shoppers, and stores like Michaels, T.J. Maxx, Marshalls, Bass Pro Shop, the Apple Store, Pottery Barn, and Bed Bath and Beyond all have pet-friendly policies that vary by location.
Baseball games
Take me – and Rover -- out to the ball game! Many stadiums allow furry spectators in the stands along with their people. And most dogs love the exciting sights and sounds of a baseball game, not to mention all the amazing ballpark smells!
Banks
Going to the bank is a pretty boring chore that can be made infinitely better if you can bring your pet along. And, surprisingly, at a number of banks, you can! Call ahead to make sure Rover is allowed in with you during your visit.
Drive-ins
If you're like me, you enjoy cuddling with your pet during a movie at home. But if you feel more like going out, you can bring your furry companion along for a cool outdoor movie at a local drive-in movie theater. Although not as prevalent as they once were, many of today's drive-ins happily welcome humans and pets to their venues. You can snack on candy and popcorn, while your pet snacks on his favorite puppy treats!
Day spas and hair salons
We all need a little extra pampering from time to time. But you don't necessarily have to leave your pet at home when you get a hair trim, massage, or spa treatment. Some spas and salons let pets accompany their parents during visits. Finding out whether your pet can tag along with you on appointments is really just a matter of asking . . . and making sure your pet is well-behaved enough to be welcomed back.
Eateries
Due to health codes, animals are not allowed in establishments where food is being prepared. So your pet can't dine inside your favorite restaurant with you. However, restaurants all across the U.S. allow and even welcome pets on patios, balconies, and other outdoor dining spaces. Some really pet-friendly restaurants even cater to pets with special doggie menus, bowls of water, and tasty pup treats!
Automobile dealerships
If you're anything like me, waiting to have your car serviced is one of the most boring chores on the planet. I've found that bringing my pooch along makes this particular errand so much better! Plus, the long wait also gives me a chance to spend some quality time with him. In my experience, dealerships are very welcoming of pets - just call before you go, to be sure.
Outdoor fairs, festivals, and flea markets
Outdoor fairs, festivals, and flea markets frequently allow and even welcome pets, in both indoor and outdoor spaces. These kinds of venues are as exciting and enjoyable for your pet as they are for you. You'll have fun checking out all the cool vendor offerings, and your pet will have fun greeting people and meeting other pets. You'll both love taking in all the great sights, sounds, and smells. To have the best possible experience with your furkid at one of these venues, he should be properly trained, well-socialized, and comfortable with noise, crowds, children, and other animals.
Lots of other places out there might allow and even welcome pets, and finding out is just a matter of asking! As you travel around with your furry sidekick, take note of places that might be fun for both you and your pet.  Then, contact them to find out whether your four-legged sidekick is allowed. And, while you're around town, keep an eye out for other people who have their pets with them. You might just stumble upon a new favorite pet-friendly place!
About TripsWithPets
TripsWithPets has been helping pet parents find pet-friendly accommodations since 2003. TripsWithPets provides online reservations at over 30,000 pet friendly hotels & accommodations across the U.S. and Canada. You'll find thousands of pet-friendly destinations like Bozeman, MT, Pittsburgh, PA, and Sedona, AZ. When planning a trip, pet parents go to TripsWithPets.com for all they need to book the perfect place to stay with their pet -- including detailed, up-to-date information on hotel pet policies and pet amenities. Enjoy exclusive deals, get travel tips and news @ #jointheroadtrip.