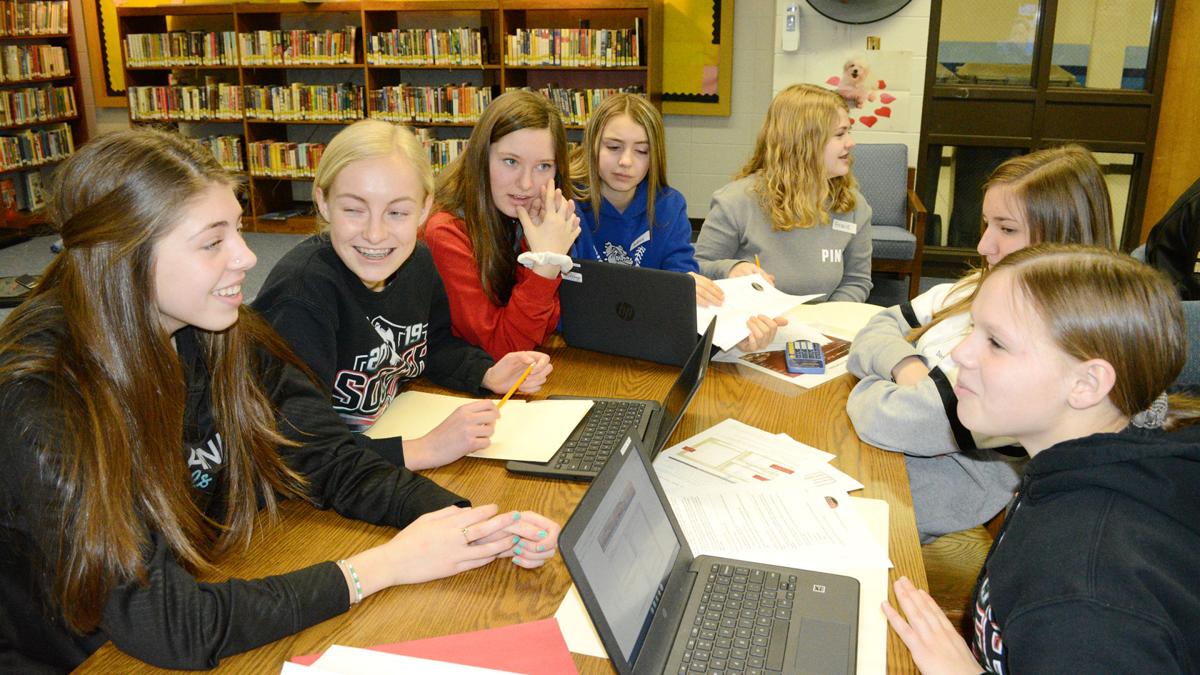 Students in the High Ability Learner program at Adams Middle School were challenged by a NASA commander on Wednesday.
Well, they were challenged by Melinda Gribben of the Challenger Learning Center in a NASA-designed program called e-Missions. The live simulation encourages problem solving in middle school students. Gribben video conferenced with the students to guide them in the simulated Mars mission while the students worked as navigation experts, science/operations experts and communication experts.
HAL coordinator Marie Brosius explained the exercise.
"The students are trying to find a place to build a station on Mars," Brosius said. "It has to have a certain mineral there in order to have water; they have to have enough fuel to get there."
There were four teams of eighth graders in the early session and seventh graders in the afternoon session. The students worked on computers to decipher data to help them determine where to land on Mars.
"They have to communicate with her in order to find the right site," Brosius said of Gribben.
In the afternoon, seventh graders participated in the event and learned about communication and working together. The students said it was fun and challenging.
"I learned how different jobs would work together for common information gained," said seventh grader Ryan Berol.
Gribben asked the students if the project was frustrating in any way.
"It wasn't (for me) because all I had to do was do my part of it and pass it on to the science person," said Lane Heil, who was given the job of navigation officer. "My job was finding how much fuel it took to get there and the resources that were there. We did pretty good."
Chloe Lukas said she liked how her team worked together.
"After we got everyone's duties figured out and kind of how they worked together," Lukas said, "we were able to communicate better and figure out a spot that would work well."
Rebekah Daily said at first the process was a bit frustrating for her.
"I'm not a tech-savvy person at all, so that was my first hurdle," Daily said. "I had to figure out how (my team) wanted me to approach it."
She said after that, her blood pressure subsided.
Be the first to know
Get local news delivered to your inbox!