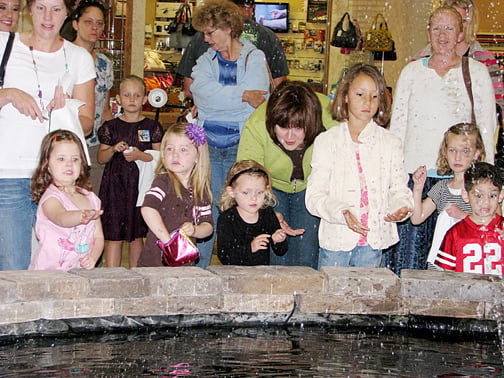 There's no time to say hello, goodbye, it's late, it's late!
But it's not too late to stop child abuse. April is National Child Abuse Prevention Month and a campaign to raise awareness and funds began at the Platte River Mall on Saturday with the "It's Always Tea-Time" party inspired by the classic story of Alice in Wonderland.
Last year's wishing well campaign at the mall raised about $1,300 for Bridge of Hope Child Advocacy Center - so successful that mall staff decided to bring it back again this year and have an Alice in Wonderland party to kick it off. Invitations were sent out to local businesses for their employees and their families. The youngsters in attendance could make an edible teacup, share a cookie with the Mad Hatter and sing along with the White Queen.
Bridge of Hope served 318 children in 2011, more than 1,300 since the facility opened its doors.
"It breaks your heart to know what they have to deal with every day," said mall manager Clarine Eckhoff. "We worked with them last year on the campaign, and decided to expand it this year. They support themselves as much as they could, but can always use some help."
Funding for Bridge of Hope is as tight as it has ever been, said director LeeAnn Nielsen. The non-profit organization has lost some grant funding and donations have been down.
"We know a simple wish cannot make child abuse go away," she said. "But together as a community we can work to raise awareness of how to recognize, report and prevent child abuse."
The wishing well, provided by the Garden Glove Garden Center, will be at the center of the mall during the month of April. Throughout the month, volunteers will be selling "Wish Away Child Abuse" wristbands for $1.
Saturday's event was about giving back a little to the community that has supported the Bridge of Hope mission, Nielsen said.
Bridge of Hope provides a sanctuary for children who have been abused, offering a warm and non-threatening environment where all agencies involved with investigations can do their work without further trauma for the victims.
North Platte police officer Rod Brown also serves on the Bridge of Hope board of directors. He and his wife Carrie dressed up as Tweedledum and Tweedledee for the event.
"He's definitely Tweedledum," Carrie Brown laughed, pointing at her husband.
Miss Nebraska Outstanding Teen Brooke Ludemann was dressed in her most glamorous pageant finery for her role as the White Queen.
"Helping out here today definitely goes along with my pageant platform, which is getting youth involved in volunteering in their communities," Ludemann said. "It's nice to see so many people turn out to help at this event."
Youngsters could have their photo taken with a character from Alice in Wonderland, play a game of flamingo croquet with the Red Queen and receive a sparkly temporary tattoo from volunteers from A Cut Above Salon.
Nikki Fisher, 9, was enjoying her edible teacup when asked what the event was all about.
"It's about stopping child abuse," she said. "It's always wrong to hurt children."
Be the first to know
Get local news delivered to your inbox!