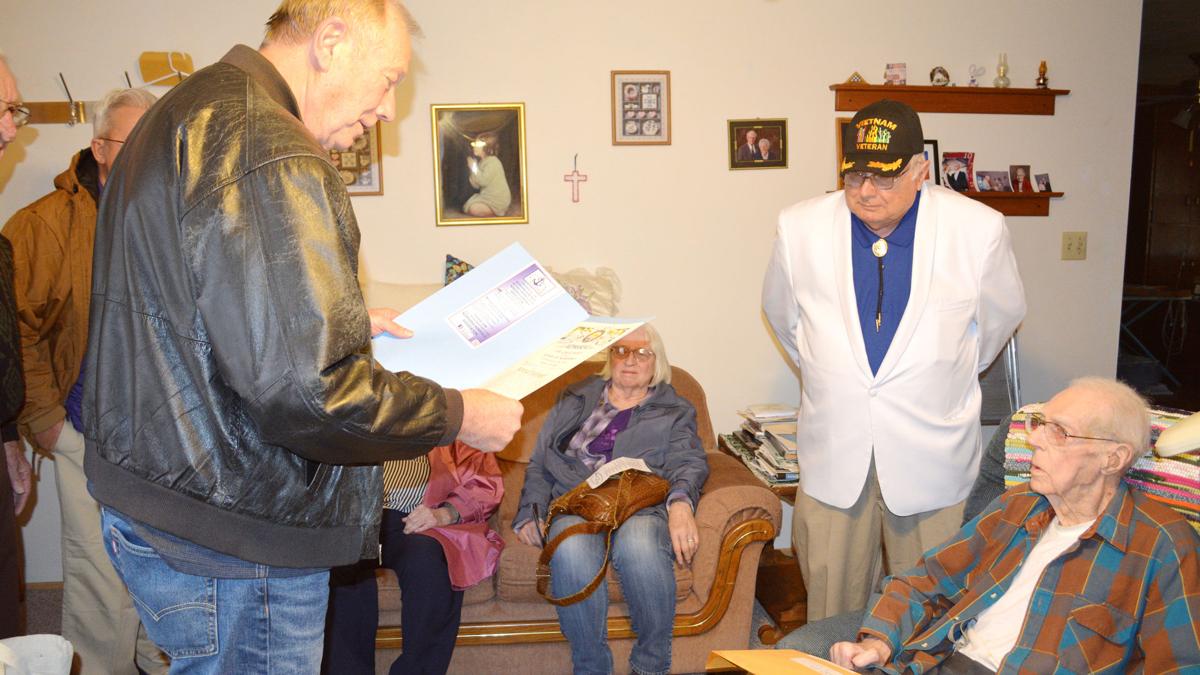 The New Year started out well for Norval Holtmeier of North Platte as he was inducted into the Great Navy of the State of Nebraska on Wednesday.
Holtmeier, 99, will celebrate his 100th birthday on Feb. 5. David Olson, fleet commander in the Great Navy, worked out the process to honor Holtmeier.
North Platte Mayor Dwight Livingston read a proclamation from Nebraska Gov. Pete Ricketts installing Holtmeier as an admiral in the Navy. Witnessing the presentation were Waneita Schomer, Holtmeier's companion, Howard Gebhardt, Henry and Pat Potter.
"Not a lot of people get these, so this is quite an honor," Livingston said before reading from the proclamation: "To all who shall see these present greetings, know ye that reposing special trust and confidence and the patriotism. valor, fidelity and abilities of Norval Holtmeier, and knowing you to be a good person and a loyal friend and counselor, I have nominated and do appoint you an Admiral in the Navy of the Great State of Nebraska."
Lt. Gov. T.W. Metcalf founded the Great Navy of the State of Nebraska in 1930 when Gov. Charles W. Bryan was on vacation, according to the Great Navy website.
"Acting Gov. Metcalf wanted to do something to honor his friends, so he created the Great Navy of the State of Nebraska, and appointed his friends as admirals," the website said. "Since then, Nebraska Admiralships have been bestowed on many notable Nebraskans and others."
An application is available on the governor's office website stating, "Admirals in the Great Navy of the State of Nebraska are individuals who have contributed in some way to the state, promote the Good Life in Nebraska, and warrant recognition as determined by the Governor."
Olson presented Holtmeier with a hat and pin signifying the honor.
"I won't be able to sleep tonight," Holtmeier said.
Holtmeier served in the U.S. Army and over a number of years served with the Honor Guard at Fort McPherson National Cemetery.
Be the first to know
Get local news delivered to your inbox!