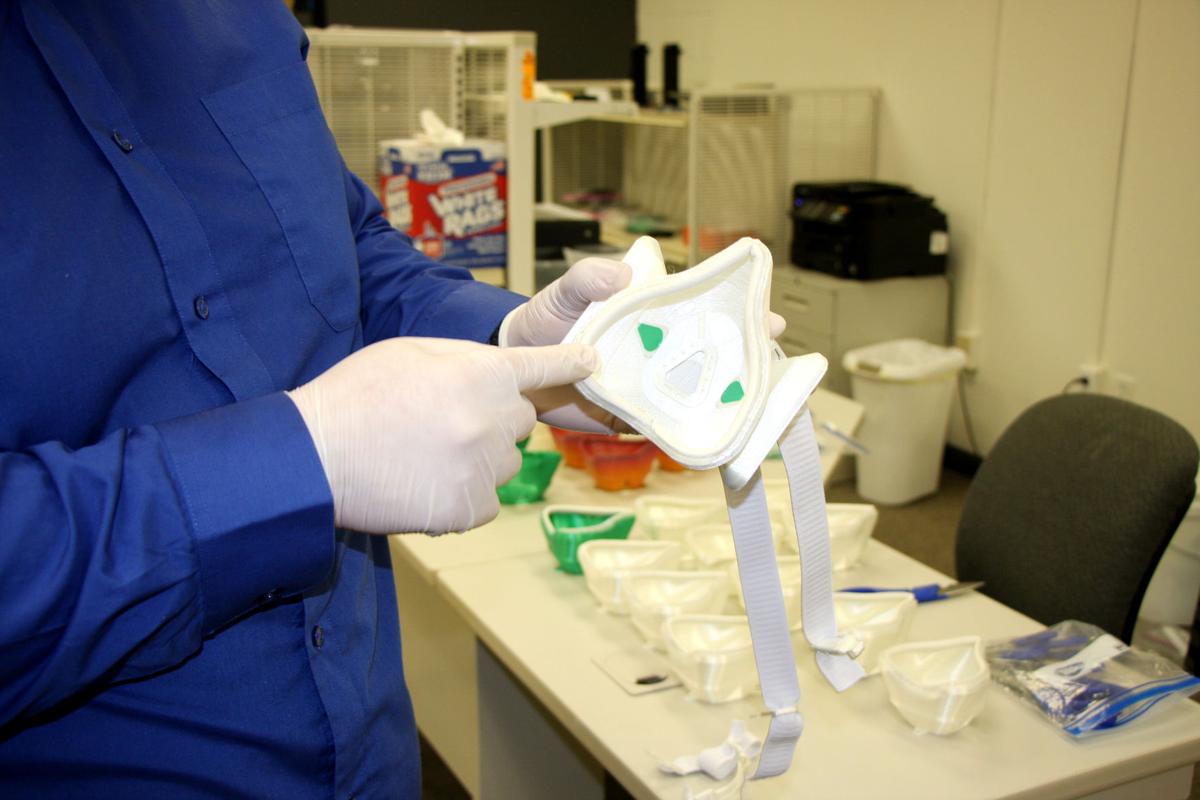 The 3D printers in North Platte are working overtime now.
The North Platte Public Library and a group called npDevs are working on personal protective equipment for healthcare workers.
The Creation Station makerspace inside the library began printing face shield parts for Great Plains Health workers on Tuesday, according to a press release from the North Platte Public Library.
Mayor Dwight Livingston inquired about the 3D printing services at the library after a meeting last week, and today, the library received hospital specifications to begin production.
"We are happy to be a part of the fight against the coronavirus," said Cecelia Lawrence, library director.
NpDevs, a group of developers, IT professionals and people interested in science, technology, engineering and math, formed this past October. Headed by Jorge Cardoso of microBlock, LLC., it's a small group. Pulse Novelties, owned by Robert Marks, is also part of npDevs.
Cardoso's and Marks' companies, and Cardoso's daughter, all have a 3D printer at the ready.
"We decided to combine our printers and saw the need for (the masks). We saw how New York was being devastated. We're lucky that it hasn't gotten to that point here in Nebraska yet," Cardoso said.
Even with how well Nebraska is doing, "we're 15 to 30 days behind" due to current research on the incubation period of the virus.
"As far as we know, people could already be infected," Cardoso said. "And we don't know, because there's no testing — and that's a main problem. (Testing) is something that we cannot make. I don't know how RNA or DNA works with that; if there was I would."
So Cardoso is doing what he can, where he can.
"It's not much; we have three printers right now," but the group is working with Brent Molthan of Lincoln to fund nine more printers.
The mask pattern they're using is MakerMask, a design created by Rory Larson and endorsed by Seattle-area doctors. Not yet approved by the FDA, the design is on track for expedited approval.
"I think it would be good to have the masks ready (if they get FDA approval)," Cardoso said. "and if they don't, it'll be better than nothing."
Cardoso is planning on printing up a batch of the masks, and then donating them.
"We're gonna donate some, if they accept them, to hospitals," with area hospitals getting first priority, and then reaching out to hospitals in New Jersey and New York, Cardoso said. "Then, we'll sell some others to recoup the cost of the operation."
While the microBlock LLC office isn't a sealed-off clean room, they have a plan for making sure that the masks are free of any pathogens.
"We don't have it ready, but we're planning on sanitizing every mask in a solution" of alcohol, hydrogen peroxide and another chemical. "For the time being, it's print print print print print, because it's a slow process. In one printer, it can take three, six, possibly eight hours for one mask."
And that's not even counting the time it takes to assemble the mask. Depending on the complexity of the mask, it can take longer.
Cardoso is printing various models of the mask, some with larger filters that make breathing easier and some with tighter fits for the respirator cup.
"We're trying different models and hopefully when we get them out there, we can get feedback on what is best," Cardoso said. "We're trying to see which is best."
Many of the masks utilize everyday objects, like air conditioner filters, vacuum bags that are HEPA-rated and window stripping.
"What we've been using for a seal (on this particular mask) is window stripping," but Marks is working on molding a silicone seal around one mask model, "once my silicone arrives."