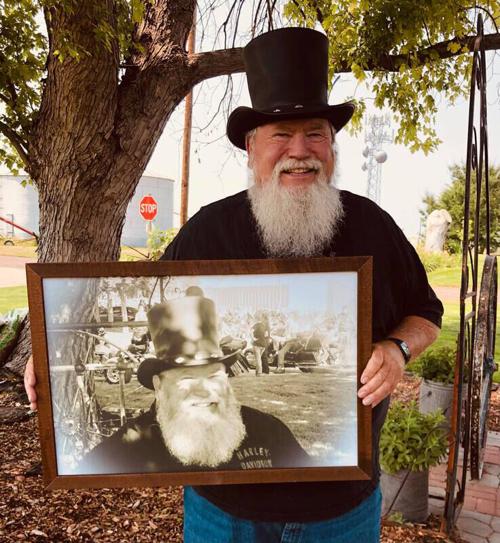 The Mikey Ride started with a conversation out on the deck of Mike and Susie Maupin's home in 2006.
The Mikey Ride is a 240-mile ride and poker run that began and ended at the Maupins' house in Wallace. The ride benefitted families of cancer patients, accident victims and others. Susie died in 2015 from cancer, and Mike recently announced he is stepping away from the ride after 15 years of organizing it.
"One evening I was sitting out on the deck having a drink when my wife, Susie, came out and asked what I was doing," Maupin said. "I said, I'm just sitting here thinking about let's put on a poker run out of our house. Let's invite all our friends. I said, we'll feed them a meal and go from there."
He said Susie agreed and the first year 32 riders participated.
"When it was all said and done, I asked everyone before they left if they wanted to do it again," Maupin said. "They all said yes, they enjoyed it."
Maupin set the third Saturday of July as the official date and off they went.
"Al Mueller actually named it the Mikey Ride," Maupin said. "That year we rode for a 16-year-old boy (in Wallace) who had cancer. We thought we'd try to raise some money for him."
That ride didn't raise as much as subsequent years' rides would, but Maupin said they were able to help that family a little.
"So we just kept on doing it," Maupin said. "We never changed it and we never changed our route."
Maupin said he is going to miss the event.
"It's a tough one (to step away), and the one thing I want to express is to thank our community," Maupin said. "They just reached out and helped everyone. It's a wonderful thing."
A lot of work was involved in organizing the ride and Maupin said it's just time to move on.
"My health has been going a little rough lately and I'm 67 years old," Maupin said. "It's asking a lot of my friends and family to do it. I'm at the point right now I really cannot do it and maintain our yard.
"We always wanted to have a beautiful yard for the people that came, and we did have a beautiful yard."
Maupin said the ride took on a life of its own and grew to large numbers of participants and funds raised.
"It just grew and the second year we went from 32 bikes the first year to 64 and then the third year we bounced over 100," Maupin said. "It's an unofficial total, but we were right at $240,000 raised over 15 years."
After losing Susie to cancer, the next year they honored her life at the ride.
"We did a memorial ride and that year we had over 230 bikes on the ride," Maupin said. "It was quite a thing to ride with that many bikes."
He said the first stop was always Hayes Center.
"We'd leave town here (Wallace) and everyone would ride together and it was like a parade," Maupin said. "In town, people would be out in their front yards waving flags, and out in the country, people would be out on the roads and intersections waving to the riders."
Maupin said he has a lot of satisfaction from what was accomplished through the years.
"It's been good, I'm glad I did it," Maupin said. "I'm going to miss it, truly miss it."
---
More by Job Vigil
5 stories that brought interesting people's journeys into your home
Reporter Job Vigil shares five stories he covered this year that offered a peek into people's lives.