The Telegraph on Thursday obtained North Platte Exposition and Racing Inc.'s 14-page proposal and one-page horse-racing license application from the Nebraska Racing and Gaming Commission ahead of the project's city Planning Commission public hearing Tuesday.
Neither document had been shared as of Thursday with North Platte city officials, whom they asked in June to grant the site's current owner a conditional use permit before the new firm was formally incorporated.
Articles of incorporation were filed July 9 and signed by the new firm's president, Brian Becker of Hastings. He and his family have run the annual quarter horse meet at the Adams County Fairgrounds since 2004 under Hastings Exposition and Racing Inc.
His North Platte proposal would place a horse track along East Walker Road, between Interstate 80's two exits and south across I-80 from North Platte Community College's North Campus.
It would be followed by a casino with 650 electronic games, 10 table games, race simulcasting and sports betting "once we have established North Platte as (a) horse racing destination," according to North Platte Exposition and Racing Inc.'s proposal to the state commission.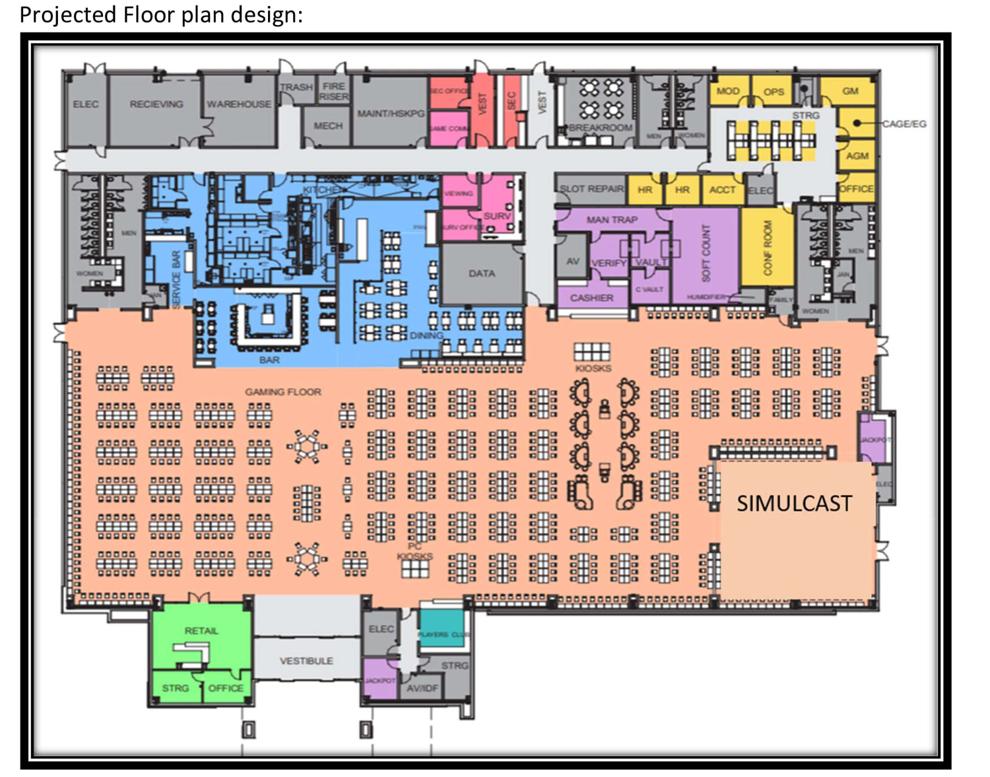 To build that casino, North Platte Exposition and Racing would have to apply for and receive a separate gaming license from the state gaming commission.
Becker also proposes to build a similar horse track and casino just south of Gering under a related company, Scottsbluff Exposition and Racing Inc.
Omaha lawyer Brian Jorde, a board member and registered agent of both firms, said Becker hopes to at last make pari-mutuel horse racing viable west of Hastings.
It'll take income from the casinos Nebraska voters enabled at horse tracks in November to make that possible, Jorde said, though the casinos wouldn't be built immediately.
"The eastern part of the state, where all the money is, shouldn't have all the entertainment options," he told The Telegraph Thursday. "It's our opinion that the western part of the state should have some entertainment options."
The Racing and Gaming Commission held initial hearings July 16 on license applications for both of Becker's proposed tracks and others in Bellevue, Norfolk and York. That would boost Nebraska's horse-track sites from six to 11.
The commission's approval timetable isn't yet known but will involve further public hearings before votes on licenses, Chairman Dennis Lee told applicants.
City Planning Administrator Judy Clark confirmed Thursday that North Platte Exposition and Racing hadn't shared project information with her outside of brief descriptions in their city permit application.
"That's all the information I have as well," City Administrator Matthew Kibbon said Thursday.
The lack of information, plus staff concerns about how needed infrastructure upgrades would be paid for, led City Hall to postpone hearings and votes it had scheduled before the Planning Commission June 22 and the City Council July 6.
Organizers contacted the city last week to ask that the conditional use permit application be rescheduled, Clark and Kibbon said.
The council now is scheduled to vote Aug. 17 after its own public hearing. The planning panel Tuesday can decide whether to recommend council approval, to attach conditions or table the request, Clark said in a city memorandum.
She and Kibbon said city staff members are recommending that North Platte Exposition and Racing consent to a "development agreement" specifying which infrastructure improvements would be needed at and near the site and who would pay for them.
Though city services are near the Walker Road site, substantial street and utility installations would be needed for a horse track and casino, city officials said in June.
The proposed agreement would differ from the "redevelopment agreement" the city requires for projects receiving tax increment financing. TIF is not involved in Becker's horse-track project, which would go atop currently farmed ground.
North Platte businessman Alan Erickson, who owns the 73.58-acre site, remains the applicant for the conditional use permit through his Prospect Enterprises LLC firm.
He and Jorde said North Platte Exposition and Racing has a purchase option for the property, which would be exercised pending state approval of a North Platte track. It has a 2021 taxable value of $331,110.
Because the site already has I-1 light industrial zoning, the conditional use permit hearings and votes over the next month would be the only ones by city officials on the track and casino, Kibbon and Clark said.
Becker's proposed track at Gering, which would build an identical track but a smaller casino on a larger site, faces a more complex legal road.
Gering City Engineer Annie Folck said Scottsbluff Exposition and Racing Inc. filed a rezoning request Thursday. Its proposed 104-acre site lies just north of where four-lane Nebraska Highway 71 from I-80 at Kimball turns northeast to bypass Gering.
Folck said the firm can't apply for a conditional use permit there without a rezoning ordinance. As in North Platte, that ordinance would need up to three positive City Council votes.
Gering's Planning Commission will hear that rezoning request Sept. 7, with the City Council's first vote on Becker's project there set for Sept. 27.
If one or both proposals pass and win state licenses, Becker's new firms would develop their tracks and casinos with help from Global Gaming Solutions LLC, owned by the Chickasaw Tribe of Oklahoma.
The tribe, one of five removed from the Deep South by federal authorities during the 1830s "Trail of Tears," runs horse tracks and casinos through that company in Oklahoma City and Grand Prairie, Texas.
Global Gaming Solutions also operates 22 Oklahoma casinos with 19,000 electronic games, seven hotels and a 27-hole golf course, according to the company's website.
Jorde said Becker sees the casinos at the proposed North Platte and Gering tracks as the means to make horse racing work, rather than simply capitalizing on voters' permission to finally allow casino gambling inside Nebraska.
He would open the North Platte and Gering tracks with one racing day apiece but aim to grow his annual calendar to 30 racing days at both tracks, Jorde said.
Becker and his family have self-funded their Hastings operation from the start but have been "losing money on horse racing for 20 years," he said.
"That's why the racetrack (petition drive) was tied to gaming facilities, because there wasn't financial support for smaller tracks," Jorde added.
State voters in November approved a constitutional amendment and two related laws to legalize "racinos" in the state. The Legislature passed further enabling legislation in May.
Quarter horse races typically cover 440 yards — a quarter-mile — though they can cover from 220 to 770 yards. Their name also reflects the popular quarter horse breed long in use on cattle ranches in Nebraska and across the West.
Jorde said the North Platte and Gering tracks would be large enough for longer thoroughbred races if the Beckers were to seek and gain state approval for those. Fonner Park in Grand Island is Nebraska's westernmost thoroughbred track.
Jorde said he knows city officials want a formal development agreement with North Platte Exposition and Racing as a condition of approving the conditional use permit.
"I think it's reasonable and it does not pose any difficulties whatsoever," he said.