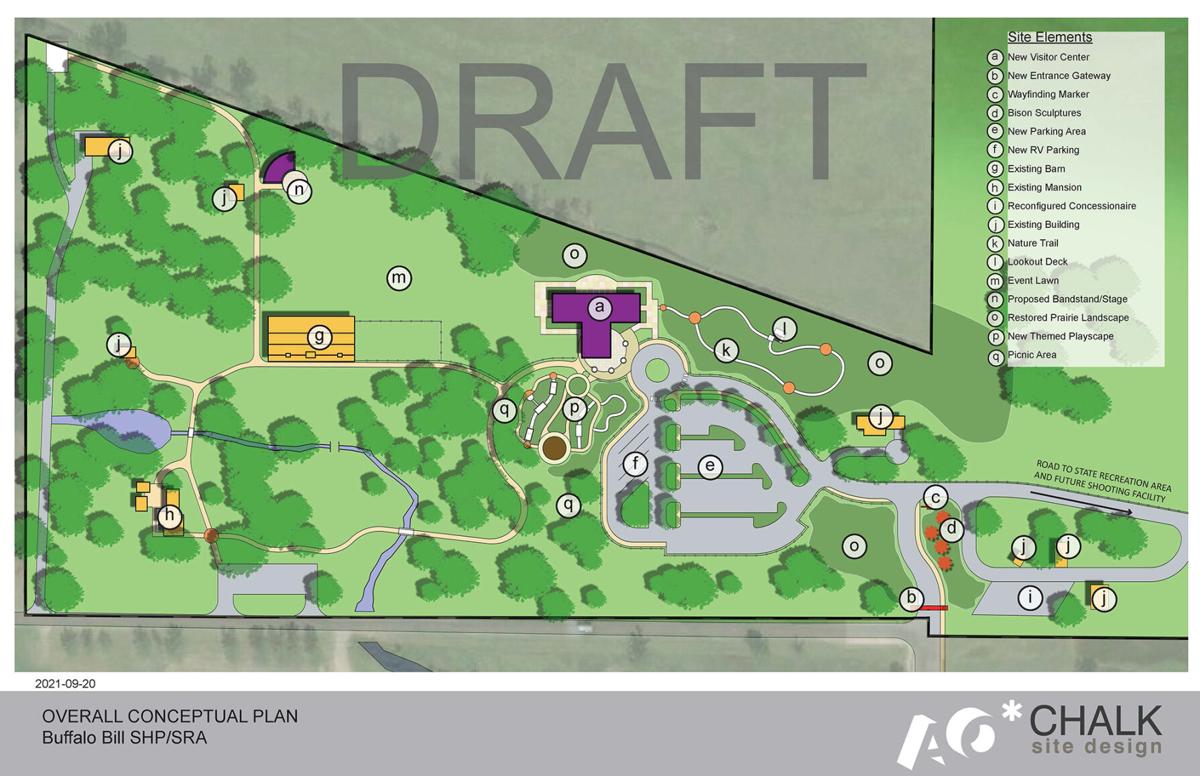 With the most iconic part of Scout's Rest Ranch now a National Historic Landmark, Nebraska Game and Parks Commission officials are looking at the rest of their land on North Platte's northwest side.
They used an online "virtual public meeting" Thursday night to present possible projects for a new park master plan, led by an all-new visitors center where a ranch "T-barn" stood from 1891 to 1904.
Other ideas include a "nature playscape" for children south of the T-barn site and a "shooting sports complex" on the southwest side of Buffalo Bill State Recreation Area, which adjoins Scout's Rest on the east.
A more nuts-and-bolts project would reconfigure and simplify the east entrance from where Buffalo Bill Avenue curves west to become Scout's Rest Ranch Road.
Game and Parks wants "to turn a historical icon into a great destination" for visitors and families of all ages, said agency parks administrator Jim Swenson.
"Over the years, it's been more and more challenging to bring people into our historical parks," he added. Game and Parks wants "to blend excitement with history."
The public can offer more extensive comments online starting early next week, said recreation planner Schuyler Sampson.
Game and Parks wants "to give you a voice regarding this," said Adam Jones, current superintendent of the twin parks. "This is your park."
Officials stressed that the master plan wouldn't alter the historic 8.25-acre heart of William F. "Buffalo Bill" Cody's ranch, including the 1886 mansion and 1887 horse barn bearing the Scout's Rest name.
The U.S. National Park Service granted that segment National Historic Landmark status in January, 60 years after local residents matched $37,500 in state funds to buy and restore it.
The historical park opened to the public in 1965, with the state recreation area following in 1999. Game and Parks bought 233 acres of North Platte River land for the latter in 1989.
Some of the new features being considered could be finished quickly, while others would take longer, Swenson said.
The most visible upgrade among Thursday's options would be the proposed visitors center, envisioned in part to figuratively allow the Cody mansion some breathing room.
Bob Hanover, a Game and Parks assistant division administrator, said the mansion has long served multiple roles as a reception area, park office, gift shop and even storage area.
"In historic preservation, often it's better to do some things in a different place," he said.
Those functions would be shifted to the visitors center, he said, allowing Game and Parks to focus the mansion on its primary task of displaying domestic life for Cody, his wife, Louisa, their relatives and mansion staff.
The Codys often entertained at Scout's Rest but lived there infrequently, though sister Julia (Cody) Goodman and daughter Irma (Cody) Garlow lived there in turn while managing the ranch with their respective husbands.
Bill Stott, a project architect with The Architectural Offices of Omaha, said the visitors center ideally would evoke but not try to duplicate the ranch's T-barn.
Larger than the horse barn, the T-barn stood east of it and the current bison pens. It burned down during a March 1904 prairie fire, but no plans and relatively few photos survive, Stott said.
"It's problematic because we don't really know what the buildings looked like," he said.
Even so, he added, the basic T-barn design fits nicely with the functions that would move there from the mansion.
It also would include a public meeting area and a patio, both allowing seasonal viewing of sandhill cranes.
"I'm told this is one of the best-kept secrets for viewing cranes in this state," Stott said.
The main Scout's Rest parking area would move to the visitors center, with both bordering a wagon-train-themed "nature playscape" with parallel areas for small and older children.
The current larger parking lot off Scout's Rest Ranch Road would be restored to native prairie. The smaller lot closer to the mansion would remain for better access for visitors with disabilities, said Matthew Schafer, project architect with Chalk Site Design of Omaha.
The recreation park entrance where Buffalo Bill Avenue ends has long been confusing and even dangerous, added former Scout's Rest superintendent Aric Riggins.
"Often people don't realize Buffalo Bill Avenue dead-ends at that intersection," said Riggins, now Game and Parks superintendent for parks in southwest Nebraska.
He recalled constant repairs to fences, gates and mailbox during his Scout's Rest service from 2000 to 2013. The worst crash involved a truck whose driver thought he was on U.S. Highway 83 and crashed into a steel pasture gate at highway speeds, he said.
Preliminary sketches would calm entering traffic with a slight bend to the northwest before motorists turn west toward the visitors center or east into the recreation area.
The wooden arch would be replaced by a larger arch better announcing the twin parks' status as Game and Parks attractions, Schafer said.
Strong local interest in a public shooting range, Hanover said, prompted Game and Parks to look at building one along the border between the historical park and recreation area.
It could include an archery range — something already in the recreation area — as well as an indoor air-gun shooting range and an outdoor pistol and smallbore rifle range.
Earthen berms to protect birds and cattle would surround the shooting range, which would sit on the north side of the recreation area road.
Given the prevalence elsewhere of floodplain land and wetlands, "if we were to do this, this is the place it would have to sit," Hanover said.
Parking would be reconfigured and improved at Dusty Trails, he added as he praised concessionaire owner Dusty Barner for what his trail-riding and other outdoor activities have added to the ranch.
"To me, the ability to ride a horse on Buffalo Bill's ranch — well, you can't do that anywhere else in the world," Hanover said.