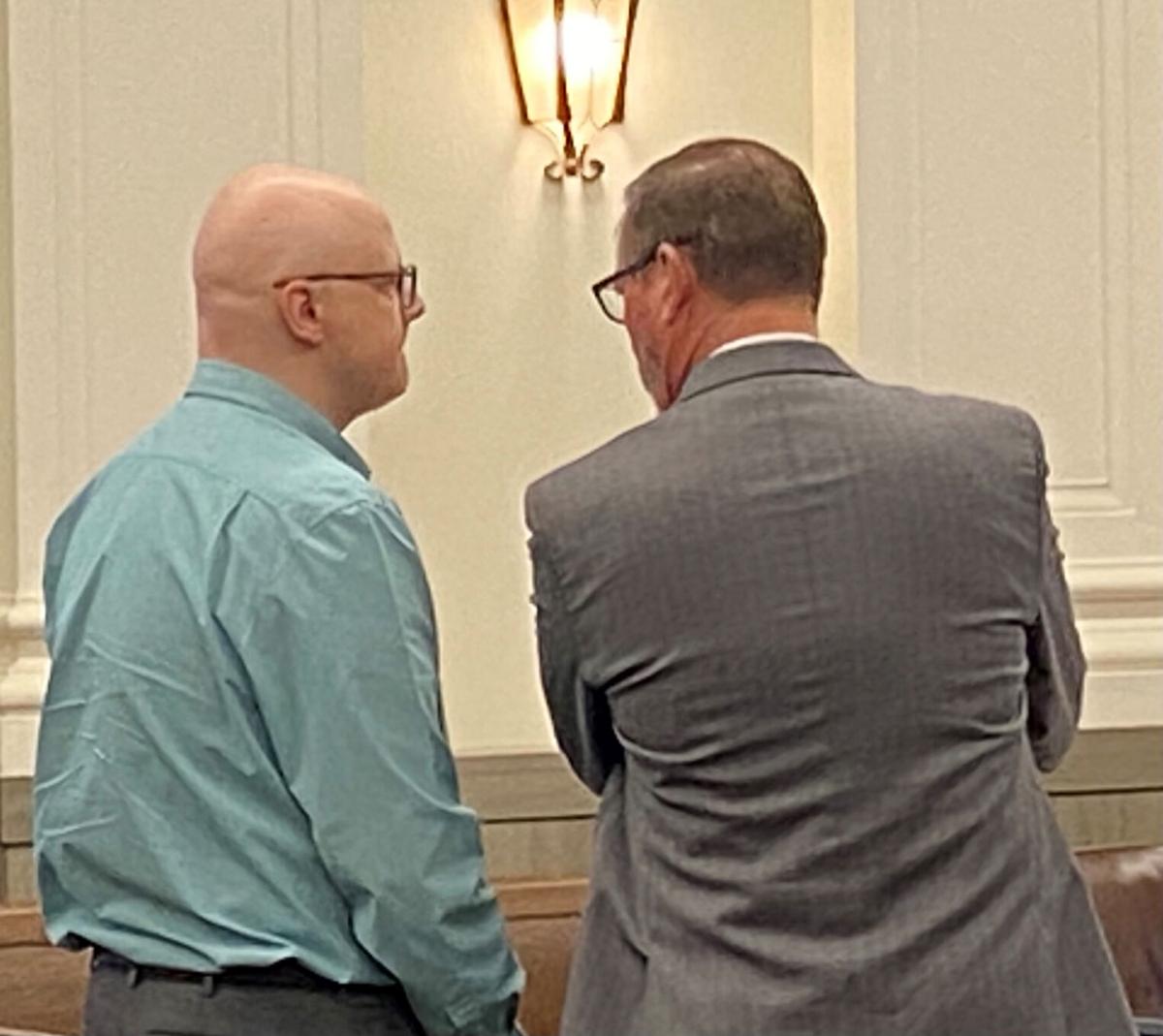 Brett Torres sustained 19 gunshot wounds, including 13 entry marks, a forensic pathologist testified Friday morning in Lincoln County District Court.
Dr. Erin Linde of Physicians Laboratory in Omaha was the final witness called on the fourth day of the Keith L. Allen murder trial. County Attorney Rebecca Harling said the prosecution has one more subpoenaed witness on its list. Testimony ended about noon Friday. The trial will resume Tuesday because Monday is Columbus Day.
Allen, 44, is charged with first-degree murder and use of a firearm to commit a felony in the death of Torres, 25, outside Allen's home on the 100 block of North Chestnut Street on May 22, 2020.
Linde reviewed photos from the initial autopsy two days after the shooting as well as those that were taken by law enforcement officers at Great Plains Health on the day of the shooting.
Allen's attorney, Todd Lancaster, asked Linde if she felt that Torres was shot 13 separate times or that a bullet could have made more than one entrance wound. Nine slugs were removed from Torres body in the autopsy.
"It could be the latter," Linde said.
Lancaster asked Linde if she could determine how many shots had been fired at Torres.
"That is well beyond my expertise," she said.
Jurors were showed a series of 21 autopsy and hospital photos as Linde testified on the wounds and the bullet pathways through Torres' body.
Linde testified one bullet passed through Torres' upper left arm and into his chest. Another entered his left lower stomach area and traveled upward before it opened a hole near the top of the right ventricle of his heart.
Allen shot Torres with a Glock 21 handgun, chambered in .45 ACP. The incident happened after Torres pulled his green Chevrolet Tahoe into the alley alongside a blue Ford Focus driven by Amanda Beall, with whom he had been in an on-again, off-again relationship. Allen was a passenger in the Focus.
Allen used hollow-point ammunition, which has a divot in the very tip of each bullet. Amy Weber, a firearms expert with the Nebraska State Patrol Crime Lab, said that causes the tip of the bullet to expand outward or "mushroom" as it passes through a mass.
It also tends to cause more damage and is designed to remain in an object. When it passes through an object, the hollow-point bullet creates a larger exit wound than normal.
While Torres' autopsy was conducted just days after the shooting, his body showed signs of decomposition — much faster than normal, Linde said. His skin had begun to show signs of discoloration and slippage, and the body had bloating.
Linde said gunshot injuries to Torres' stomach had released bacteria into his body cavity and helped speed up the process.
Linde was critical of a few aspects of the initial autopsy process, including the lack of visual documentation of bullet pathways.
She also stated that no autopsy photos showed gunshot wounds on Torres' buttocks. She was able to review that damage from the photos that law enforcement took after Torres was declared dead at the hospital.
Harling asked Linde if there was sufficient information to determine that Torres suffered 13 entry wounds, despite the photo issues.
A blood toxicology report indicated alcohol, cocaine and methamphetamine were in Torres' system.
The amounts of cocaine and methamphetamine were 81 and 108 nanograms per milliliter, respectively. Linde said both amounts seem small compared with what she has encountered in other autopsies.
Lancaster asked if she would know when a person would have had to have taken the drugs to have those amounts in their body.
"That is a better question for a toxicologist," Linde said.
North Platte Police Investigator Justin Erickson said a syringe was found in Torres' front pants pocket but tested negative for substances.