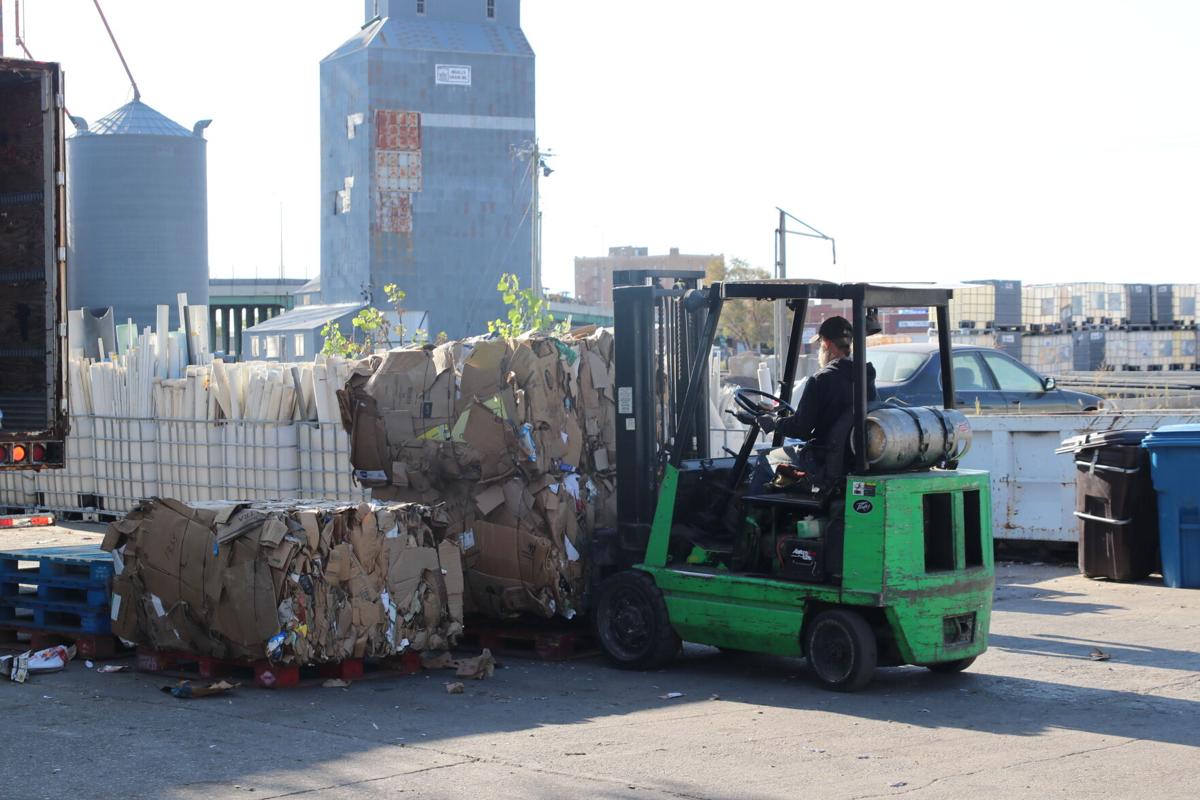 Recycling's days in North Platte are hardly numbered, but the days of the throw-it-all-in "yellow top" bins are short.
With Thursday's City Council approval of the 2020-21 budget, city officials will begin to phase out the yellow tops and add more public drop-off sites with separate bins for different types of recyclables.
Though that will save the city money, it's mainly necessary because it's increasingly difficult to find firms willing to take recyclables that aren't sorted first, said Public Service Director Layne Groseth.
"I understand the convenience of the yellow tops and that people are passionate about recycling," he said Friday.
"I agree with that 100%. If we had a market for the commingled recyclables, we wouldn't be having this conversation."
Groseth said the 3,600-some residents with yellow-top bins shouldn't put any more recyclables in them after the city's second and last September collection about mid-month.
After the new fiscal year starts Oct. 1, city crews will need a couple of months to pick up the yellow-top bins, he said.
They'll replace regular garbage and yard-waste bins as those wear out, with salvaged green garbage or brown yard-waste tops replacing the yellow ones.
"We keep the good parts (of the bins) so we can recycle and reuse," Groseth said.
Meanwhile, he said, those among North Platte's 8,700 households not already taking recyclables to drop-off sites should start using one of six existing sites as the city works to launch four more.
North Platte currently accepts tin and aluminum cans, newspapers, white office paper, magazines, cardboard and three types of plastic: No. 1, No. 2 and colored.
It's vital that residents "sort, rinse and bag" their recyclables in advance, because that maximizes what the city can get for them, said Groseth and Pamela Pacheco, founder of ABC Recycling of North Platte.
They presented the yellow-top phaseout to the council last winter as one of six options, which ranged from absorbing fast-rising costs to landfilling recyclables with the city's garbage at J Bar J near Ogallala.
All of those options except the stand-pat one would consolidate the city's recycling with ABC, which Pacheco launched in 2014.
DataShield Corp. of Omaha has hauled and processed yellow-top recyclables, with ABC serving the drop-off sites, City Hall and business and office customers.
Groseth said in February that a final decision was several months off. But the COVID-19 pandemic set in a month later, effectively precluding further community conversation until the council's 2020-21 budget sessions.
With every city department being asked to find budget cuts — a combination of coronavirus-depressed revenues and the need to start a general-fund cash reserve — Groseth chose the option ending yellow-top recycling.
Though it might cut monthly recycling from its current 110 to 120 tons, giving up the yellow tops "would let us capture the most recycling with the least cost," Pacheco said.
The city wouldn't add anything to residents' monthly garbage bills, a step that would have been necessary to keep the yellow tops, Groseth said.
DataShield's current contract with the city will expire soon after the Oct. 1 start of the fiscal year, Groseth said.
When DataShield picks up recyclables, it bales whatever it takes in all together at the processing site it rents from the city at 810 E. Seventh St.
Firms that buy recyclables used to take commingled bales more readily, Groseth and Pacheco said.
But the city started looking for cost savings after Firstar Fiber of Omaha, DataShield's processing partner, more than doubled its monthly charge for handling yellow-top bales.
Groseth said the city now has six truckloads' worth of commingled bales that Pacheco hasn't yet found a buyer for. They could yet end up in a landfill if she can't.
"We're trying," Pacheco said.
The city will start setting up additional drop-off sites, Groseth said, once it obtains collection bins with multiple compartments to hold different types of recyclables.
Keep North Platte and Lincoln County Beautiful is pursuing a grant on the city's behalf to help offset the $15,000 to $18,000 cost of each bin, Groseth said.
The city plans to put the new bins at the new sites and start replacing the ones at existing sites, he said. Officials would seek grants again next year to help replace the other existing bins.
Pacheco said ABC Recycling had to stop accepting direct dropoffs at its yard at 300 W. Seventh St. due to COVID-19.
But the city delivers the drop-off sites' "rolloff" bins to ABC, which also works separately with farmers and ranchers to recycle used pipes, aeration tubes, feed tubs, grain elevator cups and fertilizer jugs.
"The other things (we do) help keep us in business," Pacheco said.