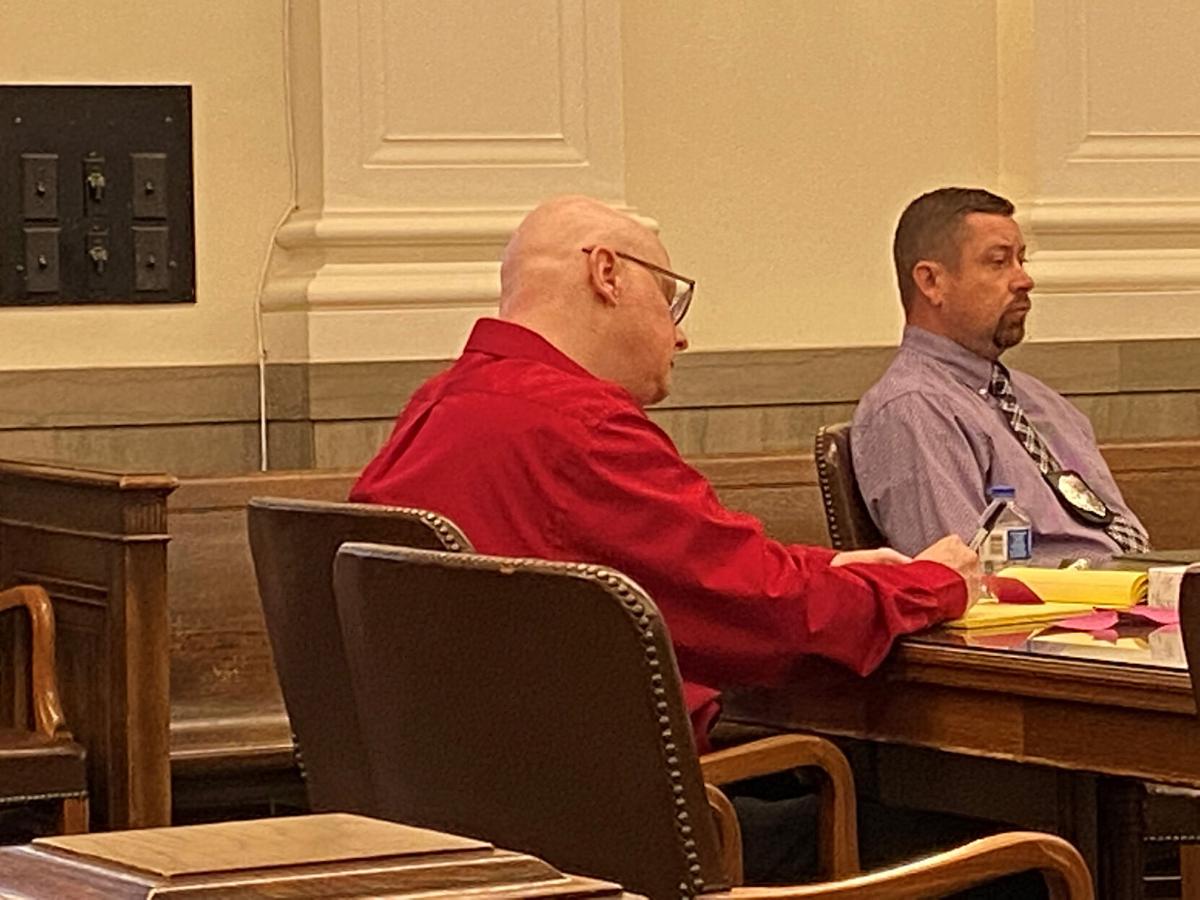 Jurors on Thursday heard Keith L. Allen admit shooting Brett Torres on a recording of a 911 call he made after the incident at his North Platte home.
"I was forced to defend myself in the alley and I shot him," Allen, 44, told the 911 operator on May 22, 2020.
Allen stated later in the call that he was "going to try and render some aid."
The recording was played Thursday afternoon on the third day of Allen's murder trial in Lincoln County District Court.
He is charged with first-degree murder and use of a firearm to commit a felony in Torres' death outside Allen's home on the 100 block of North Chestnut Street.
Torres, 25, was shot after he pulled his green Chevrolet Tahoe into the alley alongside a blue Ford Focus driven by Amanda Beall, with whom he had recently ended a volatile relationship.
North Platte Police Investigator Justin Erickson was on the witness stand for nearly six hours. He testified that Allen — who was a passenger in the Focus — attempted to provide medical attention to Torres after the shooting.
A red duffel bag that contained medical equipment was found between the vehicles, and gauze was on the floor of the Tahoe. Allen was leaning into the driver's window of Torres' vehicle when the first law enforcement officers arrived.
Erickson testified that nine .45-caliber shell casings were recovered at the scene, concentrated toward the back of the Focus. A shell was also found underneath the vehicle and another on the windshield.
A Glock 21-.45ACP handgun used in the shooting was recovered in a hallway closet in the house after Allen told officers where he had placed it.
A magazine that contained four rounds plus a solo bullet was also found in the closet. Two full magazines, each containing 13 rounds, were on a kitchen countertop.
Jurors viewed the handgun as well as photos of each of the nine shells that were removed from Torres' body.
Beall was subpoenaed for the trial, but Judge Richard Birch told the jury that she was not available on Thursday. Erickson recounted his in-person interview with her on May 26, 2020.
During questioning, Allen's lawyer Todd Lancaster referred to a transcript of the conversation.
Erickson said Beall was "an emotional roller coaster" and difficult to follow at a number of points in the interview.
He said that Beall stated she was initially hesitant to park in the alley with Torres following the Focus, but was confident that with Allen the situation would be handled appropriately.
However, Erickson said, as Beall went to put the car in park, she heard Allen say something like "All I need is one clear shot." Questioned by Lancaster about that statement, Erickson said Beall was unsure whether that was the exact phrasing, and he asked her to clarify three times.
She also told Erickson that day was the first face-to-face meeting between Allen and Torres that she knew of.
Erickson said Beall also talked about a volatile relationship with Torres that began around January 2020. She told Erickson that there were incidents of domestic abuse and that Torres was a jealous individual. She had labeled Allen's contact information on her phone as just "K" to prevent Torres from detecting that she was in communication with him.
According to Erickson, Beall had been in an intimate relationship at one point with Allen as well, but was staying at his house as a friend at the time of the shooting.
She told him Torres texted her to "tell that b— you are with to fight me." She also said Torres sent a threatening message that referred to "three guys coming over to f— you up."
Jurors also heard a recording of Beall's 911 call after the shooting. Beall was in hysterics during the call, giving little information to dispatchers.
The 911 operator asks her throughout the call to "take a deep breath" as she tries to gather information on whether anyone is injured. A male voice in the background yells out the address of the home and the call ends with a dial tone.
Torres was transported to Great Plains Health after first responders provided aid for about 10 minutes.
Dr. Julie Query, who was the first witness Thursday and the attending physician when Torres was brought to the hospital, said there was electrical activity in Torres' heart but the organ never pumped enough blood to get a pulse. He was declared dead at 3:09 p.m., just over a half hour after the initial 911 calls.
Allen was taken to Great Plains Health on the evening of May 22 after he complained of pain in his left arm and chest while he was in an interview room at the Lincoln County Detention Center.
Cameron Ourada, a physician assistant at Great Plains, said Allen — who suffers from anxiety, fibromyalgia and sciatic nerve pain — seemed anxious and restless and was sweating.
He had a slightly elevated heart rate and seven first-line tests were conducted to determine whether he was suffering a cardiac event.
Ourada testified that none detected anything abnormal and that Allen calmed down after he received a sedative. He then was determined to be fit for confinement.
Erickson also read transcripts from phone and video conference calls that Allen had with his sister on May 23, 2020.
In one call, Allen said of Torres that "he's a drug-dealing junkie. He tried to attack me."
Allen also told his sister that Torres was speeding after the Focus and shouting profanities out the window at him.
Allen told his sister, "I just wish he just would have backed off," and "I made it very clear and obvious. (Torres) knew what he was up against."
---
More by Tim Johnson
5 crime stories that stood out in 2020
From our reporter who covers the crime beat, here are some memorable articles he worked on this year.