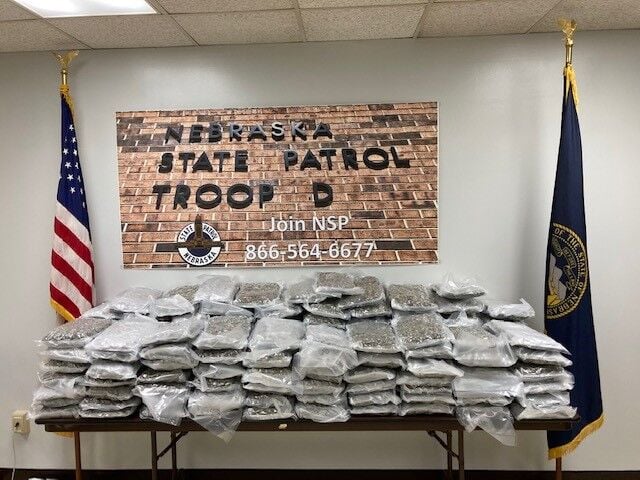 A 51-year-old Kokomo, Indiana, man is charged with two drug-related felonies after 146 pounds of high-grade marijuana, along with methamphetamine, was found in his vehicle after a traffic stop on Interstate 80 Tuesday.
Brian E. Nixon appeared in Lincoln County Court on Wednesday afternoon. He is charged with possession of methamphetamine and possession of marijuana with intent to distribute.
Judge Kent Turnbull set bail at 10% of $150,000 and scheduled a preliminary hearing for April 29. Nixon is confined in the Lincoln County Detention Center.
According to court documents:
A Nebraska State Patrol trooper stopped a black Chevrolet Silverado that Nixon was driving near mile marker 179 about 11:30 a.m. The trooper suspected that the vehicle was not properly registered, had a fake plate or was stolen.
The trooper checked Nixon's Indiana driver's license and a paper registration, and both cleared, but Nixon's behavior drew further suspicion.
The trooper received consent from Nixon to search the vehicle and found multiple taped cardboard boxes and a large tote on the truck's covered bed.
The trooper carried a box back to his cruiser and believed that multiple plastic packages were inside, based on feel and sound.
Nixon became both agitated and apologetic during the search. When the trooper asked if the boxes held marijuana, Nixon admitted they did.
Nixon told the trooper that he was driving from Sacramento, California, to Cincinnati. He said he had made a previous trip where he transported 80 pounds of marijuana and that he was being paid $100 per pound for the delivery.
Nixon's vehicle was towed to the State Patrol office, where the search was completed and yielded 146 pounds of marijuana separated into vacuum-sealed packages that each weighed a pound.
A small amount of methamphetamine and a pipe were found as well. Nixon told the trooper that he had used the drug to stay awake during the long trip.
---
More by Tim Johnson
5 crime stories that stood out in 2020
From our reporter who covers the crime beat, here are some memorable articles he worked on this year.