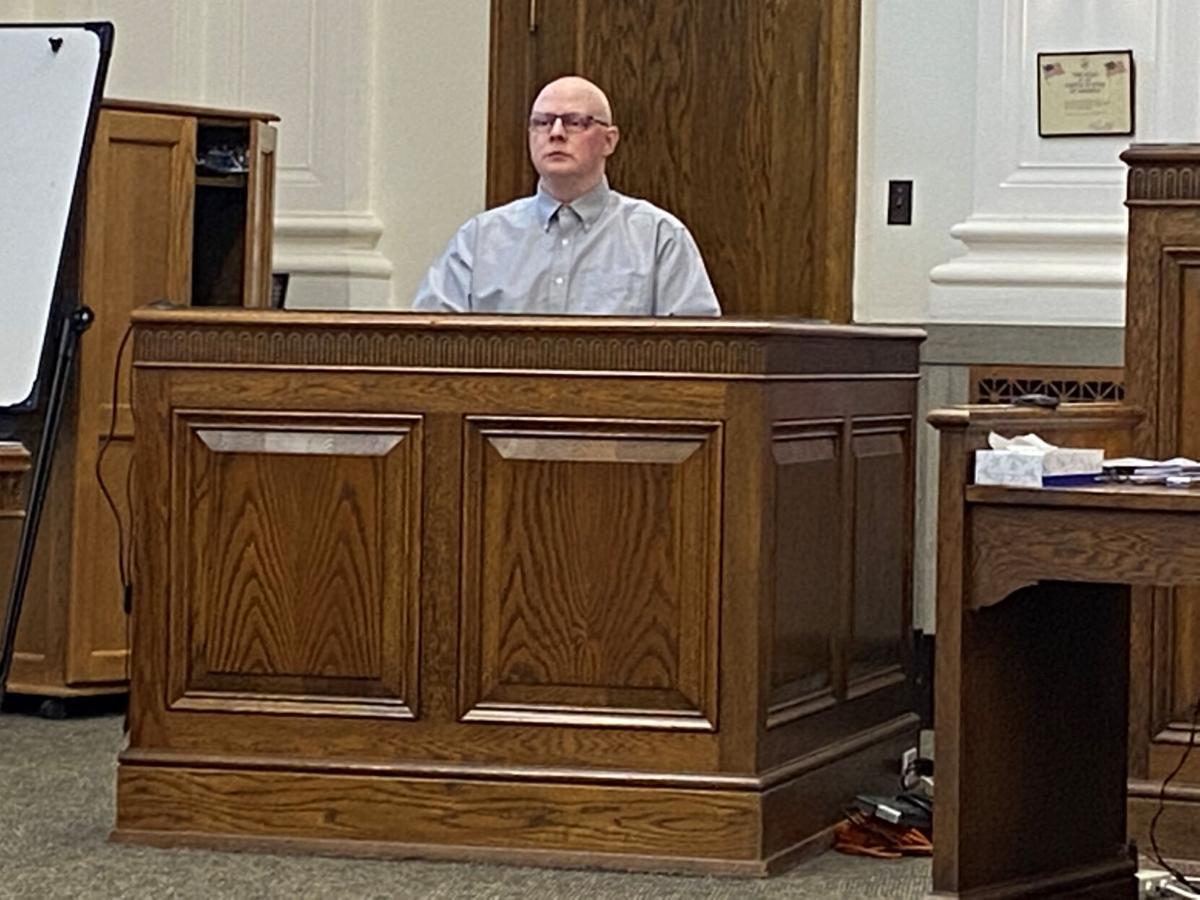 Keith L. Allen testified Tuesday that he shot Brett Torres multiple times because he was "100% convinced that three people were in his car armed and I was about to get shot to death."
Allen was the 10th and final defense witness called on the fifth day of his trial in Lincoln County District Court for Torres' death on May 22, 2020.
The trial will continue with closing arguments Wednesday morning before the case is handed to the jury of nine men and three women.
Allen, who turned 45 on Saturday, is charged with first-degree murder and use of a firearm to commit a felony in the shooting outside Allen's home on the 100 block of North Chestnut Street.
Allen, who claimed he acted in self-defense spurred by previous threats from Torres, shot the 25-year-old with a Glock 21 handgun, chambered in .45 ACP.
Torres had pulled his green Chevrolet Tahoe into the alley alongside a blue Ford Focus driven by Amanda Beall, with whom he had been in an on-again, off-again relationship.
Allen, who was a passenger in the Focus, testified that he held his gun out the window even before the car carrying Torres and his male passenger pulled up beside the Focus.
"It was a visual warning," Allen said. "I wanted them to see it. I wanted them to stop, reverse out of the alley and leave."
Allen testified that Torres instead pulled up to where his window was almost directly in front of the muzzle.
"I immediately started screaming to go away," Allen said. "'Don't you f---ing stop. Get the f--- out of here.' I said it four or five times."
Allen said Torres ignored him, leaned down in his car as though he was picking up a weapon, and then opened the driver's side door and put one foot on the ground.
At that point, Allen said, he shot Torres, aiming for what he called the soft tissue areas — the hip, butt and gut.
"I just wanted him to stop. I didn't want to kill him," Allen said as his voice cracked with emotion.
An expert forensic pathologist witness testified Friday that Torres sustained 19 gunshot wounds, including 13 entry marks. Nine slugs were removed from Torres' body.
Allen said he did not know how many times he fired the Glock but knew that he still had ammunition in the weapon and what he believed were "more people to deal with."
Allen said he believed that Torres and two other individuals were armed and meant to do harm.
Allen said he saw a passenger in Torres' car as the Tahoe followed the Focus down Chestnut Street. He also saw a silhouette of a third figure that turned out to be Torres' Labrador retriever.
Lincoln County Chief Deputy Attorney Tanya Roberts-Connick asked Allen on cross-examination if it was correct that he never saw a gun in the possession of either Torres or his passenger, Devan Hovden.
Roberts-Connick also challenged Allen's testimony that he had reported domestic abuse of Beall by Torres that happened about eight or nine days before the shooting. Allen also said he had told the police then that Torres had made terroristic threats to him.
Roberts-Connick pointed out that the report was actually filed on April 10 and had no mention of any threats to Allen.
She asked him if the law enforcement report was inaccurate.
She also pointed out that one of Torres' texts to Beall said, "Tell your b---h boy to fight me," but never mentioned Allen by name. No subsequent texts or Facebook messages did either, she said.
Allen testified that he met Beall when he was assisting her and her mother as a veterans case manager for Central Nebraska Community Action Partnership.
Allen said he soon after developed a "spur-of-the-moment" relationship with Beall that lasted about 2½ weeks. He said he ended it because she was also involved with another individual, but he wanted to remain friends.
He said Beall occasionally still stayed at his house, and he noticed some threatening messages from Torres on her phone one night as she slept.
The defense team focused on Torres' relationships and behavior.
One witness, Reilly Shakin, 24, testified about an abusive five-month relationship with Torres. She recounted four incidents including an assault by Torres on Jan. 26, 2020, in which she suffered severe bruising to her hips and abdomen as well as a concussion.
The previous October, she said he had punched her in the head five times, and he had held a semiautomatic handgun to her head the next month.
She also testified that Torres strangled her dog and abused it after the pet got into a pizza and made a mess.
She also said Torres smoked methamphetamine daily during the time she was with him.
Another witness, David Gartner, said he and Torres both injected methamphetamine on the morning of May 22.
"Not really a huge amount but enough to get intoxicated," Gartner said.
Gartner called Torres his "user-buddy" as the two would get high together. He also called him one of his best friends.
Torres had asked Gartner if he wanted to come along that day to drop off Beall's possessions.
"He was trying to put her behind him and move on," Gartner said.
Gartner declined the invitation.
"I didn't want to be part of what was going to happen," Gartner said. "I didn't want to be part of the drama."
Tuesday morning's testimony had begun with the last of 16 witnesses for the prosecution.
North Platte Police Department Investigator John Deal said texts and social media messages exchanged between Beall and Torres documented a volatile relationship.
Deal called it a "Jekyll and Hyde" situation in which on one day the couple would talk of a future of marriage and children, and the next day the relationship would be over.
The volume of exchanges increased in the days leading up to May 22, with Torres the main author.
Deal said Torres sent 122 messages, mostly over Facebook Messenger, on the day of the shooting.
The last came at 2:27 p.m.
Beall made a 911 call from her phone two minutes later, after the shooting.